Margie Baker at the College of San Mateo
College of San Mateo in San Mateo, California, has an Ethnic Studies Society which hosted a benefit concert for the Twilight Youth Summer Program on November 19, 2004. The Twilight Youth Summer Program benefit youth of San Mateo by offering them sprots and educational programs. This evening, the Stanford Jazz Orchestra, under the direction of Fred Berry, trumpet (photo below), and special guest artist, Margie Baker presented us with a selection of big band music
.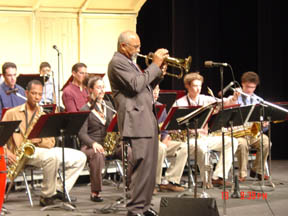 It was wonderful to see these young people playing pieces made famous by Duke Ellington 'Take the A Train," Count Basie " A Warm Breeze" and others, which actually translate into the history of Jazz. We don't know if these young people are all attending Stanford University because there was one small boy who didn't seem to be of college age. Came to find out, by word of mouth at the end of the show, that he is only fourteen.
The group was great. They were a little nervous at first, but then relaxed into warmer sounds. There were actually two girls in the orchestra, both play trombone and one took a solo in "A Warm Breeze." She was noticebally nervous but she managed quite well. Besides the two piece I mentioned before, they did Glen Daum's "September Son," "Thad Jones' "Three and One." and John Clayton's "Shout Me Out." Fred Berry played fluegelhorn with them on "Three and One." Marty Wehner was a guest trombonist who took a few solos, and the other solos were done by members of the orchestra: Sean Arensen offered a baritone solo and Jay Batroff did a bass solo for "Three and One." Charles Altura (photo below), guitarist had a few solos spots, and ran his modal scales quite amiably. I am sorry I didn't catch the name of the tenor soloist who had several soloing opportunities and did quite well.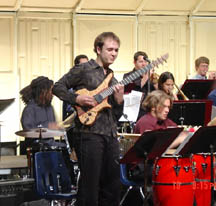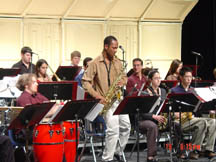 It was interesting to observe Fred Berry walking around the band when they were performing, communicating individually with a few of them, adjusting their mikes and sound equipment, sat down temporarily at the back of the band to listen , or directed the drummer when to do a roll on his snare.
After the break, retired educator Dr. Margie Baker was first accompanied by a small ensemble on "Satin Doll," "My Funny Valentine," and "Route 66." Her diction was good. She controlled her voice from falsetto to lower register to fit her needs. Fred Berry's warm and fluid fluegel horn extended from background to solo seamlessly. He and Marty Wehner, trombone (photo below) supported Margie wonderfully and delivered creative solo segments.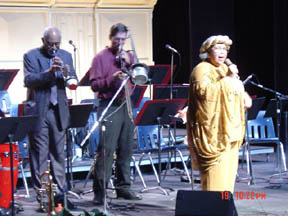 "Alright, OK, You Win" had the full 18-piece band behind Margie She humbly announced that she had never sang with an 18-piece big band, and was quite nervous about the whole thing. She started a little nervously, but then she was able to settle in. She was also a little uncertain where to end the piece. As she mentioned later, singing with a combo has a lot more freedom. When you sing with a big band, you have to follow the chart. She continued with a lot more confident on pieces that followed: "A Foggy Day," "Moonlight in Vermont," "Fever," "On Broadway," and "Every Day," showing that she can belch, and do it soft. She talked to the audience like old friends. She danced and joked around. She roused the audience as well as the musicians who ably accompanied her. She is a good communicator.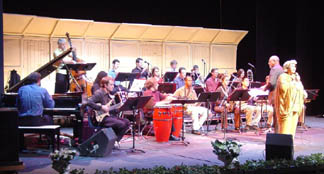 We had fun that evening at the College of San Mateo, and we hope that the Twilight Youth Summer Program got some funding. Eventhough the auditorium was not completely full, it was at 70% to 80% capacity. It was a success for us and we hope it was a success for the program and the youth it tries to help.
by Stella Cheung Houston
---
Jazz Now Interactive December 2004 Vol 14 No. 8 - Table of Contents
Copyright Jazz Now, December 2004 issue, all rights reserved.
Comments: jazznow@sbcglobal.net