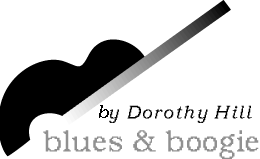 Sacramento Heritage Festival
A dedicated group of volunteers organized as the Sacramento Heritage Festival has been presenting special shows at the Horsemen's Club in Sacramento for a few years. This is a wonderful venue outside town with an indoor stage and comfortable listening room and outdoor lawn where the music is piped for those who wish to sit at tables under the awnings and eat or socialize. In connection with a series of shows, Blues Across America, the festival focused on Chicago Blues in October and Mississippi Delta Blues in November.
At the Chicago Blues show in October, featured artists were Son Seals, Byther Smith and Magic Slim. Unfortunately, Magic Slim was hospitalized with pneumonia and unable to make the show and two acts were booked to replace him (Chris Cain and Phillip Walker who actually are not Chicago blues artists).
The outstanding performance of the day was that of Byther Smith who has been a fixture in the Windy City since the early sixties playing in small clubs and recording critically acclaimed music. Smith's forte is songwriting and his lyrics reflect the struggles of life in Black America with intelligence and clarity. Smith has a congenial stage presence and on this day he had the audience captivated with the complexity of blues grooves on guitar. On the slow blues tune "Hold That Train Conductor," Smith's raw vocal style was enhanced by innovative guitar phrasing. Whether covering original tunes or standards, Smith's performance was permeated with the tough Chicago sound. Byther Smith was a delicious treat for the ears this day!
Son Seals is a blues veteran of the Chicago scene and widely acclaimed as a trailblazer with his hard-hitting raw sound. In recent years, he has been battling diabetes and various other health problems. Sitting behind a large stand emblazoned with his name, Seals performed a heartfelt set.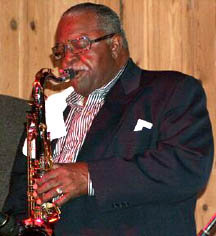 Contemporary blues artist Chris Cain gave a crowd-pleasing performance with his Jazz-inspired searing guitar style and rich vocals. Phillip Walker and his band closed out the show with a Texas influenced set which featured the wonderful Hollis Gilmore (photo at left) on tenor saxophone and Joe Campbell on trumpet along with the flamboyant bassist "Broadway" James Thomas. Soul singer Frankie Lee jammed with the Walker band to close out the show in a rollicking finale.
At the November Mississippi Delta Blues show, the festival presented Lil' Dave Thompson (Greenville, MS), Zac Harmon & The MidSouth Blues Revue (Jackson, MS) and Michael Burks (Camden, AK). After a rousing opening by the wonderful group W.D. Gospel singers, Dave Thompson hit the stage with his band which included a local band including Henry Oden on bass and Michael Skinner on drums. Thompson covered standards displaying a gritty guitar style and engaging vocal delivery which testified to his Mississippi roots.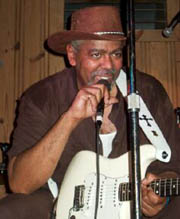 Zac Harmon (photo at right) is enjoying a revitalized career thanks to his first-place win of the 20th annual International Blues Challenge sponsored by The Blues Foundation and held in Memphis in January. His show on this day affirmed all the hoopla that surrounds those dubbed as the hottest new act. Harmon paid tribute to his Mississippi roots and what has been described as the Farish Street sound (a legendary home location for many early blues artists). Harmon's soulful vocals and breathtaking showmanship were well displayed on the tune "Full Figured Woman." His flashy style guitar style belies the solid sound that he radiated on every tune. He was admirably backed by a fantastic band which included his daughter playing hard driving drums, D. J. on rhythm guitar and Jeff Stone on harmonica.
The star of the evening was Michael Burks in a two and a half hour demonstration of dynamic guitar pyrotechnics and a silky rich vocal style reminiscent of Albert King. He possesses one of the best voices in blues and the conviction of his delivery is uncommon. Burks usually lacks a personable stage presence but this day, he related to the audience with an unusual fervor. On "Everyday I Have The Blues," he demonstrated a Jimi Hendrix inspired guitar style, bending and distorted notes. On "Make It Rain," Burks displayed riveting passion on this slow burner tune. Adding to the pleasure of the adoring fans, Burks prowled his way through the audience playing with the intensity of a man possessed by the blues!
---
Frankie Lee
Soul and blues vocalist made an appearance at Biscuits & Blues to celebrate his new CD, "African Wind." The first set featured tunes from the CD and this is an adventurous change for Lee (photo at left), thanks to his collaboration with Dan Treanor (photo below). Treanor is an educator from Colorado who builds authentic African instruments from materials imported from Africa, some of which he played this evening.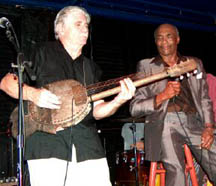 The evening started off with several high-energy blues tunes by the excellent band fronted by guitarist Timothy Brisson (who is a lawyer by day), Patrick Collins on drums, Ripley Howe on bass and Craig Fredricksen on keyboards. Frankie Lee hit the stage with his ebullient personality and it was non-stop entertainment. On the tune, "Missing," from the CD, Treanor's sweet harmonica was the perfect foil for Lee's soulful pleading for his baby to come back home. One of the outstanding tunes of the night was "Lonesome Road" which had a haunting rhythm with Treanor playing an African instrument and Lee's moaning and wailing vocals. In the second set, Lee resorted to his impassioned soul set and had the audience enthralled while walking around the club testifying up close and personal. Lee is a dynamite performer and this evening, the club extended its hours to accommodate the enthusiasm of both Lee and the audience.
---
Willie Pooch
Willie Pooch (photo at right) was in town to attend the wedding of guitarist Dave Workman and boogie pianist Wendy DeWitt who joined him in the show at Biscuits & Blues. Workman and Pooch played together in clubs in Columbus, Ohio for a number of years and this connection was made for a special evening of camaraderie. Pooch's intense vocal styling of cover tunes was delightful, especially on "Nineteen Years Old." Pooch's gospel roots are evident in his delivery. Wendy DeWitt is just an amazing boogie pianist and she delighted the audience with several high energy tunes. Workman's technique on guitar was innovative and intelligent. Rhythm guitarist Rick Collura, also from Columbus, accompanied the band and his solos were inspiring and demonstrated an incisive blues sensibility. This was a fun evening of merriment and good straight ahead blues.
---
Beverly Watson Tribute
Friends of the beloved rhythm and blues vocalist Beverly Watson gathered at Jimmie's Entertainment Complex to show her love and support in her struggle to recuperate from recent brain tumor surgery. Watson is undoubtedly one of the most generous performers around and it was delightful to see that returned to her in her time of need. Watson looked smashing as usual on this evening and one would never have known that she has undergone a health crisis.
Soul singer, Jackie Payne and the Steve Edmonson Band started off the afternoon event with a musical dedication to Watson, "I'm Doing My Own Thing." The Bay Area Caravan of All Stars then took over the house band chores, featuring Wylie Trass, Teddy Watson, Willie G and Little Willie John taking vocal turns. The Dynamic Four (Beverly Watson's band) came aboard as the house band to support later acts. The highlight of the day was the performance of soul singer Jesse James (photo above with Beverly Watson) who brought Watson into the middle of the floor seating her in a chair and crooning "At Last" in a personal tribute. Other dynamite performances continued into the evening including Craig Horton, Country Pete, Alvon Johnson, Sonota Pi, Freddie Hughes and Velma Landers. At the end of the evening, everyone in the room dissolved into tears when Watson took the microphone and sang "Memories." The love in the room was a sight to behold and the fact that over four thousand dollars was raised to help with medical expenses made it all the sweeter!
---
Carol Fran and Carmen Gettit/Francis Clay Birthday Bash
Francis Clay (photo below at left) is another well-loved person in blues and his friends celebrated at a special show at Biscuits & Blues to honor this legend on his eighty-first birthday.
Carmen Gettit (photo above at right) and Steve Lucky started off the festivities with a rollicking jump-blues set. Gettit's sweet vocals and solid guitar playing are irresistible and she and Lucky on piano are a zesty twosome. Gettit dedicated "Million Dollar Secret" to Clay, from one Scorpio to another.
Carol Fran hails from Lafayette, Louisiana and is known for her tremendous boogie piano skills and soul singing. On this evening, she covered a range of material that was stupendous; everything from swamp boogie to Jazz to slow grinding blues. Her "What A Difference A Day Makes" was so Jazz-inspired that it brought to mind Carmen MacRae, combined with Etta Jones. Her version of "You Don't Know Me" was awesome with immaculate Jazz phrasing. Then Fran did a delightfully bluesy "Kansas City" and a rollicking "Let It Roll." Fran's imitation of Louis Armstrong growling was delightful on "Down In New Orleans."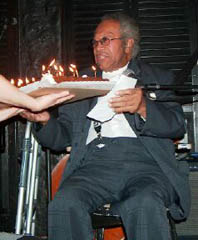 During intermission, Francis Clay (photo at left) read some of his poetry and was presented with a cake filled with candles which he successfully blew out. Many artists were in the audience and were called to the stage in an impromptu jam session in recognition of Clay's birthday. Of course, Clay was one of the last to leave the club at the end of the evening and that's the way to celebrate eighty-one years young!
---
Hits & Misses
Earl Thomas is definitely a hit in my book and although I have written about him many times, I can't get enough of his energetic performances filled with awe-inspiring vocals. His galvanizing soul singing has resulted in recent success as the opening act for none other than Etta James. He recently performed again at the Boom Boom Room in another knock-out show. Keep your eyes and ears open for Earl Thomas and go see him, please!
W.C. Clark has long been a favorite of mine but I have to say that his recent shows have not had the spark that one would expect from this immensely talented vocalist and guitarist. His high pitched voice is uncommonly fascinating and his tutoring of the late Stevie Ray Vaughn is legendary and indicative of his guitar skills. His recent shows have included too many cover tunes for one so talented as a songwriter and his band is unworthy of his skills as a package. He will continue to be a favorite but probably the best way to enjoy W.C. Clark at this point is by listening to his CDs which are remarkably superb.
article and photo by Dorothy L. Hill
---
Jazz Now Interactive December 2004 Vol 14 No. 8 - Table of Contents
Copyright Jazz Now, December 2004 issue, all rights reserved.
Comments: jazznow@sbcglobal.net