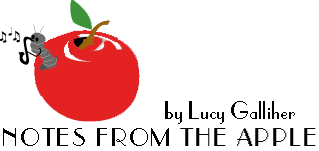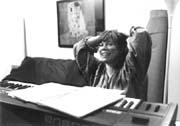 Randy Weston at Dizzy's Club Coca-Cola
by Lucy Galliher
Randy Weston's most recent recording, Randy Weston Live in St. Lucia, features his African Rhythms Quintet. The bandmembers at Dizzy's were Randy Weston on piano, TK Blue on alto sax and flute, Benny Powell on trombone, Alex Blake on bass, and Neil Clarke on drums and percussion.
It was a packed house at Dizzy's on a beautiful October night. Hank Jones and Barry Harris were playing next door in the Allen Room (part of the trio of performance spaces in the new Jazz at Lincoln Center). Artistic Administrator Todd Barkan gave a warm introduction to the crowd, telling an anecdote about each musician.
Not only is Weston tall (6 feet, 8 inches), but he has very long fingers. He began the set on solo piano in an elegant manner, playing a song that was reminiscent of one of his famous tunes, "Little Niles," but much slower.
Over a modal vamp, TK Blue entered on alto, building on little motifs. The rest of the band answered his phrases, with the appropriate punctuations. The performance evolved into a gorgeous and haunting melody with TK and Benny using the entire range of their instruments, especially the upper registers. This was an effective manner of playing, as the music started swinging, and everyone expressed their enjoyment, musicians and audience alike. A perfect example of this enjoyment was Alex Blake singing along with his bass solo, and he even strummed his bass like a guitar.
The next selection, entitled "The Shrine," started with a piano and bass introduction. A calm mood was set between the long-time collaborators as they traded phrases and each other's ideas. TK grabbed the flute and played a bluesy solo over the African-sounding chords. His musical expertise shined through when he developed his solo into exotic-sounding modes. Benny Powell took it to another dimension on the trombone, expanding and playing off of the unusual sounds TK Blue had established.
This was followed by a fun, upbeat tune with great changes. It had a Latin beat, perfect for the percussionist. Weston and Clarke played off of each other in a fascinating exchange of piano and all kinds of percussion instruments. There was another great alto solo by TK, showing off his perfect intonation and virtuosity. During the final head, Weston played some descending chromatic chords on piano, followed by upper-register tremolos.
To top off the set, Randy Weston once again set the mood with his own variation of a twelve-bar blues. Powell got out the plunger mute, and Weston had a big smile on his face as these veterans of Jazz got a musical conversation going. Everyone could learn from these great musicians-how to enjoy oneself while being completely rehearsed and prepared.
---
Carol Sudhalter's Women Composers of Queens
By Ayana Lowe and George Chieffet
To a capacity-filled auditorium at the Jamaica Center for Arts and Learning, the multitalented bandleader/Jazz saxophonist Carol Sudhalter and members from her ten-piece Astoria Big Band presented "Women Composers of Queens." The concert showcased the remarkable musical compositions from women of the borough of Queens, New York.
Ms. Sudhalter, who created, produced, performed, and directed the night's program, is a musician of the highest order. She founded the Astoria Big Band in 1987 because, as she tells it, "I did not want to have to travel over a thousand bridges in order to play with a rehearsal band, so I started one here."
Tonight's noteworthy concert featured Ms. Sudhalter, Emme Kemp, Sarah Mclawler, Jutta Hipp, Deirdre Murray, Julie Mandel, Myrna Lake, Dotti Anita Taylor, and Billie Holiday. Every composition was soul stirring. "Part of the joy of being here are the wonderful people," said participating composer Emme Kemp.
Ms. Kemp is also a hidden treasure. Two of her compositions, "Swinger" and "First Awakening" arranged by Chris Rinaman, were showcased. Ms. Kemp is able to write music that swings while also revealing the highest levels of composition. Her Jazz compositions are rigorous, yet there is a soul and blues feeling flowing through each measure.
Julie Mandel's "2 in 5/4," arranged by Ray Loring, is a beautiful piece, filled with exciting phrases and lyrical passages. Ms. Sudhalter told the audience that the musicians fell in love with Ms. Mandel's piece.
Pianist, flutist, arranger, and composer Dotti Anita Taylor's composition, "Enuff Is Enuff" is splendid. Ms. Taylor writes with an expansive phrase quality that allows for much improvisation by the musicians. She played the flute with great lyrical sweetness and dexterity.
Another moving moment was the rendition of Billie Holiday's composition "Don't Explain," sung by the regal and captivating, Jazz singer Myna Lake and arranged by Keith Gurling. In Lake's voice, one hears a little of Ella, Sarah, and Billie, but she fashions every song with her unique style.
She is also an accomplished composer and sang her original composition, "G Mornin' Love" which contained a rich harmonic flow and lyrics.
When Lake sang "Go Love," written by sophisticated Jazz organist Sarah McLawler, chills went down this reviewer's spine. Ms. Lake's voice is heartbreakingly luscious, and she aptly conveyed the rich content in Ms. McLawler's plaintive love song.
One of Ms. Sudhalter's inspirations is the late, great pianist, artist, and composer Jutta Hipp who arrived in New York City from Germany fifty years ago on the exact date of this evening's concert, November 18. She recorded on the Blue Note label with Zoot Sims in 1956. It was her final recording before she abruptly disappeared from the music scene.
Ms. Hipp's bebop composition "Horacio," arranged by Stan Bielski, set the stage on fire. The flute solo, played by Ms. Sudhalter, was filled with unusual phrasing and harmonics. Ms. Sudhalter's, "Dry" sang, using vocalise by Myrna Lake.
Another hidden treasure is composer Diedre Murray. Her music is more usual then the that of other women composers this evening. She has an avant-garde edge to her music, as is evident in the piece "Jolly Ollie." Eric Sawyer is the arranger.
Overall this entire program was one of the most uplifting musical experiences these reviewers have had recently. If visionary Ms. Sudhalter has the opportunity to present "Women Composers of Queens" again, we will be the first on line to buy tickets.
---
Tessa Souter at Sweet Rhythm
By Lucy Galliher
John Hart (guitar), Essiet Essiet (bass), Kahlil Kwame Bell (percussion), Dana Leong (cello), and Tessa Souter (vocals) made up the band on a Tuesday night in November. Tessa had a large and supportive crowd, and it was nice to see her with a quintet of superb musicians.
Sweet Rhythm has a great wine list and several good selections of appetizers and salads. Most people sit at the spacious tables, but there is limited seating at the bar and all have an unobstructed view of the stage. It is still a great location to hear live Jazz on rainbow-colored Seventh Avenue South in the West Village.
The first tune that I heard was Sting's "Fragile," which is on Souter's recent CD, Listen Love. One of the key element's to Tessa's appeal is her honesty and openness. Her music is a mixture of Afro-Anglo-Caribbean, rather than straight-ahead Jazz. In this piece, she used an interesting combination of cello and chimes, along with the support of the rhythm section.
Shirley Horn made the Butler/Molinary tune "Here's to Life" famous. Tessa dedicated her rendition to the late Jazz singer and put a lot of emotion into it. She admitted she usually could only sing the first few bars without breaking up. John's choice of chord voicings was excellent, and he accompanied Tessa sensitively.
Tessa spoke of being on a plane shortly after the 9/11 disaster, and the way she told her story had the audience mesmerized. Everyone got excited when the band struck up a Latin tune, with more of a Spanish flamenco feel. John Hart launched into a great guitar solo, Jazzing up the flamenco. Leong followed this by applying a synthesizer to his cello! Needless to say, there was a huge applause.
"Round Midnight" was next, performed as a duet with bowed cello. This is a difficult song because of all the wide intervals, and Tessa managed it with ease.
They concluded the set with the title cut from Tessa's CD, Jon Lucien's "Listen Love." Essiet was featured on this, as he was on the CD (the other musicians are different from those on the CD). She reaches her audience with simple, natural expressions and a pure tone of voice. There was an amazing percussion solo with Essiet joining in, playing the wood of his bass as if it were a drum!
Once again it has been a great month for Jazz in New York City. Happy Holidays to everyone! See you next month for more Notes from the Apple.
---
The Billy Lester Trio at the Kitano Hotel, New York City, November 17, 2005
By Ayana Lowe and George Chieffet
Billy Lester is an American original. No one else sounds quite like Lester. His spirit pours through each note, and when he finishes a tune you feel as if you know something of the man.
In his musicianship one hears a little Bud Powell, some Monk, (especially the staccato notes and use of syncopation), a touch of Mal Waldron from the late sixties, and a very different Bill Evans (the one who plays in a 1954 recording of a Lee Konitz-led group with a rhythm section including Jimmy Garrison and Paul Motian). Although Billy Lester does not sound like the popular notion of the mature Evans, there are similarities between the two if you compare Lester to the 1954 recording of Evans playing with Konitz.
There is nothing clichéd about his playing. Lester's full of exuberance. He is fresh and clever but also serious. Lester comes from the tradition of Lennie Tristano and Sal Mosca. In fact, he owes much of his success as a pianist to Sal Mosca, who was his teacher. In the music of these two men, Lester heard conviction and seriousness. As Lester puts it, "Everything they played was an expression of themselves." Lester fondly remembers the bedroom slippers Tristano wore on stage at his concerts. "I assumed that he wore them to make himself feel at home."
Last week at the Kitano, Lester gave an exquisite concert, playing music from the Great American Songbook. Wearing a forest-green sweater and dark trousers, he sat at the piano and started to play the blues.
Backed by his trio featuring Sean Smith on bass and Russ Meissner on drums, Lester relaxed into a rhythmic blues. The music was rich with dense chords and syncopated time. Then in the tune, "Sweet Georgia Brown," Lester counted off a rapid 4/4. With dizzying speed, Smith and Meissner played the head. Then Lester started to play in a very slow pace. He glided over their rhythms. It was thrilling!
One of Lester's favorite composers is Johnny Mercer. "I love his words, his love songs. They are so beautiful," says Lester. In the piece, "Too Marvelous for Words," Lester phrased the melody line in unexpected ways. Bassist Sean Smith laid soulful notes under Lester. Drummer Russ Meissner riffs are a throwback to Paul Motian, not unlike those found on the 1954 recording by Konitz who incidentally was a student of Tristano.
All in all this was an exciting night. Billy Lester brings to his performances a profound musical tradition and a unique interpretation of that tradition. The stream of Jazz history flows through his fingers.
---
Back to

Contents Page
Jazz Now Interactive

Copyright Jazz Now, December 2005 edition, all rights reserved
jazznow@sbcglobal.net