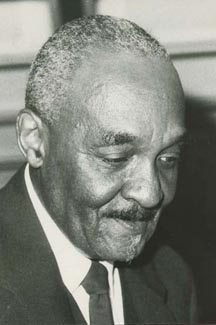 Al Casey, who died of colon cancer in New York City's Dewitt Rehabilitation Center on September 13, 2005, just two days before his ninetieth birthday, will be remembered primarily for his sterling, highly compatible and technically accomplished acoustic guitar work with the Fats Waller band, of which he was a key member, more or less continuously, for ten years. During this period he worked with Teddy Wilson (1939-1940) and also with pianist/arranger Buster Harding and recorded with Billie Holiday, Frankie Newton, Chu Berry, Lester Young, and Ben Webster.
French critic Hugues Panassié wrote of Casey that "he developed a distinctive manner of accompanying vocal choruses with chords that formed a beautiful counterpoint."
Albert Aloysius Casey was born on September 15, 1915, in Louisville, Kentucky. An adopted son whose foster father was a professional drummer and whose foster mother played the violin, he began taking violin lessons at the age of five but then switched to ukulele, giving as his reason that he wanted to be popular with the girls.
When he was fifteen, Casey moved to New York City to live with another branch of the family and began teaching himself guitar. He studied for a spell at the Martin Smith Music School, and he played from time to time in a school friend's band, which performed in Harlem's Apollo Theater and other venues.
In 1933, during a radio show which featured the Southern Singers, a family group directed by his father, he made the acquaintance of Fats Waller, who was a family friend. He later visited Waller at his home and, after he announced his ambition to become a professional musician, Fats invited him to bring his guitar when he next came to the house. A warm friendship developed, and Fats Waller gave the young Al every encouragement and even hired him for gigs during the school holidays.
The following year Al Casey joined Fats Waller and his Rhythm and on May 16 of that year made his first recording with the band, which included Herman Autrey (t), Ben Whitted (as, cl), Billy Taylor (b), and Harry Dial (d). He went on to make more than 230 records with Waller, which together sold millions of copies.
Among the titles was Casey's own composition Buck Jumpin', a piece which came somewhat improbably into being when Al arrived late for a performance while the rest of the band was already on stage, and as a punishment, Fats Waller suddenly announced to the audience: "Now Al Casey will play for you" and began a blues on which Casey was required to improvise.
Al rose superbly to the occasion, with the result that Buck Jumpin' became a highly popular piece and a sort of signature tune for Casey. Fats Waller included the number on his October 1, 1941, Bluebird album, and almost two decades later Al made it the title track of an album he recorded for Swingville.
After the death of Fats Waller in December 1943, Al Casey freelanced around New York, worked in Greenwich Village with pianist Clarence Profit, and then led the house trio in the Downbeat Club. In 1943, 1944, and 1945 he received the Esquire magazine award as the best swing guitarist.
In the 1950s he switched to electric guitar-with Charlie Christian as his main inspiration-and joined a rhythm 'n' blues band led by King Curtis. He also played with Frankie Lymon and the Teenagers and with the band of drummer Curley Hamner and appeared in gala concerts with Duke Ellington in California and Louis Armstrong in New York.
Over the next four decades, Al Casey, played with a wide variety of top Jazzmen, including Art Tatum, Coleman Hawkins, Jay McShann, Milt Buckner, Bob Wilber, Barney Bigard, Jack Teagarden, Roy Eldridge, Charlie Parker, and Dizzy Gillespie.
In 1981, he began a twenty-year stint with the Harlem Blues and Jazz Band, an ensemble assembled in 1973 by orthodontist and Jazz enthusiast Dr. Albert Vollmer, which included veterans of bands led by Duke Ellington, Jelly Roll Morton, King Oliver, and Louis Armstrong and which toured the world. Members of the band at different times included Happy Caldwell, Clyde Bernhardt, Cozy Cole, Dill Jones, and Buster Bailey. On June 3, 2000, the band played a concert at the Tchaikovsky Hall in Moscow to mark the one hundredth anniversary of the birth of Louis Armstrong.
In 1994, Al Casey produced A Tribute to Fats, an album recorded in Holland for the German Jazzpoint label which featured Red Richards on piano
In May 2004, a documentary film, The Last of the First, featuring the Harlem Blues and Jazz Band and produced by Dr. Vollmer, was premiered at New York's Tribeca Film Festival. Featured in the band, along with Al Casey, were former sidemen from the bands of Artie Shaw, Duke Ellington, Buck Clayton, Jelly Roll Morton, Sidney Bechet, and Coleman Hawkins.
A memorial service for Al Casey was held at Saint Peter's Church in New York on September 15, 2005, the day originally scheduled for a celebration of his ninetieth birthday. The Harlem Blues and Jazz Band played, along with pianists Brooks Kerr, Chuck Folds, Frank Owens, and Emme Kemp.
Al Casey is survived by his wife, Althea, and his son Al Casey Jr.
By Mike Hennessey
---