The 23rd Annual Chicago Jazz Festival
Article and photos by Jimmie Jones
The 23rd always free Annual Chicago Jazz Festival was held at Grant Park, August 30 to September 2, 2001. The festival was produced by the City of Chicago's Mayor's Office of Special Events and programmed by the Jazz Institute of Chicago. The Programming committee consists of highly Jazz knowledgeable individuals including musician trumpeter Art Hoyle, writers John Litweiler and Neal Tesser, both authors of several books on Jazz; and Art Lang, photographer Lauren Deutsch; disc jockey Richard Wong; club operator Penny Tyler and record store operators Jim Dejong and Kent Richmond.
On Wednesday, August 29, the day before the start of the festival, a pub crawl was held. For $20. ($15 in advance) bus transportation was furnished continuously to and from fourteen different clubs featuring live Jazz associated with the pub crawl from 6:00 to 11:30 pm.
On Thursday, August 30 at 4:30 pm prior to the festival, pianist Jason Moran gave a solo performance at the Chicago Cultural Center performing original compositions.
Festival music began at Grant Park's Petrillo Music Shell with a tribute to Louis Armstrong's Hot Five and Hot Seven. Trumpeter Orbert Davis led the group with clarinetist Brent Courtney, trombonist Steve Berry and a rhythm section of piano bass and drums. The group played arrangements of Armstrong's early bands in the late twenties with the talented Orbert Davis playing in a style and with a sound close to that of Pops, much in the manner that New Orleans young trumpeter Nicholas Payton has done.

Kahil El Zabar's Ritual Trio with special guest Pharoah Sanders came on next and the trio really surprised me when Kahil (photo at left), with himself on drums, Ari Brown on piano and Malachi Favors Maghostut on bass opened his set with a beautiful popular ballad played in a straight ahead style instead of the avant garde style usually associated with Kahil's bands. When Pharoah came on, he also showed that he had mellowed in his tenor sax playing when compared with the screaming he did on the records he recorded in the fifties and sixties.
Vocalist Dee Dee Bridgewater opened her set with an up tempo version of "Cherokee" in which she did a lot of scatting. She closed the tune with an impressive vocal of the coda Bird and Diz did on the "KoKo" recording which the then teen age Miles Davis was unable to performed.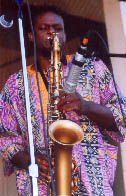 Thursday night at the Velvet Lounge, a ten piece AACM (Association for the Advancement of Creative Musicians) band led by young saxophonist David Boykin (photo at right), performed original music by Boykin that was absolutely awesome. The band consisted of three saxophonists, a flutist, a pianist, a cellist, a bassist, a percussionist, a drummer and a vocalist. The originality and musicianship of this band was an excellent example of what the AACM is doing to develop young musicians.
Friday at noon, trumpeter Ralph Alessi and his quartet called "Modular Theatre" performed a free concert of avant garde style Jazz at he Chicago Cultural Center with Peter Epstein on alto sax, Drew Gress on bass and Ted Sirato on drums.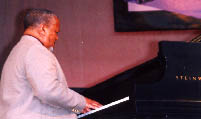 Friday's festival began with a bang at 6:00 pm at the Petrillo Music Shell with three tenor saxophonists, Von Freeman, Ed Petersen and Eric Alexander battling it out backed by Willie Pickens (photo at left) on piano, Brian Sandstrom on bass and Robert Shy on drums. Willie Pickens took the best solo I heard Labor Day weekend. When during an up-tempo tune he stopped the bass player and drummer from playing and simply exploded on the piano.
Kurt Elling came on next with his regular rhythm section and special guest trumpeter Orbert Davis and saxophonists Jim Gailloretto and Pat Mallinger, and proceeded to show his Chicago home town crowd why he is probably today's best male Jazz vocalist.

Friday's headliner, pianist Dave Brubeck (photo at right) performed popular songs with arrangements he had made for his 1948 octet using members of his quartet, Bobby Mititello on saxophones, Michael Moore on bass and Randy Jones on drums, clarinetist Bill Smith who was part of Dave's original octet and three local musicians, Art Hoyle on trumpet, Audrey Morrison on trombone and Eric Schneider on tenor sax. Dave spent a lot of time explaining how the octet got together shortly after World War II while attending college. All of the musicians were students of Darius Milhard.
Friday night at the Velvet Lounge another highly talented young AACM musician, flutist Nicole Mitchell led a group of some of the same musicians performing with saxophonists David Boykin only this time they were performing Nicole's compositions. To give Jazz Now readers an idea of how talented this young lady is, check out what James Newton, who has been voted the top Jazz flutist in polls for many years, says about Nicole Mitchell in the liner notes of her CD Vision Quest. "Having recently worked with her (Nicole Mitchell) for the AACM's 35th Anniversary, I was deeply touched by her gift. Her tone is rich and full and coupled with her singing voice. She has produced new techniques that have not yet been heard from any other flutist. It has inspired me to try to incorporate my singing voice fresh and unique"
Saturday at noon drummer and composer Damon Short performed his original compositions with his quintet at the Jackson side stage. Featured with his quintet were saxophonist and flutist Paul Scea and his bass trumpeter Ryan Shultz.
At 12:30 pm on the Jazz Heritage Family stage, trumpeter Ameen Muhammad with his AACM griot band featuring saxophonist Mwata Bowden gave an educational type one hour workshop on the history of Jazz.
The second set on the Jackson stage featured an interesting trumpet battle between two fine young Chicago musicians, David Young and Maurice Brown. The talented guitarist Bobby Broom also performed on this set.
The Marshall Vente Project 9 Ensemble featuring special guest and one of todays top tenor saxists, Billy Harper, concluded Jackson stage performances on Saturday.
One of the top acts at the family stage was Saturday's headliner bassist and composer Tatsu Aoki's "Rooted: Origins of Now" (Editor: as in Jazz Now?) which included Aoki's compositions performed by thirteen mostly Asian American musicians.
The David Boykin Expanse featuring himself on saxophones and Nicole Mitchell on flute opened up Saturday's Petrillo Music Shell. In addition to Boykin and Mitchell, Jim Baker was on piano, Josh Abrams on bass and Isaiah Spencer was on drums.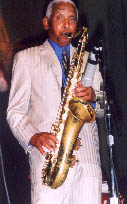 Saturday's Petrillo Music Shell headliner, Gerald Wilson's big band featured his fine arrangements and tenor saxophonist Teddy Edwards.Gerald celebrated his 83rd birthday three days later on September 4.
Saturday after the fest, I caught two bands at the Hot House Club. Drummer Reggie Nicholson began the first set with his "Brass Concepts," performing his compositions featuring Steve Berry on trombone, Bob Griffin on trumpet and Gerald Powell on tuba. On one number the tall Brother G' Ra entered the stage dancing all around it while singing and reciting poetry in his deep baritone voice.
Nicholson was followed by the Dewey Redman (photo below) Quartet with Charles Eubanks on piano, John Menegan on bass and Pheroah Aklaft on drums. Pharoah began by telling his audience that his first musical idol was Chicago's own Gene Ammons. Pharoah performed mostly Jazz standards before replacing his tenor sax with his muzette and playing originals.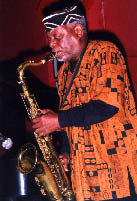 Bob Koester's annual free Jazz brunch began Sunday at 10:00 A.M. at the Jazz Record Mart featuring a jam session with his Delmark Records all-stars, including trumpeter, Malchi Thomson, tenor saxophonists Ari Brown and Frank Catalano, pianist Jodie Christian, bassist Larry Gray and others. Highlight of the set was a slow blues I suggested when a lot of time was spend on what to play. Malachi spend his solo by taking fours with himself on trumpet and scat vocals.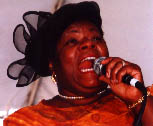 Vocalist, Katherine Davis (photo at left) began Sunday's festival with her band on the Jackson Stage by giving an educational set of women vocalists in Jazz, telling a little about them and then performing songs they were noted for. Among these vocalists were Bessie Smith, Ella Fitzgerald, Billie Holiday and Dinah Washington. Katherine featured the four members of her band, especially tenor saxophonist Sonny Seals and pianist Joe Johnson.
Pianist Bethany Pickens, daughter of Willie Pickens, also included Jazz education in her set on the family stage. She performed and discussed the music of Miles Davis through out her set with a trio, including bassist Ted Brewer and drummer Dana Hall.
Back at the Jackson Stage, one of the little known but great elder statesmen still active, eighty-eight-year-old Franz Jackson, was featured on tenor, soprano saxophones, and vocals with the Salty Dogs traditional band.
Tenor saxophonist, Teddy Edwards concluded the Jackson Stage Jazz with a rhythm section at Chicago musicians, including Jodie Christian on piano, Marlene Rosenberg on bazz and Robert Shy on drums. Harold Land, who died of a heart attack July 28, and was originally scheduled to perform with Teddy was replaced by tenor saxophonist Eric Schneider.
This year's Chicago Jazz Festival was partly dedicated to home grown bassist/legend, Milt Hinton. The Jazz Institute of Chicago festival t-shirt featured a portrait of Hinton. ThePetrillo Music Shell opened on Sunday with a fifteen minute tribute to Hinton by four bassists, James Willis, John Barry, John Whitfield and Dan Shapero, accompanied by drummer George Hughes.
Eighty-four-year-old violinist, Johnny Frigo performed with a quartet and proved amazing, despite of his age. He hadn't lost any of his chops.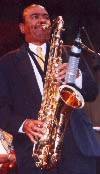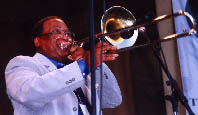 The festival highlight for me was the Benny Golson Quintet which came on right after Johnny Frigo. The quintet consisted of Golson (photo at right)on tenor sax, Curtis Fuller (photo at left) on trombone, Mulgrew Miller (photo below) on piano, Buster Williams on bass, and Carl Allen on drums. After a couple of numbers, special guest trumpeter Eddie Henderson joined the quintet. The group performed some of Golson's best well-known compositions recorded with the Jazztet and Art Blakey's Jazz Messengers, all of which became Jazz standards.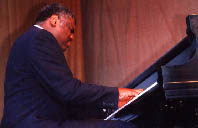 These included "Stablemates," "Along Came Betty," "Killy Joe" and the incomparable "I Remember Clifford."
Golson was followed German based NDR Big Band and Sunday's headliner, the Terence Blanchard Quintet with special guest Cassadra Wilson.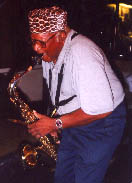 Sunday after the festival, I made it back to the Velvet Lounge where a spontaneous jam session was held, featuring tenor saxophonists Fred Anderson (photo at right), and Kidd Jordan, and soprano saxophonist Douglas Ewart and a long continuous line of talended local and festival musicians. A very knowledgeable Jazz friend of mine who lives in New York told Fred who owns the Velvet Lounge that there was no place in New York where one can hear the type of music he heard that night at the Velvet Lounge.
by Jimmie Jones
---
This article was sponsored by Eyes Around the World Travel Agency of Chicago
8050 S. King Drive, Chicago, IL 60619 - Tel: 773 224 7078 Fax: 773 224 8256
---
Back to

Contents Page
Jazz Now Interactive

Copyright Jazz Now, October 2001 issue, all rights reserved
jazzinfo@jazznow.com