Big Time Blues Festival in Long Beach, California
by Dorothy Hill
A trip to the Los Angeles area for a blues fan is not complete without hitting some of the clubs. While there, me and my running buddies, some members of the Amigos Blues Social Club, took the opportunity to check out the new site for Babe Ricky's Inn in Leimert Park.
Bobby Phillips was the vocalist this evening, performing some good old soul and blues tunes backed up by a superb group of local blues guys. The next club, Pure Pleasure, was right out of the Chitlin' Circuit and since there was a big birthday party, the place was jammed at midnight with lots of fried chicken and all the side dishes, everything included for the admission of five dollars! We knew practically the whole band from various visits they have made to the Bay Area. We were disappointed that we had just missed hearing Vernon Garrett, "Mr. Crossroads."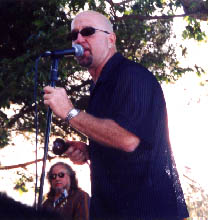 (photo of Kim Wilson with Bob Margolin at background at right by Dorothy Hill.)
Bobby Warren, a deep blues vocalist extraordinaire, gave us satisfaction with his smooth style and great stage presence. He is also a fine guitarist and has been playing in the small clubs for many years with occasional festival appearances. The vocalist billed as Queen Isabella Folks was in the audience and graced us with several tunes. She is a crowd pleaser with her tunes such as "I Am Not a Size 6" and "Wake Up Daddy."
The Big Time Blues Festival is a one-day event held at Gemmrig Park in Long Beach the third week of each July. The setting is excellent for a festival with large shade trees spread throughout the spacious grassy park and it is a relaxed family-oriented event with many children in the audience. Producers are Bernie Pearl, a musician, and Betty Miller of the Big Joe Turner Foundation.
(photo of Kirk "Eli" Fletcher at the Big Time Blues Festival below by Dorothy Hill.)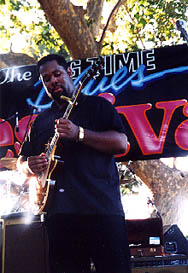 On Sunday morning at the festival, we joined our Southern California contingent of blues enthusiasts at the festival site who had reserved space for all their friends and some good Southern-style homecooking to be shared by all. The Hangan Brothers got the festivities started with their country-style of blues featuring Arkansas-born bluesman Clabe Hangan on vocals and guitar. His version of the Little Richard tune, "Direct From My Heart To You" was outstanding. Sonny Rhodes, recipient of the 2001 Monterey Bay Blues Artist of the Year award, put on a non-stop blues show with his gritty Texas-Oakland vocal style and tremendous guitar skills. But, best of all was when he sat down with the lap steel guitar, especially on "Shame On You." Accompanying Rhodes was the wonderful tenor saxophonist, Hollis Gilmore, and master keyboardist, Leon Blue. Rhodes finished his set with the Johnny Clyde Copeland tune "Life's A Rainbow, in an emotional outpouring performance.
Steady Rollin, Bob Margolin, known for his many years with the Muddy Waters Band, delighted the audience with his Chicago-style blues. His rough vocals and explosive guitar were especially effective on the slow blues tune, "Screamin, and Crying."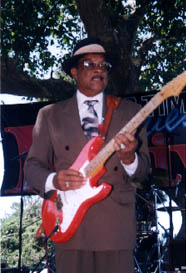 Joining Margolin was the dapper Hubert Sumlin (photo by Dorothy Hill at left) who played with the legendary Howlin' Wolf for many years. Sumlin's historical influence on contemporary blues stars is significant even though he has never gained wide recognition. Sumlin was in rare form this day with his charming manner, vibrant guitar style and downhome blues vocalizing. Sumlin's set included the tunes "Little Red Rooster" and "Sittin' On Top of the World," on which he exhibited his personal style of tone and intensity. Sumlin epitomizes "gentleman blues" with grace and polish.
Arthur Adams, demonstrated his rapid-fire guitar style and soul-steeped blues vocals crowd-walking to the delight of the audience. Adams has an electrifying stage presence with his intensely fierce facial expressions. Adams was definitely a captivating performer this day. Kim Wilson, harpist and vocalist, fronted the Fabulous Thunderbirds for many years and represented a contemporary style. Kirk "Eli" Fletcher accompanied Wilson on guitar. Fletcher is one of the best new young guitarists on the scene today and is destined to become a major blues star his technique is fresh yet immersed with a blues consciousness rare in someone so young. Wilson's muscular style of harp playing is phenomenal and he seemed to never take a breath, quite a tour of powerful hard-hitting blues. A barnstorming jam session concluded the show with Sonny Rhodes in his undershirt on lap steel guitar joining Wilson, Margolin, Sumlin and Leon Blue on keyboards. The mellow audience was screaming for more.
by Dorothy Hill
---
Back to

Contents Page
Jazz Now Interactive

Copyright Jazz Now, August 2001 issue, all rights reserved
jazzinfo@jazznow.com