Roger Kellaway and Ruby Braff at the Jazz Bakery, Los Angeles, California
Before launching into my review of two extraordinary musicians, I'd like to first pay tribute to Ruth Price, the indomitable purveyor of fine jazz at the Jazz Bakery. She deserves great accolades for the continued chances she takes with some of the programs scheduled. The appearance of Kellaway and Braff is a perfect example: one pianist and one cornetist alone onstage. Add to this, the vastly different approach these two jazzmen normally take, and you have a recipe for some most interesting moments.
Kellaway (photo below by James Redke) had made a similar showing a couple of months back with clarinetist Eddie Daniels, so is familiar with this kind of coupling. Despite the fact that he and Braff have known each other for over five decades, this was their first time onstage together (the week-long engagement was being recorded for an upcoming CD).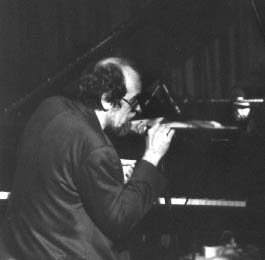 The proceedings opened with Kellaway solo for a gorgeous version of "I'll Never Be the Same," after which he brought Braff and his cornet into the picture. Although not heard as much these days, (since the demise of Nat Adderley) this instrument, which is similar to the trumpet has a much mellower tone, and seems capable of more romanticism, which Braff had no hesitation in displaying several times.
Right from their first notes together, the rapport and empathy were almost tangible to the audience. Each and every piece was, beyond its musical content, and animated conversation, an exchange of feelings as well as ideas. Neither seemed interested in out-doing the other (even though both these men have strong, dominant personalities).
Braff is an amusing raconteur and delighted the audience with stories of life on the road and other subjects all delivered in a casual, off-beat manner as he would introduce a certain tune. The difference between Braff's obvious roots in swing and earlier styles, and Kellaway's forays into more modern, at times even avant garde arenas, provided an opportunity to examine almost the entire range of Jazz's history.
Many may remember Kellaway as the composer of the theme tune for the hugely popular television series, "All in the Family." Since the show's star, Carroll O'Connor had just recently passed away, the pianist closed the show with a poignant version of that theme, "Remembering You," both playing and singing the lyrics in a warm and loving voice.
by Francesca Nemko
---
Back to

Contents Page
Jazz Now Interactive

Copyright Jazz Now, August 2001 issue, all rights reserved
jazzinfo@jazznow.com