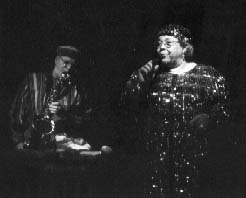 Dr. Margie Baker, (pictured here with Don Pender) now retired, served as an educator for 48 years in the San Francisco Unified School District as teacher, dean, and central office administrator. However, she also enjoys singing. She has traveled worldwide as a vocalist and has performed with such artists as Dizzy Gillespie, Errol Garner, Buddy DeFranco, Tee Carson, Richie Cole, Rodney Jones, and her dear friend, Fred Berry, Director of the Stanford Jazz Orchestra.

Highlights of her career include traveling and performing for several years with the Montery Jazz Festival, and receiving the San Francisco Council on Entertainment's presitgious "Outstanding Jazz/Blues Vocalist and Entertainment of the Year Awards."

Presently, she appear regularly in elegant music venues in the San Francisco Bay Area such as Café Fino/Maddalena, Shanghai 1930, Cetrella, Club Jazz Noveau. She also performs in concert yearly at the world-class Bach Dancing Dynamite Society at the Douglas Beach House in Half Moon Bay, California.

Margie has only recently signed a contract with the Nevada located Genesis II Music record label that has issued her first CD, Live at Rasselas.
---
back to Jazz Now