The print edition of this issue of Jazz Now magazine has been sold out. You may soon read the entire version here, or e-mail us at: tearsheets@jazznow.com for tearsheets.
---
February 1993
Exposition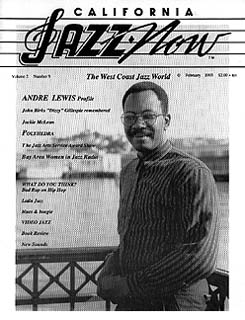 Counterpoint
Making the Rounds
Polyhedra
Andre Lewis
Jazz Arts Service Awards Show
Monterey Jazz Bay Area Roundup - Best of the Best?
Grooving
Articulation of the Heart
More Than Just a Pretty Voice - Bay Area Women in Jazz Radio
WHAT DO YOU THINK? Bad Rap on Hip Hop
Latin Jazz
The Day Dizzy Gillespie Died
How I Spent My Winter Vacation
Jazz Along the River
Out There
Blues & Boogie
Video Reviews
Book Review
The Black Music History of Los Angeles: Its Roots
New Sounds
---