Margie Baker
by Bill Kisliuk
Jazz singer Margie Baker has spent a half a century in school rooms, but she still can't read in her native musical language. And she likes it that way.
That's because for Baker, music is a spirit thing.
"What I sing is black people's folk music," says Baker. "Folk music isn't always written down. It's root music. You don't have to be formal in root music."
Pointing to her heart, she says softly, "It comes from here."
Margie Baker is an anomaly in the music world. She recently learned the entire score of Porgy and Bess by ear. Without formal training or a whole lot of ambition in Jazz circles, the unassuming Dr. Baker has quietly assumed a position among internationally-known Jazz performers while devoting most of her life to teaching children.
She has been a teacher and administrator in the San Francisco public schools for thirty-seven years, and she continues to teach math and English at Marina Middle School today.
But it's the end of summer now, and Baker has been busy with her singing sideline. She recently returned from her umpteenth trip to Japan as part of the Monterey Jazz Festival touring show, where she has been accompanied by masters like bassist John Heard and saxophonists James Moody and Richie Cole, among others.
In the [San Francisco] Bay area, she has performed often with top flight musicians like guitarist Bruce Forman, pianists Larry Vuckovich and Tee Carson, drummer Eddie Marshall and bassist Herbie Lewis. She's also performed with the Mark Naftalin Blues Revue, an all-star crew of blues musicians led by the pianist on his forays to California festivals and fairs. She has won Entertainer of the Year honors and Outstanding Blues/Jazz Vocalist from the San Francisco Bay Area Council on Entertainment. She has yet to make a record, though she's in no hurry. She says the right situation just hasn't come along. But given her singing talent, patience, good nature and good fortune, it seems likely that one day it will.
This spring, Baker settled in for a month of Saturdays at Shenanigan's Restaurant on Oakland's Jack London Waterfront. Shenanigan's may not be a world-class Jazz haunt, or even one of the more well-known music rooms in the East Bay, but it is a nice spot on a cool evening, with shoreline lights glimmering off the estuary and the towering cranes of the Port of Oakland visible in the distance.
Baker put her personal stamp on standards including "Fly Me to the Moon," "Stormy Weather," and "Alright, OK, You Win." Her stage manner, like her off-stage demeanor, was warm and casual. Her voice, husky in the low range and satin-smooth up above, wrapped itself around each song, in casual but complete command of the material. The rhythm, the melody and the lyrics all merged into a seamless cloth, flowing from a deep internal spring.
"I never analyze what I do," Baker says. "I just do. I look at it like being an actress. You have to put yourself inside the story the song is telling. Like the lyrics from 'Fine and Mellow,' 'My man don't love me, treats me awful mean.' It's never happened to me, but I can relate to it."
Born in Center, Texas, Baker was just two years old when her mother brought her to California in 1939. A true-to-live Rosie the Riveter, Kay Brown was a steely sort who came to the Bay Area to take advantage of war-time work. She was in her early 20s when she began working at the Hunter's Point shipyards.
"My mother came out here to make money, then she was planning on going back to Texas to build a home," Baker says. "But she changed her mind. She didn't want me to grow up in the Deep South."
Instead of the Texas/Louisiana border, Baker grew up on Golden Gate Avenue in San Francisco's Western Addition. She earned good enough high school grades to enter UC Berkeley at age 16 with a $500 Scholarship. That went a long way back in those days, because tuition was just $32 a semester.
"Berkeley was a true college town then." she says. "Like the kind you see in the movies. Not much 'boat-rockin'."
Baker graduated from Berkeley with a degree in education, then moved on to San Francisco State University for her Master's degree. She was teaching and working her way towards a Ph.D. in Education at the University of San Francisco when friend George Hanepan, playing guitar at Henri's atop the San Francisco Hilton, asked her to sit in one night in 1972. She did, and hotel magnates Conrad and Barron Hilton happened to be in the house. The rest, as they say, is herstory. When her first set ended she was surrounded by hotel executives offering her a singing job.
Working at the Hilton at first helped pay her way through graduate school, and she continued to sing there on and off for fifteen years.
Long before singing professionally, Baker was hip-deep in music. She sang at casual get-togethers with friends in her youth and fell in love with the music of the mighty Dinah Washington. ("My idol was Dinah Washington. Everybody wanted to sound like Dinah."
While studying for her UC Berkeley classes at her home, she would head a mile or two down the street, taking study breaks from her house to visit the Blackhawk, a notorious Tenderloin Jazz dive that thrived from the late 1940s to the late '60s. She was sitting behind the makeshift chicken-wire teen section at the Turk Street club with Mary Stallings (another exceptional Bay Area vocalist) when Baker first saw trumpeter Dizzy Gillespie.
"It was May 1, 1959 when I met Diz," says Baker. "I'll never forget. He saw this young girl in the crowd, and I guess he just decided he was going to tease her." The good-natured Gillespie befriended Baker, and the two came to share a warm friendship for over 30 years, until he passes away January 6 this year.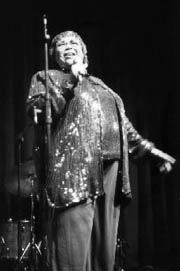 Baker was touring Australia at the time Diz died. A month later she was on the stand at a tribute to Dizzy at Oakland's Scottish Rite Temple, singing a moving rendition of "Birk's Works," one of his many contributions to Jazz's all-time fake book.
"Diz was very philosophical," says Baker. "We spent many hours talking about life in general, and he told me things about how to handle myself. He was always full of wisdom and advice.
"I knew Dizzy for 15 years before he knew I could sing. When he hound out I was a singer, he said,'Why didn't you let me help you?' I said, 'Mr. Gillespie, I have other things to do besides singing.'"
Eventually, she sang with Diz whenever the two crossed paths, whether it was the Blue Note in Tokyo, the Village Gate in New York or Yoshi's and the Great American Music Hall in the Bay Area. When he did come to town, he would come to the San Francisco schools with Baker and drop a little Dizzy science on the children.
Despite a history of lofty musical associations, Baker does not see herself as part of the hustle and bustle of the Bay Area Jazz milieu. She and her husband Kenneth, who is postmaster in Mountain View, have full-blown careers outside of music, two daughters, seven grandchildren, and plenty to do. Hustling Jazz gigs or recording dates just doesn't suit Baker somehow.
"The Jazz clique is very cliquey, and I don't want to be part of that," she says. "I'm not going to go out competing and being seen.
"I'm not singing for the same reasons most musicians. I've never been interested in paying any dues in the music world. I'm still not. My life is made. The music world can't make me or break me. I have not pushed. I have just gone through life letting the Lord put me where he wants me to be."
by Bill Kisliuk
---