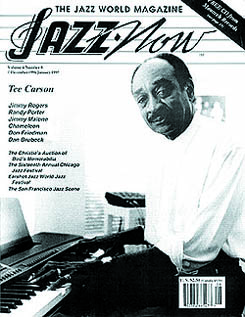 Tee Carson
by Bill Kisliuk
It was a subtle moment, one that probably went right past nearly everyone crowded into the busy San Francisco bistro. As a waiter rushed out of the kitchen carrying a piece of cake and protecting the candle flame with with a cupped hand, pianist Tee Carson deftly dropped a bluesy variation on "Happy Birthday" over the changes of the Jazz standard he happened to be playing at the moment.
The piano phrase had disappeared into the atmosphere before the cake landed in front of the birthday boy, and he probably missed the sly musical message. He probably also didn't know that the pianist is a widely respected veteran of one of the greatest big bands in Jazz history, the Count Basie Orchestra. But this fleeting moment captures the essence of Tee Carson's musical mastery: understated, swinging, and right on the money.
The unnoticed moment also speaks of Carson himself, who for twelve years was in many ways a secret partner in Basie's powerhouse orchestra. Carson joined the Basie band in 1977. When the master's health couldn't keep up with his touring schedule (which happened often) Carson would take over the piano chair. Many times Basie would make only a cameo appearance at the beginning of an evening and then turn the reins over to Carson. After Basie died in 1984, Carson continued to tour and record with the band for five more years. Needless to say, those are not shoes that many piano players can fill.
"You've got to know how to play all the notes on the piano before you know which ones not to play," says drummer Harold Jones, another Basie alumnus. "And Tee definitely knows all about it. He fit right in with the Basie band."
Many of Carson's musical collaborators place him in rarefied musical ranks. Allen Smith, a former Duke Ellington Orchestra member who spent all of 1991 blowing trumpet in Carson's quintet at the New Orleans Room in San Francisco's swank Fairmont Hotel, says that Carson has a metronomic mind. "Tee has the ability to swing, period," Smith declares. "Basie was a time master; Sweets Edison is a time master, and so is Tee."
Donald Tecumseh Carson, who turns sixty-six this month, began performing in the 1940s around Washington, D.C., where he grew up in the shadow of the Capitol. As a youngster, Carson got to know many of the local heavyweights, and I'm not talking about neighborhood boxing hero Johnny Pitro. Tee's Capitol Hill neighborhood was also home to Charlie Rouse, the great tenor player who was an integral member of Thelonious Monk's groundbreaking quartet, and to bebop baritone player Leo Parker. Another resident was Frank Wess, the smooth tenor player who would prove to be a frequent Carson collaborator over the decades, both with the Count and without.
Tee spent two decades gigging in rooms in and around the capital, leading small combos at clubs such as the Showboat (where he recorded with Charlie Byrd) and the Bali. In the 1950s he broke the color barrier at a couple of D.C.-area venues.
"At that time the clubs were segregated," says Carson, whose relaxed demeanor and cognac-smooth voice make a listener feel right at home. "Whites could come to the colored places, but colored couldn't go into the white clubs."
Carson's integrated combo was the first to break the barrier at D.C.'s Shoreman Hotel, where Tee ended up holding the gig for three years. "That made front-page headlines," he recalls. "And the head of the white union would have liked to have a fit."
Carson's trio, then featuring bassist Keter Betts and drummer Bertell Knox, backed many of the traveling stars of the day when they hit the capital, including Billie Holiday, Johnny Hartman, and so many others that they've slipped out from beneath Carson's stylish cloth cap and on out of his memory. It was in those years that he first worked with the First Lady of Song, Ella Fitzgerald, with whom he would later travel the world.
In the early 1960s, Carson's trio (now with drummer George Brown and bassist Wilbur Little) played the Embers in New York City, working opposite Oscar Peterson and Sweets Edison, among others.
Not too long thereafter, Carson was named by Attorney General Robert Kennedy to the U.S. Marshal Service back in D.C. Soon he was appointed to another distinguished post, the piano chair in Ella Fitzgerald's orchestra. For the next five years, Carson frequently took leave from his law enforcement role to record and tour with Ella, getting his passport stamped in Eastern Europe, Africa, and South America.
Over the years Carson has often recorded behind vocalists, including a recent Basie band date with Diane Schuur. But it is with big bands that he feels most at home. "I prefer the big bands," he says. "I've always loved big bands. I just like to hear all those voices talkin' to me."
Of course, the voices in the Basie band ain't no ragtag chorus. Many of the most distinctive improvisers in Jazz history made their marks with Basie, from trumpeters Buck Clayton and Sweets Edison (JN December 1991) to legendary tenor saxophonist Lester Young. During Carson's tenure, the band was anchored by saxophonists Frank Wess and Frank Foster, as well as guitarist Freddie Greene, who spent more than half of his life as a member of the Basie band.
"That band is probably one of the tightest families you will ever find," says Carson. "To get into that band, somebody damn near has to die."
Carson says that allegiance is one of the keys to the Basie band's magnificent combination of roaring power and seamless, sophisticated soloists. "Being a family away from the family, you develop tighter relationships," says Carson. "And that helps put the sound together. It mellows the whole thing out because it's not like we had a new person sitting in the chair every week."
Basie, by all accounts a down-to-earth fellow, helped cultivate that atmosphere. "He was not the type of bandleader you were afraid to talk to," says Carson, "or that you would try to do in. If we were traveling and the band stopped for hamburgers, Basie ate hamburgers. And until the latter years, Basie rode on the bus with us."
Carson adapted his already bluesy and sophisticated sound to that of the Count in order to better mesh with the orchestra. His mastery of that art is more than evident on "Misunderstood Blues" and a number of other fine cuts on Long Live the Chief, a 1986 outing on Denon Records. Carson also contributes uncredited piano work to a number of latter-day Basie releases on Pablo Records, including Warm Breeze and 88 Basie Street.
But playing out front is not something Carson, or Basie, did much in that orchestra. "Basie told me, 'You are like a traffic cop in this band,'" smiles Carson. "When we performed I'd play the introduction, and the band would know what tune I wanted to play. Then I'd play the plink, plink, plink at the end, and that was it."
In 1989, Carson tired of the road and retired from the band, settling down in the Bay Area. He has played a key role in educating new generations of musicians, helping whip the Monterey Jazz Festival High School Band into shape for its Japanese tour each year and taking part in Jazz clinics around the state sponsored by Yamaha.
His sonorous baritone voice and easy manner are a mainstay on KCSM radio, where he is welcome news to Jazz listeners who are mesmerized by his voice, invigorated by his excellent selections, and educated by star guests including Les McCann, Frank Foster, Herbie Mann, Madaline and Eddie Duran, and others.
"I try to get people to talk about their instrument [and] give the people a little education about how the music has evolved," says Carson. "When I had Bobby Hutcherson on, it was not so much to interview Bobby but to talk about innovation and the invention of the vibraphone [and] the marimba and how it relates to Jazz now. I had [veteran bassist] Vernon Alley, and we talked about the bass fiddle and how it got used. All the way from Walter Page days and Red Callender and those guys who played tuba as well as bass."
Like many others, Carson now finds an enthusiastic audience awaiting him in Japan, where he has a handful of records out that are not available on this side of the Pacific. As this is being written, he is touring Japan with the Concord Fujitsu Jazz Festival, alongside stablemates like Frank Wess, Ray Brown, Jeff Hamilton, Jeff Clayton, Niels-Henning Orsted Pedersen, Billy Higgins, and others whose musical footprints are pressed into Jazz history.
Carson's name may not be as familiar as many of those with whom he is now sharing the stage, but his timeless piano style, Jazz knowledge, and world-class credentials put him in the front rank.
"One of the great things about playing with Tee is just the professional level," says bassist Scott Steed. "He's very classy. He's very much a gentleman, and he's always in the groove rhythmically. He knows what to play to get people going. And," he adds, "Tee can really [hold] an audience."
by Bill Kisliuk
Tee's new CD, Tee Carson and Friends, is available through the Jazz Now Direct CD Store.