Bill Bell -- The Jazz Professor
By Robert Tate and Nina Hodgson
Most musicians brag about who they've played with; pianist Bill Bell prides himself on his students. He's taught thousands in a career spanning twenty-five years as chairman of the music department at the College of Alameda. His method is to inspire students with a love for the music that will keep them going through all the years it takes to learn their trade. "With talented people," he says, "if you can get them inspired enough to love something, they will take it the rest of the way.
"The discipline that one needs to acquire for Jazz is the same discipline that one should try to acquire as a classically oriented musician. I say that because you really need to know the instrument, whatever it is that you play. You need to be able to play the classical repertoire as well as the Jazz...The performance level has been pushed to such a peak that you really have to have technical control of your instrument. That's why I tell my students that as a pianist you've got to play the Bach and the Chopin and the Beethoven and do it well so that you can transfer all the technical aspects of that kind of playing into Jazz. Because who are the players? Herbie Hancock, who played with the Chicago Symphony. Bill Evans, who was a great concert pianist. Oscar Peterson, You name 'em... You have to be able to play the piano at that level. You can't just know a bunch of chords and fake it."
If this sounds like hard advise, consider some of Bill's students who have gone on to success in music. Michael Wolff until recently was the music director of the Arsenio Hall Show. Rodney Franklin is a well-known recording artist who recently completed a tour with Stevie Wonder. William Kennedy handles the drumming for the Yellowjackets. The list goes on.
These and more of Bill's students appear on his new CD, The Jazz Professor, schedules for release on June 18 (1995). A record release party at Kimball's Carnival in Emeryville will mark the occasion. While the list of special guests hasn't been nailed down as of this writing, you can bet that many of Bill's students will be there to pay tribute to their mentor.
Drummer, Louie Bellson, Mrs. Bell and Bill Bell
(photo by Jimmie Jones)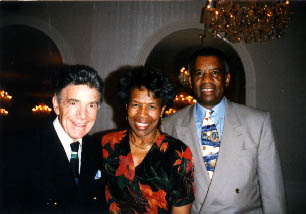 It's rare to find an academic who is also an accomplished practicing Jazz musician. Bill has impeccable credentials in both departments, which makes him a unique personage on the Bay Area music scene. He has toured with Benny Carter and Carmen McRae, appeared on recordings with Nancy Wilson, Dizzy Gillespie, Cannonball Adderley, and many other Jazz greats. He composes and arranges for big bands and choirs as well as smaller groups and was the choir director for one of Duke Ellington's sacred concerts at Grace Cathedral in San Francisco in 1967. Duke of course heard Bill accompanying the choir on piano during rehearsals, and before the performance he told him, "Go ahead and play, man." So Bill played with Johnny Hodges, Sam Woodyard, Cootie Williams, and the whole immortal Duke Ellington Orchestra.
As a Jazz educator, Bill has been head of the music department at the College of Alameda since it opened in 1970. In fact, he says, "I am the music department here. There used to be three of us, but two of the guys died, and they never did replace them." He also teaches a course in Jazz improvisation at the University of California at Berkeley and from 1987 to 1991 led the Jazz band and small Jazz ensembles at Stanford University.
Many of his students come from the University of California's Young Musicians Program. "We go to several junior high and high schools in the East Bay and ask the music teachers to identify the most talented youngsters who may have some problems getting private lessons or whatever. And we audition those youngsters and come up with at least forty-five to them. We have slots for forty-five youngsters, all of which fall into several categories. There's string players. There's singers. There's instrumentalists, and we form different ensembles out of those groups. Vocal ensembles, brass trios, and brass quartets. String quartets, string ensembles, et cetera. And, of course, there's a Jazz ensemble that I'm responsible for. The biggest part of our program is in the summertime. It's a seven-week program, but it extends throughout the year because the kids get private lessons. It's a very, very fine program, really a model, where everybody in the program, whether they're pianists or not, has to take piano and play in an ensemble or participate in an ensemble."
In addition to his teaching, Bill also directs a choir at the Downs Memorial Methodist Church in north Oakland. Each year the choir performs a Christmas concert at the Calvin Simmons Theater. Bill frets that the choir recently lost all its male voices. "I'm really upset about that. You can't do choral singing without male voices. I don't know quite what to do about that, other than turn it into a women's chorus."
Bill describes his new album as a tribute to a number of people who have inspired him. There are selections dedicated to Duke Ellington, Count Basie, his father, and his son, who died tragically in 1991. The tunes are widely different in style, with influences ranging all the way from African to twelve-tone. "There's a little bit of everything there 'cause I wrote the pieces to reflect impressions of people that I chose to represent in a musical form. And, of course, you can't really put everyone in one format."
Duke Ellington used to say that people he especially admired were "beyond category." Bill Bell understands that respect for people means treating them as individuals beyond category. As a vital part of the musical life of the Bay Area, Bill is himself, in the best Ellington sense, beyond category.
by Robert Tate and Nina Hodgson
---
Jazz Now Magazine -- June 1995 Issue
Back to