The print edition of this issue of Jazz Now magazine has been sold out. You may soon read the entire version here, or e-mail us at: tearsheets@jazznow.com for tearsheets.
---
December 1995/January 1996

Exposition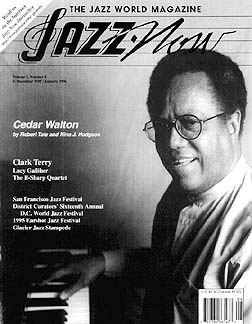 Frankie M. Receives Award
Doug Edwards's Apartment Fire
Blues, Gospel, and Jazz Coalition
Diz Joins Galaxy of Stars
Flip Nuñez
Making the Rounds
Lucy Galliher
The Jazz Store at KRML
The B-Sharp Jazz Quartet
Cedar Walton
Clark Terry: Mr. Mumbles Never Grumbles
San Francisco Jazz Festival
The Modern Jazz Quartet
Armando's Noche Gigantica
Randy Weston
Wayne Shorter and Christian McBride
Central Coast
Jazz along the River
Wynton Marsalis and the Lincoln Center Jazz Orchestra
Mel Tormé
Washington, D.C.
The District Curators' Sixteenth Annual D.C. World Jazz Festival
Stray Horns
The Big Apple
Southern California
Notes from the Apple
A Bash at Jazz Now Headquarters
Jan Scobey's Hot Jazz
Southern California Jazz Fest
Glacier Jazz Stampede
Oregon Dixieland Jubilee
Northwest Notes
The 1995 Earshot Jazz Festival
Puzzle Corner #30
The Jazz Bazaar
New Sounds
Book Review
---