The print edition of this issue of Jazz Now magazine has been sold out. You may read the entire version here, or e-mail us at: tearsheets@jazznow.com for tearsheets.
---


November/December 1996/January 1997
(Sold out)

Exposition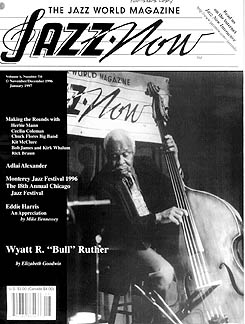 Beyond Category
John Lee Hooker
Contemporary Jazz
Mingus on Creativity
Top Fifty
Letters to the Editor
Making the Rounds
Herbie Mann at the Jazz Hall
Cecilia Coleman Trio
Chuck Flores Big Band
A Celebration of Classic American Jazz Music
The Kit McClure Band
Bob James and Kirk Whalum
Rick Braun
Wyatt R. "Bull" Ruther
The Book of Changes: Jazz in Beijing (Part VI)
Blues 'n' Boogie
Central Coast by Francesca Nemko
George Van Eps, Luther Hughes, and Bill Miller
Andy Harp, Deejay and Trumpeter
The Damon Castillo Quartet
Poncho Sanchez and Arturo Sandoval
Charles McPherson Senior and Junior
Jeff Linsky Solo
Zakir Hussain and the Rhythm Experience
Elsewhere on the Central Coast
Adlai Alexander: New Words, New Sounds
The Santa Barbara Jazz Scene
Watch Out! There Goes a Club...or Is It Two?
Is It a Jazz Festival, or Does It Matter?
The 1996 Monterey Jazz Festival
Eddie Harris: an Appreciation
The Eighteenth Annual Chicago Jazz Festival
Who Is That Lady: A Poem
New Sounds
Jazz Now Marketplace
The Jazz Bazaar
---