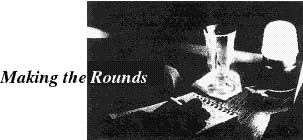 Rick Braun at Yoshi's Nitespot
(Read about this in the print copy of Jazz Now Magazine by calling 510-531-9249 or via e-mail at jazzinfo@jazznow.com.)
---
Swing Fever at Julie Ring's Heart and Soul
Swing Fever is dedicated to playing the music of the 1930s and 1940s. Their large and faithful following packed Julie Ring's Heart and Soul in San Francisco on the night they appeared there to celebrate the release of their CD, Reunion, on the d'Note label. The event was cosponsored by Jazz Now. The group consisted of trombonist, vocalist, and leader Bryan Gould, reedmen Ray Loeckle and Howie Dudune, guitarist Jim Putman, bassist Dean Reilly, and Ron Marabuto sitting in for regular drummer Harold Jones. Vocalist Kim Nalley sang several numbers.
Performing as usual without a piano, Swing Fever used Putman's ax as a comping instrument rather than a rhythm guitar most of the time. The reedmen played a variety of instruments, but when they were both on saxophones, Loeckle was the darker and more soulful player while Dudune's style was generally lighter. The trombone is an interesting and refreshing alternative to the more usual trumpet, and Gould used it on occasion for a sort of Dixieland tailgate feel.
The repertoire was roughly divided into straight-ahead swing numbers and novelty tunes. The latter usually featured vocals and a consciously old-fashioned instrumental feel. Songs like "Everybody Eats When They Come to My House," Nat Cole's "Shy Guy," and a version of "All for the Love of Lil" straight out of Louis Jordan's book appealed to nostalgic oldsters who laughed unfailingly at lyrics they must have heard dozens of times. Gould's delivery of the lyrics seemed more inspired by the quest for an authentic forties sound than by any desire to explore the essence of the song.
The band's treatment of "Moten Swing," "Dickie's Dream," and "Corner Pocket," on the other hand, showed greater musical sophistication. These are all big-band classics from the thirties ("Moten Swing" may even date from the twenties), but the treatment was more modern harmonically and in the way the rhythm section was used. So there was a little something for everyone.
Singer Kim Nalley fired the group up on a couple of occasions when it seemed needful. She has good pitch, accurate intonation, and an interesting approach to her songs. On "Give Me the Simple Life" and "Undecided," for example, her improvisation took the form of simplifying the melody down to a couple of notes fairly far apart and alternating between them as the band played the full melody behind her. At a heart-stopping tempo, it gave an effect of stripped-down urgency. I noticed that Howie Dudune echoed this effect on his solo on "Undecided." On "Route 66" Nalley sang harmony with Bryan Gould, throwing a couple of dissonant intervals like spice into the stew pot.
Kim is a better choice for vocalist with this band than Paula West, who had been working with them for a year or two. Paula is a heartbreakingly beautiful singer, but Swing Fever needs someone more extroverted, and Kim fills that bill. In fact, it's a changed band with the different singer.
Swing Fever keeps their music alive without turning it into a museum piece.
by Robert Tate
---
The Ray Brown Trio at Yoshi's
(Read about this in the print copy of Jazz Now Magazine by calling 510-531-9249 or via e-mail at jazzinfo@jazznow.com.)
---
Harvey Wainapel at Mother's Tavern, San Luis Obispo, California
As part of an eight-city promotional tour for his latest release, Ambrosia, saxophonist Harvey Wainapel made a return visit to Mother's Tavern to great acclaim. Bringing a bare-bones unit of bassist John Wiitala and drummer Kenny Wolleson, the popular Bay Area musician didn't disappoint. Noting that Wolleson is based in New York and tours with the likes of Tom Waits, I was not surprised when Wolleson garnered his own following. Wiitala similarly has good credentials, having been associated with pianist Jessica Williams and the Cuban trumpeter Arturo Sandoval.
Opening with a couple of standards, "I Hear a Rhapsody," and "Old Folks," the trio soon showed their unique perspective. Wolleson's quirky style could very well be the epitome of New Age drumming. On Clifford Jordan's "Moonatic," Wainapel astonished the audience with his incredible flow of ideas and a virtual cascade of well-placed notes.
Switching between tenor, alto, and soprano, Wainapel made good use of the different colors the three instruments afford. In a typical three-o'clock-in-the-morning blues-drenched piece, his soprano was gorgeous. On "Cyclic Episode," from his first CD, At Home/on the Road, his cutting-edge alto work bore allegiance to no one.
Although they couldn't duplicate the sounds on Ambrosia, (recorded for the most part with the Metropole Orchestra), the trio nevertheless gave faithful readings of several tracks from that CD. This is such a tightly knit threesome that at times there was a sense of one instrument playing rather than three separate entities.
Wainapel's background has prepared him for his destined success in his chosen field. During his studies at Berklee College of Music, he had such classmates as two-time Down Beat poll-winning saxophonist Joe Lovano, guitarist John Scofield, and trumpeter Claudio Roditi, all of whom he has learned from. A five-year hiatus in Europe, which led to the current recording, also shaped his thinking and delivery.
The verdict at Mother's Tavern was unanimous: overwhelming applause and requests for more. Hopefully the trio will grace us with another visit in the not-too-distant future.
by Francesca Nemko
---