Allen Smith
by Elizabeth Goodwin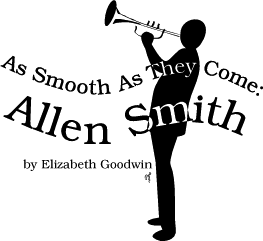 (Graphic by Stella C. Brandt;
photos by Haybert K. Houston)
Just after a satisfying meal of Cajun fettuccine with chicken at Skates on the Bay on the Berkeley Marina, freelance trumpeter Allen Smith leans back in his chair and soaks in the breathtaking view of the bright, maize-colored sun glistening on the water. He is dapper and conveys a relaxed, classy, and worldly presence. He has the look of a man at peace with himself. He is happy to have found his place in the world-down to earth, comfortable, yet cautious and always prudent about his choice of words.
"At my age," he reflects, looking much younger than his seventy-one years, "and at this stage in my life, it's nice to be able to enjoy some of the fruits of my efforts because I've worked very hard. Many people work all their lives and never reap any of the riches-and by riches, I don't mean monetary ones but the joys of life."
The San Francisco resident has had more than a handful of joys to celebrate. Born Frederick Allen Smith in Midland, Pennsylvania, on August 11, 1925, during the big-band days, he and his family moved to Stockton, California, in 1943. He was quickly drafted into the U.S. Navy and played with the renowned navy Hellcat Band at Barber's Point, Hawaii. After the war, he graduated from San Francisco State College with a master's degree in education and worked as a teacher from 1950 to 1985 in the San Francisco Unified School District. He taught elementary school at Hunters Point, Monroe, and Lafayette schools before retiring as principal of Junipero Serra School.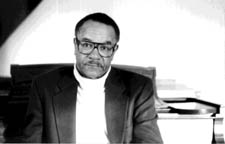 Before he became an educator, however, the brass man took a leave of absence and went to New York in 1958 to tour with the illustrious Benny Goodman Orchestra as featured soloist. He also did a host of television and radio commercials when he wasn't recording with Goodman and the Gil Evans Orchestra, and he played lead trumpet at the famed Roxy Theater. He has performed with Ella Fitzgerald, Tony Bennett, Sammy Davis Jr., Nelson Riddle, Louie Bellson, Peggy Lee, and Pearl Bailey, to name just a few luminaries. His discography includes dates with Duke Ellington, Benny Goodman, Flip Phillips and his Orchestra, Larry Vuckovich and the San Francisco Jazz All Stars, the Rudy Salvini Big Band, the Gil Evans Orchestra, Hubert Laws, and Cal Tjader.
Smith inherited his love for music. His father was a church choir director, and his mother played piano. His older brother Wayne (with whom he now plays golf on Mondays, and who he says "regularly kicks my butt" on the green) plays guitar. He expressed interest in the trumpet because one of his uncles had a cornet that he kept under his bed. Smith says he "sort of followed" a cousin who played trumpet and trombone. Jazz was always played around the house. In fact, Smith was so enthusiastic about the music as a child that his dad had one of the older guys in the band serve as his guardian when he played nightclubs and beer joints at the tender age of fourteen.
His playing style is fluid and smooth, steeped in the mainstream swinging style, something that he says he learned from being influenced more by saxophone players than by trumpeters, even though he was a huge fan of Roy Eldridge, Clark Terry, Harry "Sweets" Edison, and the inimitable Dizzy Gillespie.
"I always wanted to style my playing after saxophone players because I felt that sax players played a line with more fluidity than trumpet players. Trumpet players in the old days would play more staccato notes-da-da-da," he says, mimicking the shorter, punchier phrase bursts. "Whereas sax players would play doo-doo-doo-doo-doo. I liked that linear movement of the saxophone sound so much that I said one of my goals would be to play like that." He cites tenor sax giants Lester Young, Ben Webster, and Coleman Hawkins as his most prominent influences.
Despite Smith's great love for music, he concedes that, just like everyone else, he had to be able to make a living. Hence, music was always something he could do as a sideline to supplement his income during a devastating time in our nation's history.
"I think we're all products of the times," he points out. "I'm a Depression child. The Crash was in 1929, four years after I was born. So I came up very conscious of money-to the extent that if you had some money you ate tonight! Another thing that affected me was the mills, which were the sole source of income in Midland, Pennsylvania. If the mills were open and running, the workers in the town had food on the table. If they were closed for some reason, times were rough and people would scramble to get any jobs they could get." It was at this point that Smith realized the importance of being a musician during such a bleak era.
"I learned that it was good to be a musician because you could always pick up a buck here or there when times were tough," he says leaning forward, his voice taking on a more serious tone as if to remind you that those days have permanently shaped him. "I was always security conscious in terms of life. I wanted to make certain that I had enough coming in from somewhere to have food to eat and clothes to wear and a place to stay."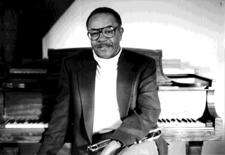 Smith proudly credits his parents with instilling in him a healthy work ethic and the Golden Rule-to treat others as you would want them to treat you. Hence, he felt that being involved in community service as a teacher would be his way of giving something back.
"My family taught me that there's good and bad in all races," he says. "They gave their lives to the community back in Midland, Pennsylvania. So I felt that I owed something to the community, too, as I grew up. I thought if I went into teaching I could be a role model to children."
He has conducted his life in accordance with the way he was brought up.
"If I had to do it all over again, there's not much that I would have done differently," he says contentedly. "At this stage in my life, I'm doing the jobs I want to do. I can accept the jobs that I want and I enjoy playing."
Most recently he has played with vocalist Lavay Smith and Her Red Hot Skillet Lickers in gigs around San Francisco and he is also working with vocalist Pat Yankee, who has performed with Turk Murphy. He says that he frequently returns home from concert dates to a batch of messages from musicians asking him to accompany them.
Last November, he played in the celebrated Echoes of Ellington concert with Bill Berry and the All-Star Big Band in Santa Cruz. He has no recording plans at the moment under his own name, but his freelance playing keeps him well occupied, and right now, that's enough for him.
The hour now approaches sunset. The once maize-colored sun has changed to a dusty, raspberry-tinted glow, and it starts to sink behind the Golden Gate Bridge. Sunset and the close of the interview coincide. Allen Smith pauses, looks up, and sums up his life at that moment.
"It's turned out beautifully for me," he says about his career. "I'd like to think that part of it is because there's someone looking down and taking care of me for all the love that my family has given to others and to me. I feel that I'm able to give some of that love back-at least I hope I am."
by Elizabeth Goodwin
---