Marc Edwards: Jazz Takes on Many Forms
by Noah Kravitz
Marc Edwards (pictured in photo by Mette Tronvall) didn't want to start Alpha Phonics, his record label, but he had no choice. As the drummer explains it, "I wanted to get creative music out to the public," and there were no ready takers for his music among the established record companies, so he founded the company in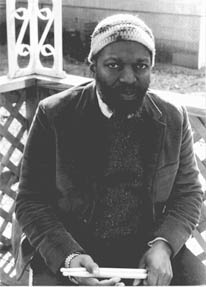 1991. His first release, Black Queen, was actually recorded in 1990, and Edwards kept the tapes until he could publish the disc himself the next year. In 1993 Time and Space, Vol. 1, featuring the drummer in a quartet with Rob Brown, Hilliard Green, and Cara Silvernail, was the second Alpha Phonics release.
Influenced equally by a strong spiritual sense of self and his keen awareness of American culture, Edwards's music is marked by his fierce, creative drumming and the readily discernible logical structures in his compositions.
"Free Jazz isn't really so free like people tend to think it is," he explains. "You have to pay attention to the music-to what the other musicians are doing. It's not just some free-for-all. The way my pieces are, the musicians have the freedom to work within certain areas of the composition."
Edwards, who makes his home in Queens, New York, likens segments of his pieces to areas of a city, defined territories to be explored during a specific time. "We'll have a section where, say, the area from Fortieth to Forty-second Streets between Fifth and Seventh Avenues is mapped out. And you can be free and creative within that specific area as long as we're in that section." When you listen to Time and Space, that concept is apparent: one quickly realizes the musicians are in the same defined territory, exploring ideas on a similar theme and playing off one another tonally and rhythmically, as well as on a conceptual level.
Outside of his Alpha Phonics projects, Edwards is best known for his work with Cecil Taylor on the 1976 concert recording Dark to Themselves. The drummer now keeps a quiet musical schedule during the winter months but is looking forward to performances and a possible album release this spring. "I like to hibernate now during the winter," he says. "Jazz cats always are out playing every chance they get, through the cold and snow, but I feel you need time to take care of yourself. Classical musicians don't tour during the winter, and there's a reason for that. It's a pain lugging these drums around through the snow and ice!"
A trio album, Red Sprites and Blue Jets, with Sabir Mateen on tenor sax and Hilliard Greene on bass, is forthcoming on the CIMP label, and Edwards plans to play with the group, sometimes augmented by Peter Mazzetti on guitar, in New York in a few months.
"My management would like to get me over to Europe, so we'll see," he says. "That tour with Cecil in 1976 was the first time I'd been on the road, and it was so nice to see such a completely different reaction to the music over there. The level of audience response and enthusiasm was tremendous. The young kids were asking such knowledgeable questions; they knew so much about the history of the music. I'd like to go back sometime."
Edwards believes that increased television exposure for Jazz artists would do much to generate that kind of following here in America. "We've got to get Jazz on TV," he says. BET on Jazz is on now, but you can't get that everywhere."
Citing the negative influence of some of today's popular music like gangsta rap on teens, Edwards argues for more a responsible attitude from "so-called artists" and a broadening of mainstream culture. "Young artists today can get a name a little too quickly, and that kind of hype can be bad for them," he explains. "Once they get a name, they start acting silly. There's a negative influence coming down from some of the gangsta rappers right now; they should be exhibiting a positive influence on the youth instead."
The drummer's words about positivity don't ring hollow; the liner notes to his albums are filled words of thanks and praise to friends and mentors, and Edwards's own poems and compositional notes center on the exploration of "the spiritual self."
Though Alpha Phonic's recordings may not yet have achieved the commercial popularity of, say, Tha Dogg Pound, Edwards maintains that "if the kids had the chance to hear us, they'd come hear us." He points to a show in October of 1995 at the Academy in New York as evidence of the music's potential to draw young audiences. "We opened for Thurston Moore of the rock group Sonic Youth, so there were a lot of young people in the audience who'd never heard of us. They were receptives, they were enthusiastic about the music," he recalls.
The problem for Edwards lies in the commerciality of the culture and the limited breadth of music kids are exposed to through radio and television. "Our culture is so ingrained with the backbeat that you can put anything on it and do well," he explains. "The music I'm playing isn't really so hard. If you find it hard to listen to, start with Coltrane." By listening to Coltrane's works chronologically, he explains, the movement away from bebop to free Jazz is easier for the listener to adjust to. "You just start at the beginning and listen through to his progressions with rhythms and harmonics. It all makes sense that way."
Even though he harbors some dissatisfaction with mainstream American culture, Edwards would be the last person to discount the importance of youth on the growth of Jazz today. "Cats think influence is like water coming down from a mountain or rain falling." Edwards's voice becomes animated as he draws the analogy. "They think it only travels in one direction. That's not true; it's a two-way street.....You hear sounds from younger players and pick up on them."
Without a doubt, when you pick up one of Edwards's Alpha Phonics recordings, you're in for some powerful music. But to see him live when he hits the streets of New York again this spring, that will be an experience!
by Noah Kravitz
---