Yehudit's Zeta ­ a Valid Voice in Jazz
by Elizabeth Goodwin
When you think of musician Yehudit (pronounced yeah HOO deet), think of her Zeta five-string electric violin manufactured by the Oakland-based Zeta Music Systems. The petite musician with the warm, winsome smile is looking to get her fellow musicians to view this bow-and-string instrument differently.
"It seemed like violinists and string players were not really in the mainstream of Jazz," she says, "and I didn't understand why not. It was as though the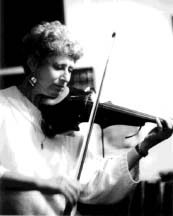 more I got into Jazz, I felt like this was music created by saxophonists and pianists and drummers and bass players, and there's no reason why the violin could not participate fully in this, and how come it's not?"
(Yehudit at the Jazz Now party, May 11, 1997, in Oakland, California. Photo by Haybert K. Houston)
This question led Yehudit to investigate. "I found myself on this quest of -- well -- how can I as a violinist be a mainstream Jazz musician? Finding the Zeta was a big step because I really felt like that gave me a sound that worked in a mainstream Jazz context, and I could work and blend with horn players."
One horn player with whom Yehudit clicked is saxophonist John Handy. She played in Handy's group Class for a year and a half before starting her solo career.
"Just listening to that man play the alto sax and then playing the harmony part to it, you cannot help but learn and be influenced by it," she explains. "Plus, playing his compositions was a real teaching for me."
Her love for the sound of the saxophone has led to some obvious influences by reed and brass instruments. Handy's influence remains with her even now. However, though she respects and loves the playing of stellar violinists Jean Luc Ponty and Stéphane Grappelli, Yehudit says she has transcribed music of trumpeters Miles Davis and Freddie Hubbard and saxophonists Coltrane, Cannonball, Bobby Watson, and David Sanborn.
Feisty, tenacious, and conscientious, the violinist explains her technique and how she remains steadfast at proving that her instrument serves an alternative role in a Jazz setting. You can tell she feels strongly about this notion. She's the Rocky Balboa of the violin, an underdog with the raw desire to prove that she's worthy of winning your support.
"There are a lot of patterns that saxophonists practice, like little runs and noodles that are idiomatic to Jazz," she offers. "A lot of that is really awkward for violins, and I would say that I'm never going to be able to literally do these patterns with the fluency that's demanded. So I compose patterns that fit well to my fingers on my instrument and still sound idiomatic but maybe would be really awkward on saxophone."
One thing that definitely doesn't sound awkward is the interplay of the musicians on Yehudit's upcoming CD, which was recorded between September 1996 and May 1997 at the Banquet Sound Studios in Santa Rosa. Among the features on the freewheeling nine-song disc are the classics "Willow Weep for Me" and "Embraceable You" and the originals "MacArthur Freeway," "Blue-Pur," and "Partly Cloudy." Yehudit wrote the latter three tunes and three more as well, including the lyrical and picturesque "Looking through the Window of Time" on which she also plays synthesizer. Tenor saxophonist Cynthia Mullis penned the buoyant "Dolores Street," named after the hip San Francisco thoroughfare.
In addition to Mullis, Yehudit is joined by a strong cast of players: John Hoy on guitar, Cindy Browne on bass, Curt Moore on drums, the ubiquitous Dmitri Matheny on fluegelhorn, and Ian Dogole on percussion. Dogole, whom the violinist calls "one of my absolute favorite musicians," produced the album. It was engineered by Warren Dennis Kahn. "Warren was just great to work with," she says. "Engineers rarely get the credit they deserve, and Warren sure deserves it."
She says that "the album came along becauseI had a body of work compiled. A couple of years ago, I had decided it was just time to get my act together. I had the tunes. I had been playing a lot and jamming, and it was just time for me to see who I was as a musician. So I started revising my tunes and strengthening them and nailing down what they were and figured out what standards do I want to play.
"This is not a Jazz purist album," she emphasizes. I'm not interested in that. It's definitely real Jazz. I mean, I'm not cutting corners, and I think I show that I know the idiom and can play the changes and all that stuff. But also I want my friends who are not Jazz fanatics to listen to this and enjoy it, and I think basically that's the feedback I've been getting so far."
She says that she doesn't know when the album will be out; she is shopping around for labels and distributors right now.
The album is just one of her accomplishments. Besides being an avid Jazz player in her own group, she is a founding member of the San Francisco Ballet Orchestra and a performer with the Fremont Symphony, the Masterworks Chorale Orchestra, and other Bay Area chamber groups. She is featured on the album Light Magic by Rick Henderson, released on the Global Pacific label, and has been a headliner on the Mill Valley Arts Commission's "Concerts on the Plaza" series. She has also served for several years as musician and music director for the improvisational theater group Lucky Dog, and she performs with theater artists Joya Cory and Mark Elk Baum. On July 5, 1997, she will appear at the JazzArt Festival sponsored by the Oakland Sunset Music Club (Rotary International) at Oakland's Jack London Square, and on August 23 she will be at the Vallejo Jazz Festival.
However Yehudit would like to add more to her résumé. "I'd kind of like to get out there as a side person. I want gigs for my band because they're such a talented bunch of players, and I definitely want to get the album released. It would be a great triumph for me if I could make this point about the violin being a valid voice in Jazz, so that instead of people thinking saxophone, trumpet, and trombone, they can think Zeta violin."
by Elizabeth Goodwin