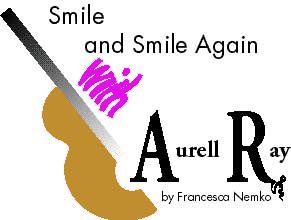 At a CD release party in September, guitarist Aurell Ray demonstrated not only his plectral abilities but also his concern for the community. Entitled Jazz for Medical Recovery, the event served to spotlight Ray's first recording as a leader and to introduce the new company that he and his partner, Dr. Bill Sweezer, have launched.
"Seven Venues, which is the name of our venture, is designed as a kind of home for creative gatherings," explained Ray. The first offering, his own Smile and Smile Again, has Ray very excited, since it features a handpicked, stellar cast of internationally recognized musicians, including pianists Renee Rosnes and Mulgrew Miller, saxman Teodross Avery, vibist Cecilia Smith, and bassist Peter Washington among others. This CDcontains six of Ray's compositions and three by some of his favorite composers. Ray told me that his writing is very important to him. "It's okay to interpret others' songs, but I need to put my own ideas out because that gives me a sense of my own point of view."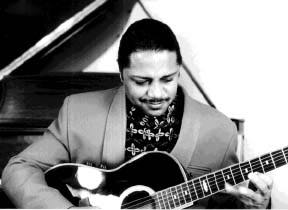 It's interesting to note that Aurell Ray (pictured right, photo by Haybert K. Houston), now in his forties, had worked for four years with Sonny Rollins in the 1970s, and then seemed to simply drop out of sight. His history includes studying with Wilbert Longmire in his hometown of Cincinnati, Ohio. Moving to Boston after high school, Ray was heard in the community service program at the New England Conservatory under the direction of Webster Lewis. There were local gigs with Billy Pierce, Ricky Ford, and others, but eventually, seeking more inspiration, the developing guitarist moved to New York.
Having gained some confidence and experience, he was soon found in the illustrious company of Roy Haynes, Charles Earland, Melba Moore, and Lonnie Liston Smith, before joining Rollins.
Dr. Sweezer told me that Ray is extremely modest and chose to keep a low profile for a number of years. However, he has recently emerged as confident leader.
The fortuitous meeting between these two young men at somewhat opposite ends of the spectrum came about in a totally fascinating way. Aurell gives credit to his wife, Etta, who has been involved in selling and demonstrating medical instruments. "Her job is to introduce new equipment into hospitals, and it was at one of her calls that she befriended Bill Sweezer."
Sweezer takes over, saying, "We met five years ago when Etta came to the hospital where I perform heart surgery. I found her a very likable person, and she soon told me about her husband who played the guitar. Well, I shared with her that I had been a guitarist, leading a small combo all through high school and even into medical college. I invited the family over for a barbeque at my home so we could get to know each other better, and during the course of conversation, I asked Aurell what he wanted to do with his musical life."
"I told him," elaborated Ray, "that I was thinking of starting my own small recording company, and Bill immediately began making plans. I feel he has certain talents that he brings to this project, such as his ideas for Jazz for Medical Recovery. One of the things we're doing, for instance, with my CD is that large medical groups are offering it to their employees as a premium incentive." Sweezer also notes that "music as an art form has always been used as a prescription for not only entertainment but also as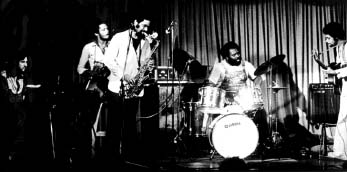 healing therapy."
(Michael Wolff, Don Pate, Sonny Rollins, Eddie Moore, and Aurell Ray; photo by Gorm Valentin)
Dr. Sweezer's enthusiasm for the music and his belief in Aurell Ray have brought the latter to a place he probably never dreamed about all those years ago when he decided to become a "strictly acoustic guitarist." As he points out, "When I was with Rollins I played acoustic twelve-string, which he really liked. Although I have dabbled with the electric instrument, I feel that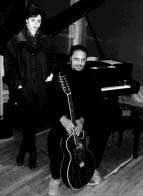 what I'm doing now is getting back to my roots, putting that acoustic sound out there on the front lines in a heavy-blowing session with the horns."
(Renee Rosnes and Aurell Ray)
Ray's innate creativity can be heard on the new CD in such works as Joe Henderson' "If," with some mighty tenor work from Teodross Avery, and in his sensitive inter-weavings with pianist Mulgrew Miller and vibist Cecilia Smith on Freddie Hubbard's "Skydive." "Skyler's Mischief" and "Justin's Mood Swing," dedicated to his two sons, amply show off his mature compositional skills. Note especially his totally personal touch on the twelve-string on both "Justin's Mood" and another original, "Joy Unbound."
Having moved to Fresno, California, a short time ago, Ray hasn't yet checked out the local playing scene because he's been putting all his time and energy into getting Seven Venues off the ground. However, by the time you read this, he will have been out on tour with Mulgrew Miller, with stops in his hometown of Cincinnati and other Ohio venues. On the agenda were visits to several hospitals and children's facilities. "I love interacting with "the kids," he enthused in our phone interview. "I'll get them involved by asking them to come up onstage and draw a shape on the board.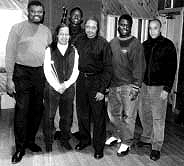 Then I'll play a musical theme to describe that shape."
(L. to R.: Mulgrew Miller, Cecilia Smith, Teodross Avery, Aurell Ray, Gregory Hutchinson, and Peter Washington)
Along those lines, Ray and Sweezer have offered their services to Young Audiences and the Junior League, for whom Aurell will be appearing in November in San Ramon, California. Sweezer says Aurell's work "respects the past, states the present, and insures the future of creative improvisation." Both men believe in diversity--in the music itself--and also reaching into the realm of human values.
by Francesca Nemko
---