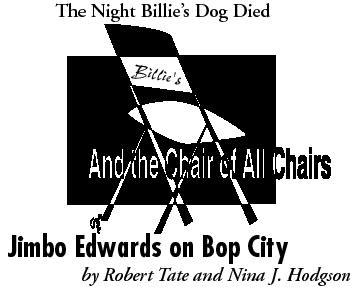 "This is Jimbo Edwards, and I'm narrating Billie Holiday's little life in Jimbo's Bop City in San Francisco in my after-hours spot. One night she came in Jimbo's Bop City, and the dog had died up in the back of her old coat - she had a secret pocket in her coat where she'd hidden the dogand when she took her coat off and tried to shake the dog out to eat his dinner, the damn dog was dead. And then she went stone crazy and tore my joint up. She pulled the microphone down and busted it, got the speakers hanging off the wall and busted them, and then started singing 'Happy Birthday.' And Ben Webster was in the house, and Ben Webster was the onliest person who could hold her. And he set her down and sat on her. And so for about two hours, we poured some water on her and put some ice on the back of her neck and slapped her, and I turned the hose on her and washed her downthis is absolutely true in Jimbo's Bop City 'cause she was crazy and we was trying to get her to be cool, see."
In 1950, when bebop was still new in San Francisco, Jimbo Edwards opened a place in the Fillmore District ("the 'Mo," as it was called) where young musicians could go after hours to play the new music. A restaurant in the evening, it underwent a magical transformation at two o'clock in the morning to become Jimbo's Bop City. Out-of-town musicians would head for Jimbo's after their regular gigs to relax, check out the Bay Area players, and maybe sit in themselves for a number or two.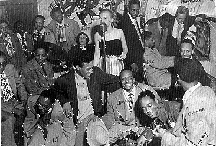 (photo at right of Bop City, 1951, courtesy of Evelyn Gibson: [back, left to right] Roy Porter, Specs Wright, Bernie Peters, Jimbo Edwards, Pat, Betty Bennett, Kenny Dorham, Dizzy Gillespie, Miles Davis, Howard Jeffries, Percy Heath; [front] Ernie Lewis, Sonny Criss, Milt Jackson, Carl Perkins, Jimmy Heath, Henry "Cowboy" Noyd, Oyama Johnson)
As Jimbo puts it, "It wasn't a normal place. There didn't nobody get paid to come. They were just workin' here, there, and everywhere, and at two o'clock here they come. Some kids come down from [as far away as] Sacramento. I met a guy once, forty years old, explained to me how he felt when he was sixteen years old up in Jimbo's Bop City at two o'clock in the morning with music playing, and he had slipped out his window to come. He aimed to stay thirty minutes, but when he walked out it was sunup, and so he knew he was in trouble."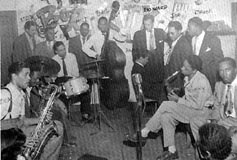 (photo at left, courtesy of Evelyn Gibson, of Bob City, 1951: left to right: Dexter Gordon, Jimmy Heath, Atlee Chapman, Eric Miller, Roy Porter, Milt Jackson, Percy Heath, Hampton Hawes, Howard Jeffries, Joe Stone, Chuck Thompson, Sonny Criss, Jimbo Edwards)
It was something of an accident that Jimbo got into the business. Carol Chamberland recounted in Fall 1996 issue of California History magazine that the club at 1690 Post Street was originally opened by guitarist Slim Gaillard, who called it Vout City. Gaillard abandoned the club, and the owner of the building, a prominent black businessman named Charles Sullivan, recruited Jimbo to run it. Jimbo first opened a small waffle shop but says he got out of the waffle business after comedian Lenny Bruce poured syrup all over the place. Thereafter chicken was the featured entree.
Meanwhile Jimbo had a large back room that wasn't being used and lots of musician friends who had no place to play the new bebop. So he built a bandstand and got a drum set, bass, and piano. The name came from the celebrated Bop City in New York, which had recently closed.
The names of celebrities who visited Jimbo's Bop City were painted on their chairs; whenever they returned, the current occupant would be required to give up the seat to them. "Duke had a chair," says Jimbo, "Earl Hines had a chair, Charlie Parker had a chair, Sarah had a chair, George Shearing had a chair, Ella had a chair, and Sammy had a chair. But the chair of all chairs was Billie Holiday's chair, and that's why we had so many problems with that. Ben Webster had a chair, but he would never sit in his chairhe'd go sit in Billie Holiday's chair. When Billie Holiday came, she had to have her chair, and then that was a problem.
"Willie Brown was there with his Uncle Itsy," Jimbo continues, referring to San Francisco's current mayor, "but he didn't get a chair because he was in there posing as Miles Davis. Everybody thought he was Miles until somebody looked over in the corner and said, 'Yes, it's Willie Brown.' And the waitress said, 'Well, I thought he told me he was Miles Davis.' It turned out to be Willie Brown sittin' up in Jimbo's Bop City with his Uncle Itsy. How about that? His Honor up there thinking he was Miles Davis!" Jimbo's chuckle as he tells this story is positively evil.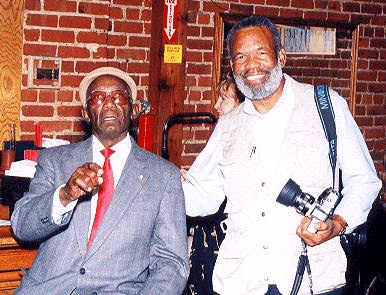 (photo at right by Joseph Hardy of Jimbo and Haybert K. Houston, 1997)
Billie Holiday holds a special place in Jimbo's memory. "The person we all loved and got along with her good after-hours was Billie Holiday, 'cause she was a friendly-type person after-hours and she'd come in and want to kiss you. And everybody she met, she wanted to kiss you, and then she might want you to kiss her dog, and that's where the problem came in with Ben Webster. He wasn't going to kiss no dogs. He'd kiss her, but she wanted Ben Webster to kiss her dog, and he just wouldn't accept kissing the dog."
Like many another who has tried to describe Ben Webster, Jimbo runs into contradictions. "Ben Webster was a person who you've probably never met and never want to meet 'cause he was the dog of all dogs, Ben Webster. But everybody loved him, and everybody hated himeven Duke Ellington hated him and Duke Ellington raised him."
Billie Holiday would always insist on chicken breasts. "In those days," Jimbo explained, "if you got a chicken breast you had to get the whole chickenSo she just paid for the whole thing. She just give me fifty dollars for three chicken breasts. That fifty dollars was for me, the chicken breasts, and Roseshe was our waitressplus I had to give Louie the cook ten dollars. So he would be grinning, 'When is Billie coming? When is Billie coming?' So what we'd do with the chicken left is make a big pot of stew. Then I'd feed it to the musicians, 'cause I fed the musicians free. I give 'em chili and rice, and when Billie Holiday would come, Louis would make soup or something. And the musicians loved that chicken stew from Billie Holiday's chicken breasts. So everybody wins whenever she came."
Jimbo remembers that green was Billie's favorite color, and she'd always wear something green. In those days green was not a popular color. "But that was her favorite color. She had a shop in New York that carried green lingerie. And they would always save her something green to wear. And people didn't like green; green was a no-no, more or less. But that was her color, and she had to dig deep to get it, and Ben Webster knew this. He would pick on her about her green stuff, and she'd have to show himOnce she went to get her chair and Ben Webster was sitting in it, and oh boy, that was the night. She had to show Ben Webster what she was wearing that was green, and he let her have her chair, and I ain't going to say a word what she was wearing that was green!"
Jimbo made and enforced a lot of rules, and veterans of the place remember few problems. Jimbo's rules kept a lot of things from ever happening that might have gotten out of hand. For one thing, only six musicians were allowed to play per set. Many were unhappy about that, but Jimbo stuck to his guns. Customers had to sit, and they had to have their hands on the table: "Lot of people who came to Bop City to hang out were kind of tricky, and if you didn't see 'em [their hands], ain't no tellin' whose pocket they wouldn't be in." No passing notes, no sitting in someone else's seat, no table-hopping, socializing, or chitchatting. No sleeping. "If you did, you had to keep your eyes open. Couldn't sleep in there with your eyes closed."
"The idea was so you'd listen to the music," is Jimbo's explanation of these rather severe regulations. The rules against socializing and table-hopping also protected celebrities from the unwanted attentions of fans. And anyone who's ever patronized or worked in a place that's open between two and six o'clock in the morning knows you have to run a tight ship to stay on the good side of the law.
Jimbo's Bop City closed in 1965, the victim of changing times and tastes. Hippies were replacing the hipsters who frequented Jimbo's, and rock was on the rise. Urban renewal would soon demolish the Fillmore District as an African-American neighborhood.
Jimbo Edwards is still here in 1998, though. He has an extensive collection of photographs documenting Bop City and says he still has the chairs with celebrities' names stored in Los Angeles. Carol Chamberland is releasing a video documentary of the historic after-hours club this month. An article on Jazz in San Francisco in the San Francisco Chronicle Datebook for the first week of February 8, 1998, celebrating Black History Month prominently features Jimbo's Bop City. Clearly Jimbo is getting some overdue recognition for his vital role in the history of Jazz.
by Robert Tate and Nina J. Hodgson
---