Erika Gocka: Red Hot Swing in Reno, Nevada
by Robert Tate
"We prefer to present a style that is accessible to people of all ages and backgrounds. We add a little taste of entertainment to it. And though we risk being made fun of by more serious Jazz colleagues, someone has to break the ice; someone has to say that this is a form of Jazz, and isn't it nice, and why don't you try some other forms of Jazz while you're at it? Instead of just giving them the real weird, far-out stuff with the twenty-five-minute solos and then having 'em say -- 'I think I hate Jazz.' "
Erika Gocka is a pianist and vocalist based in Reno, Nevada. Her style has been described by Jazz educator Dr. Herb Wong as "red hot swing." She has been landing gigs in a Jazz-averse environment for some years now. She has worked very hard and exercised a lot of ingenuity, and her trio has become the preeminent small Jazz group in the area. When the Smithsonian Institution's traveling Duke Ellington exhibition came to Carson City, Nevada, last year, the Erika Gocka Trio was selected to do two presentations there. Turning achievement into opportunity, Erika then got her group hired to do the show for four thousand kids in fourteen schools.
We thought aspiring musicians and others might like to know some of her secrets, so we asked how she does it. Surprisingly, given the cutthroat nature of competition in the music business these days, Erika said she relies on some of the old-fashioned virtues. "Good business means to be honest and to be loyal. When you lose sight of that, a lot of connections break. Going through the school of hard knocks in the business area, I have noticed more people that have fallen by the wayside because they didn't remember those two little golden rules, to be honest and to be loyal, and they got caught, or people started to mistrust them. You don't want that type of thing to happen. Everyone who's interested in you is a plus, and you can do something for them too. It's slower this way, but it's more manageable."
"We do a lot of private parties and conventions in the casino banquet rooms," Erika continues. "But as far as playing the lounges in the casinos, they keep cutting back. First they had five-piece bands. Then it went down to four. Then they completely skipped the trio, went to duos, then solos. And in many of the places they've completely cut music out. And it's not a good environment, either, because you're not paid very well, you're treated like a machine instead of a performer, and you're surrounded by cigarette smoke and loud noises. And they always put a PA speaker right above your head with the house radio, so you're fighting with that too."
Erika believes in building up a following through regular gigs rather than just going for high-profile one-night appearances. "I don't like it when other bands apply for places where we're playing because it starts to tear down the fabric of having a regular job, and all of a sudden you're getting hired every two or three months because a hundred bands are trying to get your job. So to avoid that whole scene, I go where there isn't any music and see if it would be of interest. And of course we do stand in line with the other groups, and we do our appearances where the clubs run their entertainment that way, which is fine. But I'm trying very hard to get the idea across to everyone that we need to have regular days so we can build our audience in a weekly fashion instead of having people scattered all over wondering when and where we're performing next."
Flexibility is an important ingredient in Erika's success. She plays some clubs where the music is strictly background and others where the patrons want printed programs. "When we notice that everybody is staring us down the throat and not saying a peep they're so absorbed, then we might say something about the music. [But] we're just as comfortable playing for clubs or people who are rowdy and laughing but still enjoying the music, and then we don't have to talk quite as much. I spend a lot of time talking during the day, and so when it's time to play, it's like, 'Could we play now?'"
Along with building audiences through regular appearances goes the even-longer-range strategy of educating future audiences. "We come in from a very heavy educational background. To us it's a real thrill to get up in front of six hundred kids, kindergarten through twelfth grade, and play Jazz examples and explain them. We're got programs that we've put together to show the development of Jazz from ragtime, and it's historically important that the kids know this music was invented in America. It's part of their heritage, their art heritage." Erika also teaches upwards of thirty private students, ranging in age from four to sixty-eight.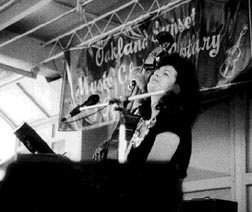 Bassist Paul Binnings and drummer Pete Spomer have been with Erika for several years, and the group is a tightly integrated unit. "We sort of arrange things together," she explains. "I end up doing a lot of the writing because I'm the one who's got the skills to write it down, and I play the piano and do the melody and singing, so I have my work cut out for me. But the guys are very helpful with trying new styles or new things with songs so that not everything sounds the same."
Pete and Paul also suggest many of the songs in the trio's repertoire. "I can't sing something I don't feel comfortable with, Erika explains. "So many times my bass player and drummer will suggest things that work out very well. Paul is very good at doing that, Paul Binnings. He suggested 'Gone with the Wind,' which worked out very well on our first CD. He suggested 'Any Old Time,' 'Sugar,' and 'Key Largo' for the second CD. So these guys act as my advisers as well, because they know me well enough to see what I might be comfortable with singing. It's almost always an obscure tune that someone has forgotten about, you know, where you kind of bring it back into the limelight again."
Both of the trio's recordings, So What Is This Thing Called Jazz? and It's About Time, are no longer available, but a new CD is in the works, this one featuring guest soloists in addition to the trio. "We have four or five numbers that the trio does by itself," says Erika, "which are very nice, I mean you can tell that we're continuing to grow. But we decided to try out some other sounds with the trio to see how it would work. The guys were very flattered to be asked, and they were easy to work with. We did try to get the best in the area so we would have some consistency in what we were doing. We sent them each tape recordings of what they were going to play on, and they got a week to look at the music and practice a little bit with the tape, and then we went into the studio. And for each of them, whatever work they did on the CD, it didn't take more than an hour each to put the stuff to track. It was just amazing."
When I mentioned that few leaders these days take the trouble to prepare their sidemen that carefully, Erika said that that was the educator in her. "I can't just throw my students in front of a hundred people for a recital without having them prepared, and I do that with my colleagues too, my performing colleagues."
Erika will be in the San Francisco Bay Area on April 16, 1998, appearing at the College of San Mateo from 11:00 A.M. to noon, then at Macy's Court in the San Mateo­Hillsdale Shopping Center from one-thirty to two-thirty. Meanwhile she keeps busy with gigs in Reno and Sparks, Nevada, and at North and South Lake Tahoe along the California border.
by Robert Tate
---
back to current