Bobby Gebert
by Dennis Koks
Bobby Gebert (pictured) aired his magnificent Australia 2000 Suite to a lar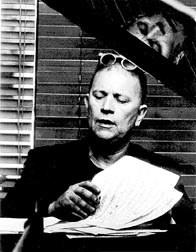 ge, appreciative audience at the recent Wangaratta Jazz Festival. The pianist, with his regular trio members, bassist Jonathon Zwartz and drummer Andrew Dickeson, played crisply and with subtle, sophisticated dynamics. The trio was formed in the early 1990s. They soon developed a tight bond, rehearsing regularly even when gigs were not available. Their persistence paid off, the trio becoming the first choice for many overseas visitors, including Johnny Griffin, Bobby Shew, Eddie Henderson, and Junior Cook.
Gebert speaks modestly about the trio. "Working together all this time has been a mutual learning experience for all of us. In the process Andrew and Jonathon have developed into fine, accomplished musiciansamongst the best in this country. Jonathon with his strong sense of time, and Andrew with his precise, angular style of drumming, reminiscent of the great Max Roach, have both allowed me to express my ideas in music."
The suite, a varied set of original compositions, is an inspired, powerful piece of work, a veritable tour de force. For Gebert it was a major work he has been thinking about for a long time. Bobby comments: "It's about and for a number of Australian heroes of mine, many of them unsung, but especially with the ordinary people in mind, the ones who make this country tick. I really wanted to write something for the time, something contemporary and fitting."
Born in Adelaide in south Australia, he learned and concentrated on classical piano until he discovered Jazz at the age of sixteen. He studied the saxophone with music educator Keith Barr. At this time his group worked with a number of visiting American musicians, including Helen Humes and Milt Jackson. Bobby won a scholarship to the prestigious Berklee School of Music in Boston but could not afford to take advantage of this opportunity.
However, opportunity knocked again, and this time he grasped it firmly. He traveled to New York, where he spent three years studying with pianists Walter Davis Jr. and Kenny Kirkland. Of that visit he says, "It was one of the most influential educational experiences. My stay with Walter Davis was incredible. I actually lived with him. At night we spoke at length about the music of Charlie Parker. Walter was the one who opened things up for me and gave me new insights into the soul of the music. I mean, I knew the notes, but he filled in the gaps for me."
by Dennis Koks