Mike Vax: A Great American Big Band Leader
by Robert Tate
Duke Ellington only had one big band, which he led all his life. Trumpeter Mike Vax (photo above by Haybert K. Houston) figures he too has one basic musical organization, but it keeps being reborn every few years. Its latest incarnation is the Alice Arts Center Jazz Orchestra, a big band in the grand manner based in Mike's hometown of Oakland, California. The band rehearses and gives concerts in the city's cultural center on Alice Street. Its massed horns and exotic harmonic colorings particularly reflect Mike's association with the Stan Kenton Orchestra, but its charts range from the Swing Era to now.
The first incarnations of Mike's band were groups he formed at Oakland High School and the University of the Pacific. After graduating with a bachelor's degree in music from the university, he joined the navy and made three tours of South America with the U.S. Navy Show Band. This was when the bossa nova and Latin music generally were enjoying unprecedented popularity, and Mike sat in regularly with Latin groups during his travels.
Near the end of his navy tour, Mike got a chance to audition with the Stan Kenton band. "They called me and said, 'Okay, you've got the chair. We leave May 3.' I said, 'Wait a minute. I don't get out of the navy 'til the fall.' So Stan himself came on the phone and said, 'I want you to get a couple of people, like the president of the musicians' union, and anybody else you know. Get them to write letters to your admiral saying that this is a once-in-a-lifetime opportunity and we can't wait, we need somebody. And I know an admiral, so I'll make a call.'" It turns out that Kenton's admiral was the chief of naval operations, the senior officer in the navy. "Between the letters that I wrote and [Kenton's] call to Washington, I was out of the navy May 2, and the next day I flew down to Los Angeles and joined the Kenton band."
Mike was only with Kenton for two years, from 1970 to 1972. After leaving, he formed his own bandanother incarnationtraveled awhile, played a week at the Great American Music Hall in San Francisco, where he recorded his first album as a leader, and was planning a tour when the oil embargo shut him down. "The bus co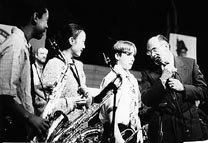 mpany called and said, 'You better cancel because we don't know if we can get you anywhere,'" Mike remembers.
(photo at right by Haybert K. Houston of Grady Coleman, Hitomi Oba, Sean Eric and Mike Vax)
About this time the Dukes of Dixieland, one of the foremost traditional Jazz bands, were looking for a full-time leader. "I was with the Conn Corporation then as a clinician, and the people at Conn told them about meThey called and said, 'We need somebody right away; we got some big stuff coming up. Are you interested?' I said, 'Oh, man, can I have a couple of days to think about it?' He said, 'No, you can't; you can have a couple of hours because I need somebodyIf you want it, you've got to come to New Orleans tomorrow.' So I thought about it a little bit, called him back, and said, 'Okay, I'll do it.' So I flew to New Orleans and met all the guys. They got me into a band uniform that sort of fit, and we had about a fifteen- or twenty-minute talk-down of tunes we all knew. I had to write their names down, and then we went over to the Marriott and played for five thousand people at a convention, with me reading the guys' names and calling the tunesno arrangements, nothing."
Back in 1971, Mike met his future wife, Peggy, who was playing lead trombone with the University of the Pacific Jazz Band. Today she plays trombone in Mike's Alice Arts Center Jazz Orchestra. Peggy impressed the Kenton musicians, who were conducting a clinic at the school, when she played a solo that had been written for Kenton trombonist Dick Shearer. Mike stayed in touch, asked her out, and finally married her when the Dukes were on a tour of the West Coast. They moved to New Orleans, and both became teachers: Peggy in the parochial schools and Mike at Loyola University and the University of New Orleans.
In 1979 the Vaxes moved to Lake Tahoe, where Mike was the musical director of a show at Harrah's Club. When that closed they moved to the San Francisco Bay Area. Mike went back to doing clinics, and Peg started teaching in the Mount Diablo School District in the Concord-Walnut Creek area.
One Memorial Day weekend, Mike got a gig at the California Steam and Navigation Club in Sacramento. This was during Sacramento's gigantic annual Dixieland Jazz Festival, but as Mike explains, "this is one of the clubs that's sort of broken off from the festival because the original festival director didn't treat the club owners very well. So we're playing during the Sacramento festival, but we're not really part of it. And all of a sudden the place is packed with people who are supposed to be at these other venues they paid to be in."
Originally the band was called the Southern Comfort Jazz All-Stars, and their first album had the Southern Comfort whiskey logo on the cover. But then Mike was approached by a vice president of Great American Federal Savings. "He was a fan of the band," Mike explained, "and he said, 'Look, we want to do a bunch of TV commercials, and we want a band to represent us. So if you're interested and you want to change the name to Great American Jazz Band, then you'll be our official band.' So they actually paid usin fact they paid us actors' wages because we acted in these commercials."
Mike emphasizes that the Great American Jazz Band was decidedly more modern than the traditional Dixieland ensemble. "We used more modern changes, and our solos were not based on the melody like the old Dixieland players; they were based on the changes like mainstream or bebop playing. So it's really this very weird separatist band. When we first went on the scene and started playing some of the festivals in the traditional Jazz circuit, the guys in the band had this joke. They'd know how well the band was swinging by how many white-haired people ran for the exits on the first tune. There would be people writing letters complaining about the band at festivals: 'This band doesn't play our music' and 'How dare you book this band? They're not a traditional Jazz group.' Back then it was very traditional on that circuit. It's changed quite a bit now, and I'm happy to say that we were part of the catalyst for that."
Mike says he feels that the Great American Jazz Band was playing "what the originators of the music would have been playing had they still been alive. The originators of that music were avant-garde musicians." He also believes that "the festivals that are doing the best are the ones that have everything. A lot of festivals that would not do anything but trad Jazz have gone by the wayside. It's good to have the trad Jazz, but if you're going to get young people involved, you have to start them with something they can relate to and then take them backward."
A major project has been the Mike Vax Big Band, made up mostly of Stan Kenton Orchestra alumni. Kenton stipulated in his will that there should be no ghost band playing his music under his name, the way the Ellington and Basie bands have continued to perform. Vax is careful to honor Kenton's will. The band performs under his name, not Kenton's, and its repertoire continues to grow. "We're the only band I know of that's actually having new material written in the Kenton style," Vax points out. The group plays together seldom because gigs require bringing people in from all over the country. However, the band has made a video and a CD, both of which are doing well. Mike hopes it will be selected to play at the International Association of Jazz Educators Convention in Anaheim, California, next year, and he's planning a tour of the Midwest as well. Further into the future he expects to increase the tempo of operations to meet what he sees as a growing demand for all things
Kenton.
(photo at left by Haybert K. Houston of John Worley, Mike Vax, Rolf Johnson and George Spencer)
Still another incarnation of Mike's band is the group TRPTS, which consists of four trumpeters and a rhythm section. They do virtuoso trumpet arrangements. For example, "Louis and the Bird" has two trumpeters playing Charlie Parker's "Donna Lee" at warp speed while the other two trumpeters play "Indiana," the standard on whose changes "Donna Lee" was constructed. The group rehearsed for ten months and actually cut TRPTS, their only CD, before they ever performed in public. Mike estimates it has sold fifteen thousand copies.
TRPTS's repertoire is eclectic. "It's really a look at Jazz history through the trumpet. Part of what we do is transcribed solos of the whole history of Jazz rather than one person, like what Supersax or Pres Conference did. So as an example we've got stuff from King Oliver and Louis Armstrong, we've got stuff from Bix Beiderbecke, Roy Eldridge, Bunny Berigan, Diz, Miles, Clifford Brown, Lee Morgan, Clark Terry, Maynard Fergusona whole bunch of things. We also do some transcriptions of Four Freshman stuff. And then we do some original material that's written for the band."
Currently most of Mike's time goes to the Alice Arts Center Jazz Orchestra and to clinics, the latter being his main source of income. He does clinics all over the country but tries to get back to Oakland every week for the regular Monday rehearsal at the Alice Arts Center.
An important focus is bringing Jazz to the public schools. The Alice Arts Center Jazz Orchestra has done joint concerts with Peggy Vax's Valley View Middle School Jazz Band in Pleasant Hill, but the main thrust remains Oakland because that's where the band is located. Mike does assemblies with smaller subgroups of the main orchestra and is planning a large concert where students will be bussed from all the schools to a large venue like the Paramount or Calvin Simmons Theater.
Most of Mike's bands remain active in varying degrees, so Mike is like a cat living some number of his nine lives simultaneously. As befits a man who writes for fifteen horns, he handles those concurrent incarnations with grace and style.
by Robert Tate
---