August 1998
Exposition
Counterpoint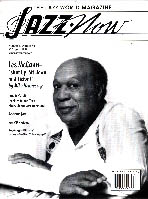 Making the Rounds
A Tribute to Reverend Jazz
Grand Opening of the Emerald City Supper Club
Mark Little at the Washington Inn
On Angel Island
Paul and Bonnie Swinderman's Fiftieth
Wedding Anniversary Party
The Preservation Hall Jazz Band at Stern Grove
Jane Bunnett and the Spirits of Havana
Women in Jazz at Dillard's
Suzanne Pittson at the VIP Room
Les McCann - "Shut Up, Sit Down, and Listen!"
Blues & Boogie
Russian River Blues Festival
Blues Alley Barbecue, Beer, and Blues Festival
The Club Scene
Upcoming Blues Festivals
Notes from the Apple
Bielefelder Jazz Katalog Review
Central Coast
Cambria Salutes Jobim
Ernie Watts with Tootie Heath, Jon Meyer, and Bob Maize
Locals Shine at Cuesta College
And So Does John Scofield
927-JAZZ
Dixie along the Central Coast
June in Cotati
Los Angeles
Bags Meets John Clayton
An Avant-Garde Pioneer
Mr. Reliable
NY Meets CA
Don't Take Him for Granted!
Diana Krall
Jazz in Poland
Poznan Pride, Jazz Style
New Sounds
Jazz Now Marketplace
---