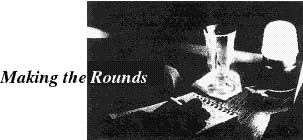 First Annual Fairfax Jazz Festival
(Read about this in the hard copy of Jazz Now Magazine. e-mail at jazzinfo@jazznow.com to obtain a copy of this issue. )
---
The Sunday Blues 'n' Jazz Club
(Read about this in the hard copy of Jazz Now Magazine. e-mail at jazzinfo@jazznow.com to obtain a copy of this issue. )
---
Dillards
(Read about this in the hard copy of Jazz Now Magazine. e-mail at jazzinfo@jazznow.com to obtain a copy of this issue. )
---
A CD Release Party for Gini Wilson at Moose's
At three o'clock Pacific Daylight Time on an autumn Sunday afternoon, fans of pianist Gini Wilson gathered at Ed Moose's eating establishment in San Francisco's North Beach. Actually Gini's fans have been gathering there for years to hear her, but this was a special occasionthe release of her new CD, Left Coast Local Time, a piano-bass duo collaboration Gini has had on the back burner for years.
"I trained in classical music for a long time, and I played a lot of chamber music," Gini says. "And what I really appreciated about it was the level of musical involvement that it spoke to. So what my goal was is to write pieces in Jazz that could bring the density of classical music into Jazz, so that you have that platform for the improvisations to spring off of."
Well, it works. Using the two bassists from the CD, Paul Breslin and Pat Klobas (but not on the same number), the duo ran through many of the CD's tracks, pulling together the classical and Jazz elements in, as Gini put it, "a deeply mysterious way." "Sasha's Sway," written for Gini's daughter, had a sparkling yet off-center series of chords, buoyed by Klobas's ever-present bass. "Procession," a passacaglia and Jazz waltz, gave Klobas space for a gorgeous solo. But the crown jewel of both the live performance and the CD was the same piece: "Sarabande," a Bach sarabande which, by means of an another original sarabande by Wilson written over Earl Zindar's changes, evolves into "How My Heart Sings."
Why not hear for yourself? Left Coast Local Time is available through the Jazz Now Direct CD Store. Just e-mail jazzinfo@jazznow.com
by Nina J. Hodgson
---
Erika Gocka Trio at Bach Dancing and Dynamite
Erika Gocka misspent her youth listening to Jazz at the Bach Dancing and Dynamite Society in Half Moon Bay, California. This past Labor Day weekend she got to go back, this time at the vocal mike and behind the keyboard. With three CDs to her credit, Erika has earned the right; still it was a homecoming of sorts.
With Paul Spomer on bass and Pete Binnings on drums, Erika stuck pretty close to the red-hot swing of her recent CD, Jumpin' Jelly Beans, but took some exciting excursions. Unexpectedly, "Here's to Life"segued into "Key Largo." The trio was exquisitely in sync on "Summertime," a most appropriate piece for the rare, shirtsleeves weather that day on the Northern California coast.
The rousing closer, "Goody, Goody,"featured Paul and Pete as "backup vocalists," as Erika put it. Fine, but Ihope they also remember to mention in their resumés the fine support they provided on bass and drums.
A youth well misspent, Erika. And anyone who doesn't believe me can see the Jazz Now Direct CD Store and see for himself. All four of Erika's CDs are available there.
by Nina J. Hodgson
---