Silicon Valley's Big Band
by Doug Edwards
Silicon Valley's Full Spectrum Big Band was formed in the fall of 1996 when Fred Urrutia (baritone sax) brought together Dan Dierkes (alto sax) and Roger Lovinson (trumpet) over a Chinese dinner in Fremont, California. Although the three founders work in the high-tech industry by day, they are active performers in the San Francisco Bay Area's Jazz music scene after regular working hours
The creation of this band has been one of the Bay Area's best-kept secrets until the release of their first CD, First Time Out and Full Spectrum's September 1998 appearance at Kimball's East in Emeryville, California. (photo below by Haybert K. Houston)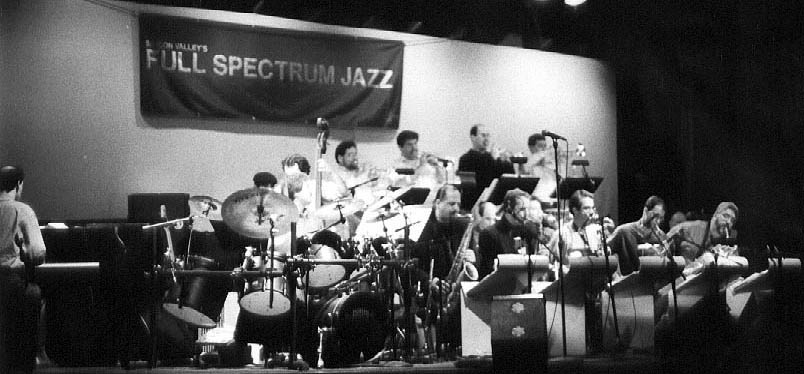 The band not only sports the highest number of successful overachievers on a bandstand (hardware, software, chip, and system designers) but they also swing as if music were their only discipline. The band is energetic and has unique arrangements and approaches to traditional and familiar music. They explored a diverse number of genres at Kimball's and were on the money as a unit.
Their cooking sound derives from the fact that more than a few of the band's members are highly experienced musicians who have previously played in a number of working Jazz bands. Full Spectrum is well-rehearsed, tight, and energetic. Their glee in their performance transcends the bandstand and infuses the listener with their driving energy. Don't be surprised to see this band getting people on the dance floor.
The word about this band is just getting out, so it might take a while to see them, but their CD, First Time Out, will certainly hold you until you do.
by Doug Edwards
---