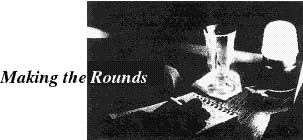 The Three Plectrums are a combo of three plectrum banjo players plus assorted sidemen who play classic American tunes like "Avalon," "Has Anybody Seen My Gal," "'Deed I Do," and so on. On a night in late October they practically tore the roof off a church community center in sedate Marin County, California.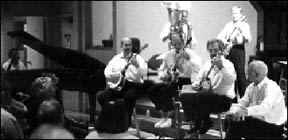 Actually, it was the second concert they played at this venue. The first was recorded about a year ago and is currently available through the Jazz Now Direct CD store. The personnel (pictured above) for this date varied substantially from that on the disc: besides Larry Kennedy, David Frey, and Kurt Abell on plectrum banjos, there were Tom Moore on the tenor banjo, Mike Fraser on tuba, Don Bull on piano, Dick Spielman on bells (a small keyboardlike instrument played with mallets, like vibes and marimba), and Dave Hudnut on saw. (You read that last instrument correctly. Explanation below.) No drums. They were hardly necessary with a hundred or so spectators stomping out the beat, most hitting on one and three with gleeful abandon. Nor was any miking used. The four banjos ringing out in the lively hall made as much noise as anyone could have wanted.
Dave Hudnut's saw was featured on several numbers in each of the three sets. Dave plays seated, holding a regular carpenter's saw with the handle under one thigh and the blade over the other. He bows the edge with a cello bow, eliciting beautiful, high-pitched notes that veer up and down in pitch as he flexes the blade with his hand. It's very similar to the sound of a theremin, if you're familiar with that strange instrument. Dave played note-perfect renditions of "I'm Forever Blowing Bubbles," "A Closer Walk with Thee," and a half-dozen old American classics. Jazz fans looking for flights of improvisation would have been disappointed, though.
The difference between the plectrum and tenor banjos, it was explained to me, had to do with number of frets and tuning, the tenor being supposedly better for straight-line melodies since it is tuned in fifths, while the plectrum is better for chord melodies. I noticed that on the really fast numbers the rapidly strummed chords became in effect the melody, with the tuba contributing any melodic refinements within the chords. More often, though, the tuba played the bass line underneath the melody articulated by the banjos.
The piano was almost impossible to hear except for the occasional two-bar break, when it got a brief chance to strut its honky-tonk stuff. I'd have liked to hear more of it. The bells bounced along on top of the melody for the most part, although on one number (I failed to write down which) they played the melody straight through each chorus, regardless of who was soloing or what was going on with the other instruments.
There was a solo feature by Larry Kennedy, and Kurt Abell played two or three choruses of "Old Devil Moon" unaccompanied, but most of the songs featured ensemble playing by all four banjos. The audience sang along on many of the familiar tunes, and on "Heart of My Heart" the band quit playing altogether as the audience sang through to the end of the song.
Not your typical night of Jazz in the city, the concert was a reminder that there are many mansions in the house of music. We were glad for the chance to hear something new and different.
by Robert Tate
---
Stanley at the Bach
(Purchase a copy of this issue by e-mailing jazzinfo@jazznow.com)
---
Clark Terry and Swing Fever at Kimball's
A few years ago, Bryan Gould's band Swing Fever recorded Reunion, an aptly named CD that reunited Clark Terry with his old navy buddy, tenor saxophonist Pee Wee Claybrook. The project was all part of a clever plot by Clark to see to it that Pee Wee was finally recorded after a lifetime of making music and serving in a day gig working for the state of California. Good thing he did, too, because Pee Wee died about a year later.
Recently, Swing Fever and Clark were reunited a second time at Kimball's East in Emeryville, California, this time to pay tribute to the memory of Pee Wee. Backed by Ruth Davies on bass, Tony Johnson on drums, Ray Loeckle on tenor, Howard Dudune on alto and clarinet, Jim Putman on guitar, and Bryan Gould on trombone, Clark led off with a lovely solo on "Stardust," Pee Wee's favorite, as he explained.
Bryan joined Clark on vocals for "Straighten Up and Fly Right." "I knew that monkey," quipped Clark before taking off into one of his signature Mr. Mumbles excursions. The playlist was decidedly retro ("9:20 Special," "In a Mellow Tone")-Pee Wee would have wanted it that way-and the evening concluded with "Sure Had a Wonderful Time Last Night." I'll say I did!
by Nina J. Hodgson
---
Cafe Cocomo
(Purchase a copy of this issue by e-mailing jazzinfo@jazznow.com)
---
ICU on the West Coast
(Purchase a copy of this issue by e-mailing jazzinfo@jazznow.com)
---