Just Do It, Daria
by Nina J. Hodgson
OK, now I want you to sing your entire tune walking up this hill,"Bobby McFerrin said to Daria (pictured). The San Francisco-based vocalist had gone to him for a vocal lesson just about the time he was coming to national attention.
"I was skeptical. I gave him this dirty look," she continues. "I said, 'What are youwhat do you mean, sing walking up the hill?' He said, 'Just do it, Daria.' So I did. It's actually great training."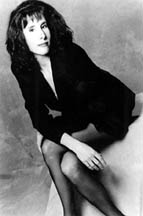 Forget that shoe company. "Just do it" belongs to Daria. It certainly describes how her CD, Just the Beginning, came to be made.
"I'd been wanting to do a CD for a long time, and I finally decided it was time. Ian Dogole produced it, so I met with him, we put together our ideas, I put together all these wonderful musicians [Jonathan Alford, Bill Douglass, Gary Brown, Curt Moore, Ian Dogole, Karl Perazzo, Dmitri Matheny, Sheldon Brown, and Marsha Miget], and we went into the studio and recorded. This was in February of '97.
"I did a test run, sending it out to different radio stations, and got a great response, and I started getting reviews, and KCSM played it. Someone called me from Cincinnati and said, did I know that my CD went to number five on the charts of WNOB in April or May. I had no idea. I was really surprised at the way that this thing just sort of took off. I'm ready to do another one. That's why it's called Just the Beginning."
San Francisco born and raised, Daria grew up in a classical household. "My dad was a child prodigy. He was just an incredible genius, both as a concert violinist and as a member of the San Francisco Symphony. He taught me how to read scores when I was a child."
Much to her dad's dismay, Daria listened to the Beatles and Carole King, although she also studied classical voice and piano. "Jazz didn't come into the picture until I was about thirteen or so. But I discovered it on my own, really. Nobody even had an influence on me except for the radio. And when I heard Jazz, I just about flipped. I was baking cookies. My parents were gonethey left us alone a lotand so I just turned on the radio and there was Jazz, old Jazzyou knowthirties and forties stuff is what I first heard. And I flipped. I thought, What's that? And I just started learning all these songs. I just fell in love with it."
Daria's love for the music of the forties continues to this day. She is one-third of the vocal trio Girls' Night Out, performing Andrews Sisters swing in authentic costume. "Sometimes you'll find us in front of a band, but usually we're a cappella," she explains. "It's fun for me to sing in that group, and it keeps me working."
Daria passes on the torch by teaching vocal technique at the Blue Bear School of American Music at Fort Mason in San Francisco, and she has been known to take her students on a walk so they can sing an entire tune walking up a hill. She is also looking forward to traveling to Brazil to study on her own.
And if that's just the beginning, let's all stay tuned for what's next.
by Nina J. Hodgson