Sir Roland Hanna Presents
by Robert Tate and Nina J. Hodgson
You have good students, and every so often you run into those who are really very exceptional. We had been thinking about our own label off and on for a while, but this was the impetus right here. Why don't we go and record the students ourselves? The idea was in the background, but like anything else, we had to have something to kick it off. We decided to introduce the label with the signature series, 'Sir Roland Hanna Presents.' And that way we would focus on new talent - certainly professional, exceptional talent - talent that has not been heretofore heard to a great degree in the general population."
Ramona Hanna, and her husband, pianist Sir Roland Hanna, are discussing their new record label. Ramona heads up the company, called Rmi (for Rahanna Music Incorporated), of which she is the chief executive officer. (Hanna was knighted by the government of Liberia in 1970, hence the "Sir.")
It's very much a family enterprise. Sons Michael and Christopher Hanna are also associated with Rmi, Chris as an audio engineer, producer, and co-owner, and Michael as a vocalist and co-owner. Christopher produced Michael's debut CD, Family and Friends, for the new label.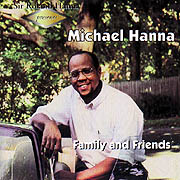 "Let me just remind you Rahanna Music is not my company. I'm only a fledgling member," Sir Roland insists with a twinkle in his voice. "Rahanna Music is Ramona Hanna, C.E.O. She runs the company. I don't have anything to do with it except that I write the music, and after it leaves my piano and my paper, it belongs to Rahanna Music."
Shoving aside the organizational chart, Ramona is equally adamant that "there would be no company without Sir Roland. There comes a time when you have to separate business from creativity and temperament - Roland is our primary artist, but the company is actually mine and our two sons'."
The idea for Rmi came out of Sir Roland's experience as a teacher at the Aaron Copland School of Music at Queens College, City University of New York, where the experience of recording is very much a part of the degree program.
"The program at Queens College is a performance program," Sir Roland explains. "Those who get into the program have to get in as performers to work toward their degree in performance. Recording is just as much a part of the performance as anything else. So even if they don't make a record, they have to record every time they perform. See, the studio is there, and they have to record with the group that they've rehearsed. So they listen to tapes and determine what's the best sound for this situation or what's a better way to play this."
The immediate inspiration was a recording Sir Roland made with an exceptional bassist, Yoshio Aomori, whom he describes as "an excellent, excellent classical player." Sir Roland also plays on his son Michael's CD, but he does not intend to be on all recordings for the label. In fact, he says, he doesn't want to appear unless the featured artist requests it, "and if I did, it would be just a one-spot performance."
Rmi also intends to record Jeb Patton, a pianist who has been playing with the Heath brothers, and Davey Yarborough, a saxophonist who has studied with Frank Wess and traveled and recorded with Sir Roland, and who also directs a youth orchestra at the Duke Ellington School of the Arts in Washington, D.C. The Yarborough album will be called something like Continuity to reflect the line of influence from Hanna and Wess through Yarborough to the students of the youth orchestra.
The label will also present more adventurous works by Sir Roland that have not been actively promoted by mainstream recording companies, spotlighting compositions that the pianist describes as classical Jazz. This is music using such classical forms as the rondo and the sonata rather than the blues and rhythm-changes format but allowing for extensive improvisation. "The Chopin 'Fantasie Impromptu' would be a good example," says Sir Roland, "but turning out to be a piece like 'Mediterranean Seascape.' It's also classical in that it deals with certain kinds of musical nuances." Sir Roland wants to record some of the thirty or forty pieces he has composed in that genre.
Speaking of Rmi's intention to focus on these unusual song forms, Sir Roland makes a point that is too often overlooked by writers and critics: "We want to make sure you are aware that [Rmi's orientation] is not against anything. It's for something. We're not against any music; we're for certain kinds of music."
Thanks, Roland and Ramona. That's also our philosophy at Jazz Now.
by Robert Tate
Both of Rmi's two premiere releases, Yoshio Aomori with Chris Roselli: I Love Bebop and Michael Hanna: Family and Friends, are now available through the Jazz NowDirect CD store, and Jazz Now looks forward to bringing you future releases as they appear.