Rex Bell's Hot Hands
by Francesca Nemko
In a review of pianist/composer/arranger Rex Bell's CD entitled Suite: The Music of Claude Bolling that appeared in the August 1997 issue of Jazz Now, Nina J. Hodgson pointed out that what Bell had accomplished here was a "fresh reworking" of the tunes that Bolling introduced some twenty years ago. Back then, the concept of taking classical music and setting it to a Jazz beat was still in its infancy. Since then, this and other fusions have become quite common.
In a delightful telephone conversation with Rex Bell, I commented on a certain humor I had detected, especially on the track called "Javanaise." "I think Mr. Bolling has a dry sense of humor in all his music," Rex said. "He takes it very seriously, of course, but you'd have to have a sense of humor to do what he did at that time."
I picked up a certain devilishness in Rex Bell, and this could be quite antithetical to his "real job," that of pathologist. I was reminded of another two-career musician, Dr. Denny Zeitlin, who manages to combine his medical practice with his Jazz piano performances, seemingly giving full-time att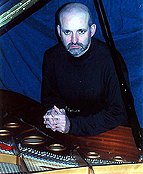 ention to both. Bell, however, doesn't yet have the kind of schedule that would take him too far from his Little Rock, Arkansas, home. However, with this current recording and another on the way, it's likely he'll have to start juggling his time to accommodate more traveling.
Born in 1954, Bell started playing the piano when he was only four or five years old-encouraged by his mother, "an excellent pianist, whose father was a preacher," Bell told me, "so she had a lot of gospel in her." He heard mostly pop and rock music as he was growing up, and consequently that's what came out of his fingers initially.
"When I was about twenty," he continued, "I decided I'd like to learn something about serious music, and I went to Arkansas Tech. I concentrated mostly on band, but also took piano with Ed Connelly and organ with Joan Wainright."
Prior to that, though, Bell was out and about, playing in clubs he wasn't yet old enough to drive to. "I remember my parents taking me in their car to various gigs.They were very supportive. Jazz wasn't particularly popular where I grew up in western Arkansas, so I was just playing a little bit of everything. After I graduated from Arkansas Tech with a degree in music performance, I went to medical school, and I've been in practice as a pathologist for the last ten years."
With the release of the above-mentioned CD, however, Bell is finding himself spending more and more time at one keyboard or another. His use of synthesizers on Suite is very intriguing, and he told me that on several tracks he had utilized synthesized sounds that were a combination of keyboard and percussion. Listen, for instance, to an almost gamelan effect on "Javanaise". I really like percussion," Rex confided, "even though I don't play it myself, but I tend to include some on almost everything I arrange. There's also some overdubbing on a couple of tracks of the Suite CD, which to tell the truth, I don't think Mr. Bolling was too happy about. I spoke to him on the phone and sent him a copy of what we were doing, and although he said he liked our performance, he didn't necessarily like someone rearranging his music."
Some of that synthesizing will no doubt be included in Bell's next recording, The Rush of Wings, which by the time you read this article will be available for you to listen to. "I'm really excited about this," Bell said in our interview. "The objective was to create a Christmas album that could hopefully be enjoyed all year. My friend, percussionist Dave Rogers, and I have arranged some traditional carols, such as "The Holly and the Ivy" and "Coventry Carol," and several adaptations of "Whence Comes This Rush of Wings," giving them new titles. Then we've added some that aren't Christmas-themed, yet the title somehow sounds appropriate, such as Thad Jones's, "A Child Is Born" and Wayne Shorter's "Infant Eyes," which when you put them all together in a list sort of makes you think about the birth of Jesus.
"Plus, the series of settings of "Whence Comes This Rush of Wings" is arranged freestyle, and they're interspersed between the other, longer tracks. They have such titles as "Wings Trane," "Ballad Wings," and "Free Wings." The concept might remind you of what Mussorgsky did with Pictures at an Exhibition, where he had that recurring "Promenade" theme. But in our case, it's free-winging Jazz."
On a demo version that Bell sent to me, I was impressed with the diversity of the creations and had an image of how they might work into his overall picture. Bell and Rogers, his arranging partner, have fertile imaginations and know how to commit those ideas to performance. It is to be hoped that in the not-too-distant future we can have a live experience of these works.
So far, most of Bell's in-person appearances have been limited to his immediate area, with the exception of a most fortuitous event that took place last summer. The music from the Suite CD was chosen to be a program at the Kennedy Center in Washington DC. Bell explained the circumstances: "Someone in retired Senator Dale Bumpers's office had heard the CD and really liked it. He was aware of a new feature taking place at the Kennedy Center called "The Millennium Stage," where each state would send an artist to perform on a particular day. So flutist Cynthia Farrell and I, along with our accompanists, were chosen to represent Arkansas."
Not exactly a shabby introduction to a wider audience; can we now look forward to hearing more Bell babies in the near future?
by Francesca Nemko
Suite: The Music of Claude Bolling is available through the Jazz Now Direct CD Store
---