Learning Something Every Day
by Robert Tate
photos by Haybert K. Houston
As a bass player, Harley White is used to being in the background. But because he is a good bass player he always pays attention to what other musicians are doing around him. So it isn't surprising that an interview with him is as much about his fellow musicians as it is about himself. In fact, after you talk with him for a while about who his favorite players are and what he likes about them, you start to get a feel for Harley himself as a musician and an educator.
A native of Oakland, California, Harley attended Prescott School, where he remembers that the principal would get all the kids out on the playground every year and play his tuba for them. "The message I got as a little ten- or eleven-year-old kid," Harley said, "was that this is the greatest thing you could be. If you could play the tuba, you're the principal of the school!"
Thus inspired, he took up the tuba himself when he went to Lowell Junior High School. He was the only tuba player there and also at McClymonds High School later on. A music teacher at McClymonds switched him over to the string bass because he said there was so little repertoire for tuba in Jazz.
Ironically, Harley's been playing the tuba more frequently in recent years. He subs on that instrument in the San Francisco Forty-Niner Band and plays regularly with Mal Sharpe's Big Money in Dixieland Band. He also has a collection of antique tubas and trombones.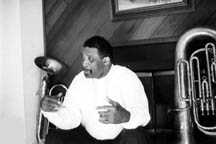 "I used to call it the University of Earl Hines."
"I like the tradition of tuba playing," Harley says, "because it was the first Jazz [bass instrument] played. The tuba was king in the time of Louis Armstrong, back in the twenties. It's like I'm still fighting the battle of whether the string bass should be brought into Jazz or not!"
The tuba is a physically demanding instrument, and playing it has built up Harley's endurance. He mentioned that there are also some tricks to it. "You don't blow too much air or you'll run out. If you can learn to play at a nice, soft volume, like a string bass does, you can kind of sneak around, and people never notice that you're breathing." Harley majored in tuba performance at Cal State Hayward for a while before switching to musical education.
When Harley attended McClymonds High School, he was in an all-city orchestra. "And that's when the world opened up for me," he said. There was a stage band, a Jazz band, a concert band, and an orchestra. The students were thus able to play a tremendous variety of music, far more than kids in more narrowly focused music programs. Harley says he didn't realize how broad a musical education he was getting until he joined the air force band and found he had already played much of their music back in high school.
After his air force stint, Harley worked as bassist in a duo setting with pianist Martha Young, Lester and Lee Young's niece, at Solomon Grundy's in Berkeley, California. Martha was highly respected by all the musicians, and whenever Miles Davis came to town, his sidemen would come by to see her. Harley thus got to hang out with Wayne Shorter, Herbie Hancock, and all the members of Miles's classic 1960s group. He used the opportunity to get a bass lesson from Ron Carter, which he remembers and draws on to this day. He makes it a habit to take lessons from other bassists whenever he can and finds they are usually very willing to help him.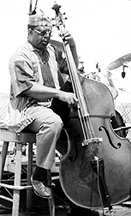 "I'm going to concentrate on improving my bass playing so I can do a really good album."
In 1971 Harley signed on as the bassist with the Edwin Hawkins Singers, a gospel choir that introduced instrumental accompaniment to church audiences. "I didn't realize it at the time," Harley said, "but we were pioneers. The way church people treated us was terrible because we were from California and because we had bass, drums, and a rhythm section, and they didn't use that. They hated it, and they hated us. It took a while, but now every choir you hear has bass, drums, a rhythm section, horns, and all this stuff. But at the time when [Hawkins] came out with it, it was almost like sacrilege."
Harley remembers that thanks to inexpert bookings, the Hawkins Singers traveled a crazy, zig-zag route across the country, going from Berkeley to Greensboro, North Carolina, down to Texas, up to Chicago, then back down to Texasfifty people, all on the bus. "I remember crazy rides through the Ozarks, with one of these bus drivers on cocaine or something. I thought we were going to die for sure."
In 1974, Earl "Fatha" Hines heard Harley playing with Martha Young and hired him. A major figure in the history of Jazz, Earl Hines led Jazz piano out of ragtime and into the era of Fats Waller and Teddy Wilson. In the 1920s, he and Louis Armstrong replaced the collective improvisation of Dixieland with the virtuoso soloist as the centerpiece of Jazz. Later, in the 1930s, his orchestra was broadcast live from the Grand Terrace Ballroom in Chicago, bringing Jazz to a nationwide radio audience. When Harley joined him, Earl had lived in Oakland for years, but he still performed all over the world.
"I didn't realize what a big star he was when I first joined," Harley said. "But once I got with him and started seeing the respect people were paying him all around the world, the concerts and the way people rolled out the red carpet, the hotels we stayed in, that was something.
"I used to call it the University of Earl Hines," Harley said. "If he found out you could do anything besides play your instrument, you had to do it. He found out I could sing, so I had to sing. He found out I could play the trombone and the baritone, so he worked that in."
Harley has resumed singing in recent years. It started when he had a duo gig with pianist Kelly Park at the University of California Faculty Club in Berkeley, California. "We had so much dead time in there, we started singing. Next thing you know, we sounded good!" Harley and Kelly have put out a CD, Music You Can Live With, which is available from Jazz Now Direct.
As a singer himself, Harley is sensitive to the requirements for accompanying vocalists. Over the years he has learned that the most important thing is just to stay out of the way and be supportive. "Just stay in the pocket, stay with the tempo, play the bass line, and don't worry about being heard or playing a key idea or anything like that. A lot depends on the piano player too, because a lot of times, if you've got some vacancies in the chords, the bass player can step in. So you've got to be sensitive to who you're playing with and how the whole package is working."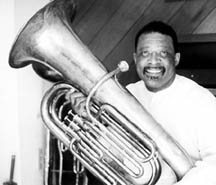 "I like the tradition of tuba playing, because it was the first Jazz [bass instrument] played."
Harley also listens to what the drummer is doing, particularly with the bass drum. "It's like the feet of the music; it's like dancing. How you dance is the way the tune feels. The way the bass player dances with the drummer's foot a lot of times is what makes the whole thing work." As examples of particularly effective bass-and-drum combinations Harley cites Mickey Roker and Ron Carter, Ed Thigpen with Ray Brown, and above all, Vernell Fournier and Israel Crosby with Ahmad Jamal on the classic "But Not for Me."
Harley works with Bay Area vocalist Mary Stallings every New Year's Eve. He says she's so good that it's hard not to get caught up in her singing and forget to play!
Another favorite is Brenda Boykin. He remembers a wedding gig he played with her and Mal Sharpe's Big Money in Dixieland Band. "It was a bunch of stuffed shirts over in San Mateo. It's outside in this beautiful garden. Everybody's standing around being pretentious. They had the band over in a little alcove where we couldn't be seen, and no amplifier, no microphone. And Brenda doesn't have a loud voice. So she went out in the audience and sang to each person one by one! By the time the party was over, these people were in the conga line going through the hedges. A Dixieland band playing Brazilian musicit was wild!"
In addition to performing, Harley has been an educator since the early 1970s, teaching in schools and colleges around the Bay Area. He also got into politics for a while when he was elected to the board of trustees of the Peralta Community College District, and he takes credit for starting the Sunday flea market at Laney College and getting a new swimming pool and tennis courts put in there.
Currently Harley is thinking about retiring from education. "I'm just going to concentrate on improving my bass playing so I can do a really good album," he says. He also wants to study a new bass method that uses five finger positions instead of the traditional seven.
Whatever he does, Harley will not be content to rest on his considerable accomplishments. He will continue to try new things, chase down bass players for a lesson, study new method books. "I always try to improve and not to vegetate, because that's one of the worst things a musician can do, stop trying to learn. I have this video of Miles Davis, and they ask him what he looks forward to in music on a daily basis. He says, 'I just look forward to learning something. If I can learn something it's been a good day.' I have that same approach. If I can learn something for that day, one thing even, that's a very good day; it hasn't been wasted."
by Robert Tate
---