Jazz Now Party
Jazz Now celebrated its eighth anniversary with a potluck and jam session that demonstrated beautifully what the magazine is all about. It was a day of sunshine, good vibes, good food, and good music. People came and went, bringing food, playing a song or two, or just relaxing in the sun and renewing old acquaintances. Some came out to the party after running in San Francisco's celebrated Bay-to-Breakers race that morning. Jimbo Edwards, proprietor of Jimbo's Bop City, got to chat with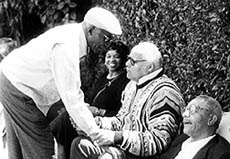 saxophonist Jerome Richardson (see photo at left by Haybert K. Houston), who was visiting from New York. Jerome played regularly at Jimbo's renowned San Francisco club during its heyday in the 1950s and 1960s. Trumpeter Allen Smith, who was also a part of that scene, played a few tunes at the party with Jerome.
Unbeknownst to publisher Haybert K. Houston, Oakland mayor Jerry Brown had proclaimed Sunday, May 16, Jazz Now Day. A proclamation to that effect was read by Carole Cooper, who had shepherded the paperwork through the city bureaucracy (see a reproduced copy here). This was a significant recognition of Haybert's vision of a world-class Jazz periodical in Oakland and all the hard work he and Stella Brandt and their associates have put into making it a reality.
The music went on all day, thanks to the many talented musicians who make their homes in the area and who were gracious enough to come out and play for the occasion. Many of them took the opportunity to try their hands at instruments they don't normally play, and it was inspiring to see their natural musicianship carry them through the awkwardness of unfamiliar axes.
E. W. Wainwright kicked things into high gear with his polyrhythmic drumming on "Masquerade." This led into a great Coltrane-style solo by saxophonist Steve Wolfe. Doug Edwards, who was taping some of the proceedings, followed Steve around with his mike, reminding me of Rudy Van Gelder, who supposedly stalked 'Trane around the Village Vanguard in 1961 as he recorded what turned out to be four seminal Impulse albums.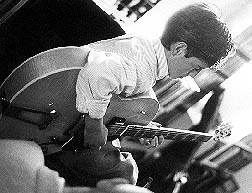 Eleven-year-old Julian Lage (see photo above left by Haybert K. Houston), a student of guitarist Randy Vincent, astonished everyone with more than just technical virtuosity beyond his years. He has a great gift for melody and for finding the emotional heart of a song. I overheard one player mutter something about throwing his own guitar away.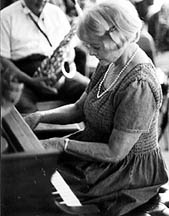 Jazz Now sincerely thanks all of the following musicians who played for the celebration: Chris Amberger, Doug Arrington, Marci Brown, Andre Bush, Steve Deutsch, Mad Duran, Michael Handler, John Handy, Terry Hilliard, Carla Kaufman, Willis Kirk, Julian Lage, Herbie Lewis, Mark Little, Roberta Mandel (see photo at right by Haybert K. Houston), Timothy Orr, Stuart Rabinowitsh, Nika Rejto, Jerome Richardson, Wyatt Ruther, Walter Savage, Eric Shifrin, Allen Smith, Bill Stewart, Lori Stotko, Randy Vincent, E. W. Wainwright, Harley White, Steve Wolfe, and Yehudit. If there were others whom we missed, we apologize for the omission. We also thank the many who brought food and otherwise contributed so unselfishly to the success of the party. (See more pictures here.)
by Robert Tate
---
Terence Blanchard Sextet Playing Jazz in Film
(Read about this in the hard copy of Jazz Now Magazine. Order via e-mail at jazzinfo@jazznow.com.)
---
The Michael Brecker Quartet at El Camino College, Torrance, California
(Read about this in the hard copy of Jazz Now Magazine. Order via e-mail at jazzinfo@jazznow.com.)
---
Cathi Walkup CD Release Party, Sunday, May 16, 1999, at the Plush Room in San Francisco
How can you not enjoy the music of Cathi Walkup? She has integrity, style, and honesty. She calls upon some of the finest musicians in the Bay Area to make it happen. And she knows how to put together a show that flows with both variety and unity.
This was my discovery on a recent Sunday evening at the Plush Room in San Francisco, where Cathi and friends celebrated the release of her new CD, Livin' in a Daydream. Beginning with a bluesy rendition of the old tune "Angel Eyes" and onward through an eclectic compilation of Jazz standards and originals from her two CDs, Walkup displayed lots of energy and sincerity as she sang to an enthusiastic audience.
The star-studded band included pianist Vince DiCiccio, drummer Curt Moore, bassist John Wiitala, saxophonist Harvey Robb, guitarists Robin Lewis and Brad Beuthe, vibraphonist Gerry Grosz, and fluegelhornist Dmitri Matheny. But rarely did they all play at one time. Each tune seemed to have a different combination of musicians, which altered the colors of the sound while somehow retaining the thread that wove the tapestry together. The transitions from song to song were smooth and almost unnoticeable. The band played tunes like Ellington's "Do Nothin' til You Hear from Me" and Thelonious Monk's "Reflections" with an obvious love for the music and a deep appreciation of each other's musical abilities.
Throughout the evening Walkup's singing was sometimes spunky and sometimes reflective, but it was always lovely. She had written the words to many of the numbers, collaborating with either fellow band members or with Monk or Mingus. As a lyricist, Cathi's work is catchy and insightful. In one of her more touching tunes entitled "Little Suzie's Humming," which she cowrote with pianist Vince DiCiccio, she describes a young girl's innocent love for life through her humming:
"And Suzie hums a song she's makin' up
Just to hear it go up and down
She doesn't know the words but deep in her heart
She knows the feeling's there
And hums it in the air..."
The original compositions on the program were really fun. Gerry Grosz contributed his catchy songs "Chicken and Waffles" and "More Than Poor Clay," which have a smooth and easy feel to them, much like Grosz's vibraphone playing. And the title tune from Livin' in a Daydream is an upbeat commentary on dreamers which left me whistling happily into the intermission.
Arrangements by Robin Lewis were inventive and playful, sometimes changing the rhythm of the melody just a little, or adding a few beats here and there, or coming up with a countermelody that would not only fit nicely against the main theme but would also lead us magically into another key.
Lewis and Grosz have been sighted performing together on all kinds of projects about town. They blended together and played off of each other with an apparent ease. Dmitri Matheny looked cute in his Kangol cap and added sweet and mellow lines with his horn.
Cathi ended the evening by calling all players to the stage for a grand finale version of Mingus's "Jellyroll." It made me smile. When I left the show, the room was dark but my spirit was light. I was glad that I had been invited to share in this celebration of music and life.
by Marcie Blue Brown
Cathi Walkup's CD Livin' in a Daydream is available through the
Jazz Now Direct
CD Store.
---
The Jazz Masters Relocate
On May 6, 1999, the Jazz Masters Series, created by award-winning painter Bruni Sablan (see photo below left), was welcomed to a new home at 394 East Avenue in Campbell, California. Approximately two hundred Jazz enthusiasts, collectors, owners of Bruni's work, and curious visitors browsed in the large multilevel gallery and studio center.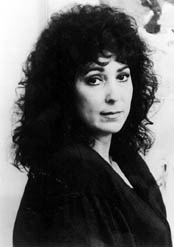 Stunning portraits of Miles Davis, Bessie Smith, Frank Sinatra, Louis Armstrong, Chet Baker, Oscar Peterson, Billie Holiday, and many other Jazz giants were on display for the visibly and audibly impressed visitors. As the crowd moved about the gallery partaking of finger food and wine, world-renowned Jazz recording artists Calvin Keys on guitar and Herbie Lewis on bass played compositions by Duke Ellington and othersall impeccably performed. One of the high points of the musical presentation occurred when vocal recording artist Faye Carol joined the duo for a sentimental delivery of "Blue Skies," dedicated to Bruni, who was present in the gallery audience.
The spacious new gallery is ideal for housing the works of painter Bruni, who is dedicated to the passionate rendering of the Jazz masters who created and continue to contribute to the evolution of this world-respected art form. In addition to housing three independent studios (for two painters and a vocal instructor) on different levels, the gallery also has space for private showings. The residents of the town of Campbell are delighted to have the Jazz Masters Series in town and have made Bruni and her gallery feel welcome.
A freshly painted five-by-three-foot portrait of the recently departed vocal Jazz master Joe Williams presided over the opening festivities, just above the heads of the performing musicians, seemingly joining them in welcoming the new home of the Jazz Masters Series by Bruni.
by Doug Edwards
---