A Great Day on Polk Street
History repeated itself on May 18, 1999, when the who's who of the San Francisco Jazz world was invited to assemble on the steps of the newly refurbished city hall before Jazz photographer Mars Breslow's lens. This updating of the famous 1958 "Great Day in Harlem" photo was the inspiration of Breslow and club-owner Sonny Buxton, and, as at the original shoot, chaos reigned. "This is by invitation only,"Sonny shouted into a bullhorn to over 160 musicians arranging themselves and yoo-hooing to one another, "so I'm the one to get mad at, only do it tomorrow."
Who was there? Oh, just about everybody, including such indispensable nonmusicians as Jimbo Edwards, Phil Elwood, and Orrin Keepnews. Continuity with the past was represented by Roger Glenn, whose father, Tyree, appeared in the 1958 version and by Mike Lipskin, the only member of the original cast to appear in both photos.
by Nina J. Hodgson
---
A Little Bit Country -- a Little Bit Cabaret: Raquel Bitton at Yoshi's
(Read about this in the hard copy of Jazz Now Magazine. Order via e-mail at jazzinfo@jazznow.com.)
---
A Day in the Life of Ed Kelly
It's the day after Valentine's Day, and at the piano, John, the talented high school student, starts off with "My Funny Valentine." George Hubbard sings it, and after a couple of horn solos, Ed interrupts to tell John about some subtler chord changes to the tune. Without playing them down, Ed can't remember all the chords exactly, but it turns out I had them already written down from his class a few years ago. So I show him my chart, and this reminds him of some more interesting chords he uses to enrich this hallowed but sometimes hackneyed standard.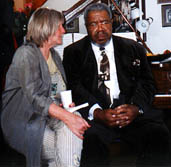 Ed (see photo at right with writer Mary Lucas, by Lois Cantor) finally sits down to play through the whole tune so John can hear the new changes, but before you know it Ed is gone, playing chorus after chorus, totally immersed in the tune. The horns are soloing again, John has wandered off, and as the tune comes to an end it seems like Ed's playing "Funny Valentine" has inspired himself so much that he segues into something else. On the spot he starts composing a whole new tune. Right away he gives the rhythmic pattern to the bassist, and then he plays the line to the horn players. Everyone quickly picks up on their parts. The communication feels like mental telepathy in the air, and all of a sudden Ed has a rousing new tune going full speed ahead.
All this time I've been standing by the piano, so I'm aware of what's happened, but I don't know if the rest of the students realize yet they are playing a brand-new tune that's being created before our very ears. It isn't just some variation of the twelve-bar blues; it's a formal tune, with an A part played twice, a bridge that follows, and then the A part repeated. And the tune swings, heavy and deep. Ed is playing it like a dynamo, like a boxer. The horn section is really into it, and I'm swaying and dancing to the beat. It brings tears to the eyes of drummer Hi Fi who know's he's just been hearing a new creation.
I'm so blown away that when the tune's finished, just to be sure, I ask Ed, "Did you compose that tune just now, on the spot?" He mumbles something sort of incomprehensible. Maybe he says, "I think I heard some people singing it one time somewhere." Then he gets up, wanders away from the piano, and sort of dancing and smiling contentedly, he bounces along to another part of the room. An unusual, kind of startling but wonderful feeling resonates throughout our classroom for the next few moments.
I wonder, will we ever hear this tune again? Will Ed himself even remember it? Or did it just happen, and now it's gone into space? But even if we never hear the tune again, the spirit of creativity has permeated the whole music room. The energy is alive, infectious. Everyone feels it, and we're all beaming and smiling.
Then, like magic, two master musicians, drummer E. W. Wainwright and bassist Ed Williams, appear in our classroomunexpected guests with perfect timing. They sense the energy right away and join the spirit. Now the music soars again and all the students are playing better than they ever have before.
Hi Fi pipes up from the back of the class and says it well: "Hey, you all, you know we are blessed today. The thing is in here this afternoon!"
by Mary Lucas
---
Jazz Now Magazine -- August 1999 Issue