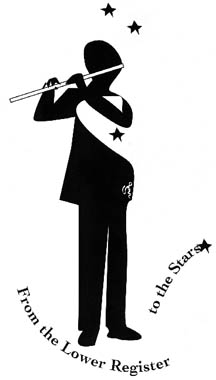 When saxophone players, trumpet players, or singers hit really high notes, it's emotional. People go 'ahhh!' But when the flute player does it, people go 'ugh!' So the way I hear the flute is perhaps more like a tenor sax, with the breathy Ben Webster influence. That's where I see the flute going; that's where I'm going to pursue it for the next few years."
The speaker is Kenny Stahl, a flutist based in Monterey, California. Kenny believes passionately in the flute as a Jazz instrument, and he plays passionately, too. His eyes close and he bobs and weaves, dancing to the sound of his own music as he plays.
"I remember flute teachers always getting on me for moving, including [master classical flutist] Julius Ba

ker," said Kenny. "But it seems like I get in another zone. I hate to see myself because I can't stand to look at it. But as soon as I try to stop moving around so much, then I have to think about it, and I'm not conditioned to do that."
People seem to like his playing, though: he recently played to a sold-out house of fifteen hundred at Monterey's Jazz at the Aquarium series. Sherrie Tucker reviewed his appearance at the Kuumbwa Jazz Center in the September 1997 issue of Jazz Now, commenting favorably on his sparing use of trills, overtones, and high notes. "He has an ear for the catchy phrase," she wrote, "and he'll let it groove awhile before punctuating it with fluidly cascading glissandos and superfast eruptions of tongued notes. His flautistry rests in the sublime balance between the flute as horn and the flute as percussion."
Currently Kenny uses a wooden head joint (the top third of the flute, into which the player blows) in pursuit of that breathier sound he wants. It's made of African black wood, and it imparts a distinctive timbre to the tone of the flute.
Perhaps Kenny's bent for saxophone-style phrasing in the lower register of the flute stems from his Chicago background. He was born and raised in the Windy City and played saxophone there for many years. When he was fourteen, a band he played in won a "talented teen" contest and was selected to open for the Marvelettes, a pop group of the time that had a hit called "Hey Mr. Postman."
At eighteen, Kenny joined the U. S. Army and toured with the 82d Airborne Division Band. After his discharge he earned a degree in classical flute performance at the University of Alabama. In 1970 he appeared at the Mobile Jazz Festival, billed as "Kenny Stahl, the World's First Electric Flute Player." "I had a kind of crazy pickup on the flute, a little tinny thing," Kenny said.
Around this time Kenny also made a tour of southern universities with Stevie Wonder. "I got all the tenor and flute solos," Kenny remembered. "We used to laugh because at the audition I could play 'Ma Cherie Amour' louder than anybody on the flute."
There followed years in Miami, Florida, and Washington, D.C., where Kenny played with trumpeter and saxophonist Ira Sullivan and electric bassist Jaco Pastorius. He was also the principal flutist with the Miami Symphony Orchestra.
Eventually Kenny moved to Nevada with a drummer named John Bernard. "I stayed with this drummer for about seven years," he said. "We refused to join bands unless they hired both of us, so we were really tight. We used to play for hours, just the two of us. Coltrane and Elvin Jones."
In Reno, Kenny enrolled in the University of Nevada graduate school (after taking another bachelor's degree in performance to satisfy that school's requirements for admission to the program). He had a five-piece band with the top players in Reno that would open for and back visiting musicians like Cal Tjader.He also played principal flute in the Reno Symphony Orchestra but came to recognize the limited opportunities open to classical musicians."I remember flying up to Seattle to audition for the symphony," he said. "There were nine hundred flute players for one opening. So then I began to think, maybe there's an easier way to make a living."
Kenny moved to Monterey to accept a gig at the Hyatt Hotel and has remained there ever since. Around this time there was a date with Duke Ellington's famed vocalist Herb Jeffries and alto saxophonist Richie Cole ("Richie never showed up for the job, so Herb and I did the whole thing.") and another at Yoshi's in Oakland with a band called Zitron. Of Kenny's performance at the latter gig, San Francisco Examiner columnist Phil Elwood wrote, "A fantastic, imaginative, boppish approach with distinctive timbres of sound."
Kenny (pictured, with wife Maryanna) says he has appeared seven or eight times at the Monterey Jazz Festival, but only once as leader of his own band. Festival general manager Tim Jackson told him that Herbie Mann and Ali Ryerson are the only other flutists to have fronted their own groups at Monterey.
It was when Weber Drummond and Helcio Melito moved to Monterey that Kenny discovered Brazilian music. "I found the culture astounding," Kenny said. "They gave me a book of what they call chorinhos, which is a little song form popular in the forties and fifties in Brazil, and I stayed up all night playing them. It was just phenomenal. I think it literally changed my life - Helcio said the slaves in Brazil were allowed to keep their drums, unlike those in the United States. So the culture is full of rich rhythms. Harmonically they're much more sophisticated than we are."
Much of Kenny's career has been built around Brazilian music ever since. He has appeared many times with Weber (now known as Weber Iago) and Helcio. He has also appeared on two Concord CDs with Latin Jazz guitarist Jeff Linsky, one of which featured Brazilian vocalist Claudia Villela. Many of his musical associates are prominent in Latin Jazz, among them his pianist, Murray Lowe, who also plays with Bay Area great Pete Escovedo, and percussionists Andy Narell and Michael Spiro.
Kenny's debut CD, Kennys from Heaven (available through the Jazz Now Direct CD Store or by calling 1.800.840.0465), received a lot of airplay. It featured drummer and percussionist Dave Garibaldi, pianist Murray Lowe, and bassist Stan Poplin, who is currently touring with Dave Bruback. Just out is Scentuality, a duo recording with guitarist Bob Basa. The title was contributed by Kenny's wife, Maryanna, who works as an aromatherapist. CD release parties are scheduled for August 27, 1999, at the Kuumbwa Jazz Center in Santa Cruz and August 28, 1999, at the Jazz and Blues Company in Carmel to celebrate this new outing.
Kenny is currently working on a third disc, as yet untitled. It will feature an arrangement by Weber Iago of "Amazing Grace" for flute, cello, violin, and Jazz rhythm section and Kenny's version of Miles Davis's "Nardis." Bay Area drummers Eddie Marshall [JN, November 1998] and Paul Van Wageningen will join Lowe and Poplin for this recording.
Kenny rarely listens to other flute players. "I listen to saxophone players a lot and trumpet players," he said. "I haven't heard too many flute players frankly that move me that much." And he wants to avoid sounding like other flute players. Sometimes if a particularly bad recording is playing, he'll say, "Take that off! I don't want to sound like that. I'm afraid subconsciously it might rub off. That goes for new age music, too. I don't want to put too much of that on because confusion reigns!"
As Kenny Stahl continues to look forand create -- his own identity on the flute, he is taking the instrument into new territory. "I'm looking for something in the flute," he says. "I've been working on it for fifteen years. Let me know if I'm there yet."
by Robert Tate and Nina J. Hodgson
---