David Watson: Late Bloomer or Hardy Perennial?
by Francesca Nemko
In an interview I did recently with singer/songwriter/drummer David Watson, I think I learned the secret of longevity in the music business: giving back to the community. That's what Watson is doing at this point in his life after numerous years performing with some of Jazzdom's most respected names.
"I feel as though I've been gifted," David told me, "with so many rewards in my life. Something is looking after me and my family. It's not just being a musician. It's the spiritual thing, too, being out there playing and doing service for others. I remember when I was a kid growing up in Philadelphia going to jam sessions, sometimes there would be an older guy there and someone would come in and play who didn't know very much. The professional musician wouldn't scold that young person but might say, 'Come on over to my house and I'll show you some things.' No fee or anything. Some of that's lost now because a lot of the young cats think that the playing is all it's about."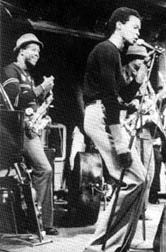 I had commented to Watson (pictured at left in earlier days with John Handy) that since I hadn't heard of him until recently when Jazz Now sent me his masterful new CD, Imprisoned Splendor, I regarded him as a late bloomer. "Oh, no," he countered, "I've been in the industry all my life. I started singing in elementary school, and from the first time I jumped on a stage, I knew that was what I wanted to do. When my parents moved the family from Florida to Philadelphia, I was about eight and started singing in school. I was taking off (without my parents' knowledge) and entering talent shows in south Philly; I was also in a church choir. I formed a kind of gospel quartet and was just singing on the corner. Philly was that kind of place, very big on Jazz at that time. In my neighborhood there were people like Ray Bryant, Shirley Scott. Coltrane lived there at one time. I didn't know that [drummer] Mickey Roker was my cousin, and we hung out quite a lot. One day he was talking to my mother, and it came out that we were related."
Watson acknowledges that his very first influence was the great Ella Fitzgerald. "When I heard 'A Tisket A Tasket,' I was about seven or eight, and hearing her scat just changed my life. I developed that kind of style very early. Later on, because I didn't have any older brothers, I used to hang out on the corner with the older guys, and they would make me sing because they knew I did that in school. They encouraged me to do King Pleasure tunes and Ella's tunes and even Cab Calloway songs. Although I didn't actually gig anywhere then, I was always where the music was.
"There were a lot of clubs in Philadelphia that teenagers could go to. One of them, Tollen and Welsh, was a Jazz club for kids, and I was the first to join. They would have big names come there and play for the kids when those musicians were in town for an engagement. Also, at the Workshop we got to see people like Chet Baker, Leroy Vinnegar, and others."
After a stint in the army, Watson returned to his hometown and worked odd jobs for a few years, landing a position as bartender at the Showboat Jazz Theatre, which turned out to be, as he describes it, "a God-sent gift. Although I was tending bar there, I got to hear and hobnob with same of the best talent in the worldMiles, 'Trane, Monk. Some of the guys would hear me singing just for myself and gave me a lot of encouragement to go for it. And, at that time, I had another interest, too. I was really into watching the drummers. So, during the day, I would come into the bar and play everybody's drums, and I just taught myself that way."
So, equipped with two distinguished talents, Watson moved to San Francisco in 1972 and began his career on both drums and vocals, working such venues as Sweetwater's. He also put in some time with Herb Gibson's band on the road, as well as almost a year in Anchorage, Alaska. When he returned to the Bay Area, he decided to catch up on some college classes, and that's where he met someone who would be quite pivotal in his vocal career: Michele Hendricks (Jon's daughter), with whom he formed a group called Chelsea.
"At first I was the drummer-singer," Watson explained, "when the drums seemed to get in the way, so we hired a drummer and another singer, Lisa Goulder, who also played piano, plus a bass player, and for about three years from 1975 we appeared all over the Bay Area, at Gatsby's, Sweetwater's, Ivan Alexander's, and picked up a really good following. Then Jon took Michele for his group, the one he formed with his wife, Judith, and I went my own way."
Since then, Watson has been seen and heard in many different contexts. For a while there was a group called Bay's West, which also included Eddie Henderson, Hadley Caliman, Bishop Norman Williams, bassist Kenny Jenkins, sometimes pianist Mark Levine, and either Eddie Moore or Eddie Marshall on drums. Watson describes it as "probably one of the hardest-hitting groups around. I was on vocals only and we covered the Bay Area and up into Mendocino County. That lasted about two years. Then we regrouped under the leadership of Bishop Norman Williams for a while.
"That was like a real school for me," Watson continues, "because most of the tunes they played were pretty much up-tempo, and I would have to keep up vocally. That enabled me to listen real good, and I realized that what I had learned being a drummer gave me that rhythmic sense I needed. I developed so much in scatting in that group that when a horn player followed me, he really had a challenge."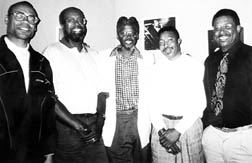 left to right: Michael Bolivar, Ed Smith,
David Watson, Percy Scott, Harley White

I pointed out the similarity with Richie Cole and the late Eddie Jefferson, which Watson quickly acknowledged, and added that he had a chance to play with Cole later on. He has, in the recent past, been seen and heard with John Handy, George Cables, Tee Carson, Johnny Coles, Joyce Cooling, Bobby Hutcherson, Ed Kelly, Calvin Keys, Herbie Lewis, Charles McPherson, as well as his hometown buddies Shirley Scott and Mickey Roker. In fact, he still makes regular visits to an old Philadelphia stomping ground, Ortleib's Jazz Haus, vocalizing with Scott (who, regrettably, has not been playing for a while), and Roker (who, joyfully, is still out there as one of the finest drummers around).
The giving back I referred to earlier really began when Watson and his wife, Sarah, moved to Sonoma in 1986. It was here that he sang with the late Billy Browning's Big Band and was instrumental in forming the Sonoma Valley Jazz Society. In addition, he founded Sonoma Valley Jazz, Art, and Wine, a nonprofit organization that, as he puts it, "gives money to kids100 percent of whatever is made. In the last four years through concerts and festivals, we've been able to donate over $90,000 to kids' arts programs. We present a lot of local talent, such as Ed Kelly and Robert Stewart and others, because they seem to get left out of the bigger events. Pete Escovedo has been a mainstay since we began.
The Jazz Society has grown tremendously over the years, bringing in such Bay Area favorites as Faye Carol and Kito Gamble, Mel Graves, E. W. Wainwright, Harvey Wainapel, and, of course, Watson himself. Most recently his vocal stylings have been featured at the Cotati Jazz Festival, Zino's on Sonoma Plaza, Lo Spuntino Restaurant, and numerous other venues.
However, Watson has also been busy in other areas, such as mentoring a young man for the past four years and watching him develop "from being pretty defiant, not wanting to do anything, into having an interest in going to college. That's heartwarming."
He went on to express his hope for the future of Jazz and the evolution of some of its younger performers, and told me about his last gig at Ortleib's with Mickey Roker. "Mickey let this young drummer sit in, and we both sat there with our mouths open. When the young guy had finished, Mickey offered him a gig."
He's busy, too, with his first CD, which he issued on his own label, Music in the Vines, which also boasts two other artists: pianist John Mackay (who's on Watson's recording), and vocalist Frankye Kelly. I asked him how difficult it was to get that enterprise off the ground.
"Well, I had some material that I had written some while ago but didn't want to put it out until I felt the time was right. I wanted to do it with musicians I felt comfortable with. I also wasn't satisfied with some of the lyrics I had written. Dee Bell, who records for Concord, had provided the words for 'I Miss Her So' and 'Bewitched in Reverie' years ago, and I had been regularly performing them live. So I said, 'Wait a minute, I already have someone who knows how to do this. I got back in touch with her and began working with some great musicians, and knew that it was the right time. But I had no idea how to go about putting a CD together.
"I talked to Kitty Margolis [who, along with fellow chanteuse Madeleine Eastman, has her own label, Madkat], and she gave me some direction. She told me, 'You make a list of the tunes you want to do, and the rest will follow.' Well, that list stayed on my desktop for about a year. Then one day it just kept looking at me, and I had to do something with it. I really want to express my gratitude to Kitty for helping me get started."
The result is a truly magnificent collection of mostly original material, with a few standards, and a great version of Thelonious Monk's "Well You Needn't." One of Watson's own pieces, "Fat Cat," seems to sum up this talented performer's peregrinations through the Jazz life. And his interpretation of "I Got the Blues" showcases Watson's innate sense of rhythm and musicianly use of scat. In fact, he pays homage to his own mentors on this one: Cab Calloway, Joe Carroll, King Pleasure, and Jon Hendricks.
Mentioning Hendricks again presents an opportunity to put out the word that Watson may be including Michele on a future recording. On a recent vacation-business trip to Paris, where he sang at a couple of restaurants and an exclusive Jazz club called Le Duc des Lombards, he ran into Michele, who now makes Paris her home.
In closing, Watson especially wanted to acknowledge those many influences and helpers in his long and diverse career and to encourage anyone who wants to reap the kind of rewards to "give back - it works."