Noel Jewkes at Old First Church
Old First Church at Van Ness Avenue and Sacramento Street in San Francisco has been presenting a series of musical events for some time now. I, of course, am interested in the Jazz presentations, and in this particular case I had an opportunity to see and hear one of our treasures, Noel Jewkes (JN, November 1995).
On this fall evening the group consisted of Noel on sax (pictured below, photo by Haybert K. Houston) and clarinet, Al Plank on piano, John Wiitala on bass, and Vince Lateano on drums. Considering that there were other Jazz events going on in the city that night, I was impressed by the turnout. The group played "Laura" by David Raksin, and I am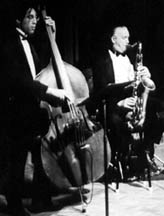 positive that it was Charlie Parker's arrangement. Charlie would have been proud of Noel's treatment.
They also played some of Noel's own tunes, like "Myth," an upbeat tune with staccato time, some very intricate passages, and a very abrupt ending. Then came "Eyes," another Noel tune. This one was just as intricate and rhythmic as "Myth," and both gave Vince an opportunity to showcase his drum skills. Being a versatile musician, Noel got out the bass clarinet on "Everything I Have Is Yours" and caressed the melody as smooth as Mr. B. did when he sang it years ago. Vince laid down a sock cymbal and brush pallet that allowed Noel to float seamlessly through "Mona Lisa." Noel was back on tenor on "The Sky Fell Down," a Duke Ellington tune. This was Al Plank's vehicle, and he took charge with support from Noel, Vince, and John Wiitala.
Those among us who appreciate hearing a good piano well maintained salute the Stanley A. Ibler Jr. Memorial Fund for Music for donating the Steinway piano and the David G. Love Piano Service for providing technical services.
by Haybert K. Houston
Brad Mehldau at the Orange County Performing Arts Center, Costa Mesa, California
(Read about this in the print copy of Jazz Now Magazine. Order the back issue at jazzinfo@jazznow.com.)
The Fifth Annual Youth Arts Benefit Concert and Dance, December 24, 1999
(Read about this in the print copy of Jazz Now Magazine. Order the back issue at jazzinfo@jazznow.com.)
The Michael Session Quartet at Rocco
(Read about this in the print copy of Jazz Now Magazine. Order the back issue at jazzinfo@jazznow.com.)
Oscar Brown Jr. at the Jazz Bakery, Los Angeles
(Read about this in the print copy of Jazz Now Magazine. Order the back issue at jazzinfo@jazznow.com.)