Barry Harris Trio at the Village Vanguard
Dr. Barry Harris, an elder statesman of Jazz and keeper of the bebop flame, led a band at the Vanguard that consisted of himself on piano (and vocals, in set two), Ray Drummond (pictured, photo by Craig Updegrove) on bass, and longtime associate Leroy Williams on drums. They started out with a tune called "She." Every note is special to Barry; the melody is all-important, along with a sense of swing. He loves and respects the music. Developing his solo little by little and creating interest, he reminded me of a big band in a way. It's very relaxed; he throws in kicks, keeping it very romantic and soft, yet rhythmic.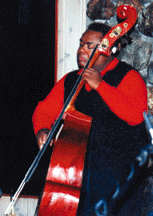 For a highlight of the evening, Barry did something very unusual for a Jazz group: he created a tune on the spot using information from the audience. Asking for several numbers from one through eight, he improvised a melody based on the correlation of these numbers to scale tones. Ray and Leroy went along with it, having to make up the chord changes and rhythms (the improv started with a Latin beat, then switched to swing). The name of this fun and interesting concept was "Hugs."
The rest of the set was made up of standards and signature combo playing. Barry played a beautiful reharmonization of "Tea for Two," calling out substitute changes to Ray as he went along, then he took it into a fast swing. With Bud Powell borrowings, Barry came out with some gorgeous bebop lines, heading in a direction so perfectly that it all made sense. With original ideas and unsurpassed phrasing, the band supported him with a great sense of time.
On "This Is No Laughing Matter," Barry's touch on the piano was indescribable. He has such sensitivity that each melody note is brought out clearly, with the background notes in their place. Using glissandi and runs, each fill was a gem. Barry was also in his element on the Sonny Rollins tune "Audubon," based on "Honeysuckle Rose." The bass solo had a nice sense of swing. Ray picked out each note, sliding and anticipating the beats and chord changes.
The next piece was "A Night in Tunisia," with a few unusual dynamics on the head. Barry's fingers twisted and turned up and down the piano on the break, followed by eighth notes and triplets punctuated by accents. It's always going somewhere; that's why he's such a consummate musician. Ray took some on bass during this one, too, the syncopation and interesting phrasing making up a good solo. Leroy was kept on his toes by Barry's trading with the drums - he mixed it up, never knew whether it would be eights, fours, or twos - but was really relaxed, and you could tell he'd been working with Barry for a really long time.
On the beautiful ballad "It Never Entered My Mind," Barry kept the piano well under control by playing intentionally broken chords, staying within a soft dynamic range. This segued into "I Want to Be Happy," an old standard with an up-tempo swing that was uplifting and right in the pocket. There was some nice cymbal work from Leroy.
An evening with Barry Harris wouldn't be complete unless it contained two elements: his signature tune, "Nascimento," and his Jazz choir. With the former, Barry engages the audience in clapping and singing, and anyone who has heard him live knows exactly how the tune goes. Barry's outgoing character leads naturally into his role as an educator, and he brought out the Jazz choir during the second set of the evening. This group does everything by ear, singing in harmony and listening to each other. Some of the songs that were featured that night were "If I Had But One Dream," "Since We Met," "Paradise," and "We Are One."
Interviews with Barry Harris and Ray Drummond
I had a chance to chat with the performers during the intermission. I mentioned that it was really nice the way Barry had that group improvisation. He responded, "I've been doing that, you know, to make people a part of the thing. And they dig it. And, you'd be surprised; it's like everything falls in place after that, because you get the audience going." It reminded Ray Drummond of the old days: "There's a certain kind of music that you don't hear around town anymore; there's a lot of people that you used to hear at places like Bradley's."
I said to Ray that Barry put him on the spot a couple of times. He answered, "No problem with that. I enjoy that. It's part of the reason why I love working with him and also part of the reason why I enjoy hearing him perform, whether I'm playing or not. Anything is possible."
"Leroy's been doing it for such a long time with Barry that it slides right off him," I said. Ray came back with "It slides right off me, too. I haven't had the opportunity to work with these guys [Barry and Leroy] as long as they've been working together. You know, I'm the new guy in the band. They have all the moves choreographed already, and I'm just trying to keep up with these guys."
I asked Barry if he was learning or composing new music. "I still take lessons in classical music," he said. "Yeah, I'm writing [some vocal arrangements].We sing some of them; we have original things that we do. I've got a new one based on 'Embraceable You,' called 'Paradise.' Oh, man, you've got to hear this: 'Come board my ship and take a trip to paradise found.' God, that's a monster piece there."
"You have to keep on learning; you can't get complacent," I said. Barry responded, "You have to keep ahead, that's all."
---
February is a great month to go out and hear Jazz in the Apple, as it's too cold to do much of anything else. I went to see the Joel Forrester Quartet featuring Claire Daly and had a chance to interview Muhammad Salahuddeen from the University of the Streets, a longstanding Jazz oasis in the East Village.

The People like Us Jazz Quartet at the Manhattan Chili Company
This group was led by Joel Forrester on piano with Claire Daly on baritone sax, Dave Hofstra on bass, and Ronnie Williams on drums. Claire is a swinging saxophonist from the old school and has a CD out called Swing Low on the Koch Jazz label with mainly standards. The only tune that isn't a standard is one of Joel's called "Sharp Turn." Joel and Claire have collaborated for eight years, performing his compositions with the People like Us Jazz Quartet.
The Manhattan Chili Company is an interesting place to hear live music. It used to be called Sullivan's, being next door to the Ed Sullivan Theater. Taking up two stories, the restaurant has wide-open spaces, delicious food, and a party atmosphere. Claire Daly and Joel Forrester came in loud and strong on the first number, with a swinging beat that you could tap your foot to.
The second tune, entitled "Flip Flop," was started by the bass and proceeded into another cool bari solo, but then there was a surprise guest: Stephanie Larriere, a tap dancer! The rest of the tune was taken up by her antics-taking a solo while the bass kept a blues groove going, followed by trading fours with first the piano, then the drums, then the bass. The rhythm section played together really well during the evening, so the effect of having a talented tap dancer was natural and easygoing.
"Monkey in the Middle" was the next piece. Beginning with a Latin beat and an interesting head, it changed to a swing during the solos. The piano solo used a lot of angular patterns with polyrhythms superimposed. Claire followed with a baritone solo; she has a good tone on her instrument and knows where the music is going. Ronnie, the drummer, threw in some nice ideas and responded with double-time fills and such, while keeping a steady and unobtrusive beat. After this, they played an uptempo swing tune that set out with a bass ostinato, then went through some fast-moving bebop changes. The baritone again jumped in with a lot of energy, picking the right notes. This was followed by a drum interlude. I enjoyed the way the band put in creative kicks behind the drums. Joel's compositions were slightly reminiscent of Tadd Dameron.
I asked Claire (pictured) how she got started. "Alto was my first instrument, but as soon as I played baritone, I knew that I was a baritone player," she replied. "I played alto, tenor, and soprano before the bari. I didn't start playing baritone until my late twenties. I had been playing awhile during the eighties, doing all kinds of gigs."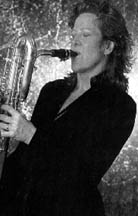 My next question concerned her technique. She told me that "The most important thing for saxophone is breathing-the air flow. (You can do anything. You can make notes bubble, and you can get sound effects.) Phrasing is something that I work on. I love listening to singers, piano players. I've had roommates over the years, like when I was in college, who played other instruments. My husband's a guitar player (Wayne Avers), and I've learned a whole new world from him." She played with the big band Diva for seven years and has been playing Jazz since the age of twelve.
Then I asked her about her collaboration with Joel Forrester. She said, "Joel is amazing. He writes music, plays, and is an interesting musician (character, human). I've been playing with him about eight years. Joel is one of the most important people in my musical life. Dave, the bassist, has been with him for over twenty years. I met Joel at a place called Jack the Ripper in the East Village; we had a duo there for four years-that's where we formed our musical bond. Joel is eclectic; he has a lot of various tastes. Why should we say we play straight-ahead Jazz and that's all we do-how boring. So we tend to draw the people who would be interested in lots of different things."
They have three CDs out under Joel's name, also on the Koch label. Says Claire, "I had the opportunity to put one out under my own name because I'd done three [CDs] with him already. I picked tunes that were close to my heart." Drummer Dennis Charles, who passed away about a year and a half ago, was on those CDs. Then Ronnie replaced him on drums and is carrying the torch.
I asked her about Dennis Charles, and she responded, "I adored Dennis. Dennis is one of those people who lived the life; he played with greats like Cecil Taylor through the sixties, was involved in the loft Jazz scene with other great drummers. He never got the recognition that some of his peers got, but the thing about him was, he would play all over town and give himself to the situation without having an attitude. He met you where you were, whatever level a player you were, and usually heightened the experience. He's really a hero of mine."
This is a fascinating place that contains a great deal of New York Jazz history. The University of the Streets is run by Muhammad Salahuddeen. Barry Harris's workshop and chorus have been practicing there for a year. A number of the vocalists in his chorus are involved with the Jazz vocal workshop, which grew out of Barry's Jazz Cultural Theater from the mideighties. Every weekend they have instrumental jam sessions that last until the wee hours. Following is Muhammad's story:
"I've been here going on thirty-four years. In the late sixties, I was the art teacher at University Settlement House. The kids (Spanish blacks, a few white Polish and Italian) who weren't educated got together to study, and we got tutors for them to build up the neighborhood. It was called the Real Race Society. They had Arnold Johnson ('Putney Swope'), Esther Rose, and Lou Gossett as drama teachers and Owen Watson as the karate teacher. Bill Dixon used to give classes here. Health Education and Welfare gave grants (I got four altogether) to buy a building for nothing. I went to Washington and talked to a foreman. My concept was that I wanted a maintenance training program: electric, plumbing, carpentry, secretarial, business science. These were freelance skills, then these [street] people could earn a living and have respect. We're famous more in France, Japan, Germany, and Russia than we are here.
"We came into possession of the building. I was working with music, and Clarence "C" Sharpe, Curly Russell, Tommy Turrentine-all kinds of musicians would be coming around. I had to keep the school going, so I stayed in the arts. I began to give plays, jam sessions, workshops in music. The jam sessions and vocal workshops are still going on. Some very heavy people have gone through here-Kenny Dorham, Jackie McLean. This lasted up until the late seventies. Since then we have buried a lot of the brothers. We gave parties, birthdays. Someone gave us a broken piano. We got the parts for it, we took it apart and put it back together. We wanted to open up a shop to make reeds and instruments, use educational Jazz videos to show the community and have them discuss it.
"I've done the best that I could. I've tried to stay independent, and a lot of people have grown from it. The people can do it themselves if we can get together and realize that we're doing something together."
Yes, sir.
And that's all from me, too. See you next month.
by Lucy Galliher
---
Back to

Contents Page
Jazz Now Interactive

Copyright Jazz Now, March 2000 issue, all rights reserved
jazzinfo@jazznow.com