Andrew Hill at the San Jose Repertory Theater, San Jose, California
Pianist Andrew Hill, who is among the most gifted composers and improvisers in contemporary music today, gave a rare and masterful solo piano performance at the San Jose Repertory Theater in a program entitled Intersections. Hill (pictured, photo by Carol Friedman), who made a series of landmark recordings for Blue Note in the 1960s, offered convincing proof of his harmonic genius in a brief but impeccably designed performance between readings by noted authors Russell Banks and Chase Twitchell.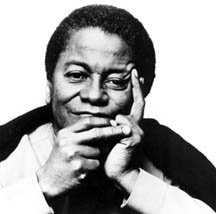 Those who arrived at the hall early were privileged to witness the master in rehearsal at a six-foot Yamaha grand piano. The dense interval structures and orchestral approach, which are characteristic of Hill's style, were immediately apparent. In a thirty-minute program, Hill effortlessly bridged familiar harmonic cycles and chromatic phrasesa testament to a highly sophisticated and personal approach to musical composition.
A suite based on Ellington's "In a Mellow Tone," Stevie Wonder's "Windmills of Your Mind," and the Hill original "Tough Love" provided a summary of the pianist's marvelously complex style. Through a series of meticulously designed improvisations, Hill demonstrated that the use of contrasting diatonic, chromatic, and pan-tonal sources does not result in musical chaos. Underlying Hill's harmonies is a sense of rhythm equal to that of the great composer Bela Bartok; a haunting 6/4 ostinato provided a tonal center on which dense chromatic structures were superimposed.
With this single, powerful performance, Andrew Hill broke the cycle of harmonic conservatism which has plagued the South Bay's Jazz scene for decades. The San Jose Museum of Art, which sponsored the program, should be commended for its efforts.
by James D. Armstrong Jr.
Mark Murphy at the Jazz Bakery, Los Angeles
(Read about this in the March 2000 print issue of Jazz Now Magazine. Purchase back issues by calling 800.840.0465 or via e-mail at jazzinfo@jazznow.com.
---
Back to

Contents Page
Jazz Now Interactive

Copyright Jazz Now, March 2000 issue, all rights reserved
jazzinfo@jazznow.com