James Williams
by Doug Edwards
He is a Jazz pianist, composer, and producer of prodigious proportions," reads James Williams's bio. "He has been there and done that as a leader and sideman, having been an active player on the international Jazz scene for twenty years."
Those statements, however, don't begin to describe the depth of James' commitment to music nor the impact he has on musicians (and people) who enter his humming sphere of activity. Only the discernible (and sometimes mischievous) glint in his eyes offers a clue that the outward calm of his polite and gentle manner masks a furiously racing mind that is juggling appearance schedules, recording dates, personnel selection, and aircraft departure times as he replies to the same questions.
Born in Memphis, Tennessee, on March 8, 1951, James (pictured below at far right, with Ken Burns, Diane Reeves, and Winn Brown) was the youngest of five children, none of whom were professional or even amateur musicians. Neither were his parents. He grew up listening to a wide variety of music - gospel, rhythm and blues, soul, as well as classical - all of which were readily available to him on radio and, in many instances, television. James's nearest sibling was ten years his senior, so he grew up in an environment of older brothers and sisters, and Duke Ellington, Ray Charles, Count Basie, and Stevie Wonder were names and music he heard on a continuing basis.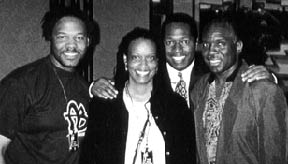 He began his musical studies at age thirteen and was subsequently an organist at Eastern Star Baptist Church in Memphis, a position he held for six years. James earned a scholarship to Memphis State University (as it was called then) as a saxophonist, and it was there that he became interested in Jazz. While earning his degree in music education James became the solid friend of fellow pianists Mulgrew Miller and Donald Brown. A devotee of the late Memphis piano giant Phineas Newborn Jr., James delved into his hometown's rich Jazz heritage, associating with pianist Harold Mabern, bassist Jamil Nasser, and saxophonist George Coleman.
After graduation at age twenty-two, James accepted a teaching position at the Berklee College of Music in Boston. While there he joined drummer Al Dawson's group, where he had the opportunity to support such internationally touring luminaries as Milt Jackson, Art Farmer, Sonny Stitt, and Red Norvo. In 1977, a pivotal year for James, he recorded his first album under his own name, played his first concert featuring his original compositions and, possibly most significantly, met Art Blakey. That encounter resulted in James's resigning from the Berklee faculty for what would be a four-year, ten-album tenure with the Jazz Messengers in a lineup that included Wynton Marsalis, Billy Pierce, Bobby Watson, and Charles Fambrough.
After leaving the Messengers, James rejoined Alan Dawson's group in Boston and also began working independently and became the first-call pianist for such artists as Thad Jones, Benny Carter, Joe Henderson, Chet Baker, and Clark Terry.
In 1984 James moved to Brooklyn, New York, and began directing his career as a leader. He opened wide the possibilities for work, performing in a variety of formats that ranged from trio to choir groups.
This writer became aware of James Williams as a result of his recordings of the Contemporary Piano Ensemble (Four Pianos for Phineas, Evidence, 22156-2 and The Key Players, DIW/Columbia, CK 57754) This group consists of five pianists on four pianos complementing each other musically and stylistically and working in syncopated creativity. The recordings blew me away on a number of levels. First off I was required to listen closely enough to identify each player, and I marvelled at their interaction. Then there were the awesome dynamics of organizing not only the pianists but also the pianos for the subsequent planned intercity tours. Additionally, James produced both CDs and selected pianists Donald Brown, Geoff Keezer, Harold Mabern, and Mulgrew Miller to accompany him on the projects.
James continues to work with an astonishingly wide range of artists. He has produced James Williams Meets the Saxophone Masters (George Coleman, Joe Henderson, and Bill Pierce, DIW/Columbia) and Talkin' Trash (Clark Terry, CIW/Columbia). James has produced his Magical Trio series with Art Blakey and Ray Brown, historical in that it's the only recording of those two giants together. In total, James has at least fourteen records (not all in CD format and some unreleased in the U.S.) under his own leadership and at least thirty recordings as a sideman. He has found time to author two piano books (James Williams Solo Piano, published by Second Floor Music) and to focus his production activities through Finas Sound Productions, Inc., a phonetic tribute to Phineas Newborn Jr., who pronounced his name "Fine-us." Since its inception in 1993, Finas Sound has produced numerous concerts and recordings, including its highly acclaimed annual Musical Tributes and Key Players series, both held at Merkin Concert Hall in New York City.
During the early seventies, James met saxophonist Bill Pierce at a jam session in Boston, and they became fast friends. Bill, who remains a consistent musical participant in James's numerous offerings and is currently chair of the woodwind department at Berklee, made the following observations of James: "James has a deep sense of loyalty to the music. He mentors people around him and inspires their performances while inspiring them to musically responsible performances. James is a cheerleader for performances in studio recordings and provides a comfortably creative environment for all concerned." Pierce further comments that "James is an inveterate teacher, consistently encouraging and supporting student and neophyte performers in their efforts with his vast skills and knowledge." James refers to Bill as his "musical anchor" from whom he has learned much and from whom he continues to draw.
James's current group, Intensive Care Unit (ICU) (Truth, Justice and the Blues, Evidence 22142-2), grew out of one his previous groups (Progress Report) and reflects James's desire to compose pieces less complicated and with more melodic and harmonious music, as represented in the gospel music genre. The group features two relatively young new voices on the front line, Miles Griffith and Roger Holland (both former members of the Boys Choir of Harlem) and saxophonists Bill Pierce and Steve Wilson. The rhythm section includes James on piano with Christian McBride and John Lockwood sharing bass work and Yoron Israel and Tony Reedus on drums and Steve Kroon on percussion.
The group does James's original music with lyrics shared by James and Pamela Watson. James believes the mixture of gospel lines and voices interspersed with Jazz will touch chords in younger fans as well as older listeners who can relate to some of the gospel choirs in the past. ICU's second CD, We've Got What You Need, also on Evidence (2207-2), added guest female vocalists Etta Jones, Diane Reeves, and Vanessa Rubin and includes some standards but retains the Jazz/blues/gospel feel.
Intensive Care Unit's performances have always been well received wherever they've played - Boston, Washington, D.C., the Vail Jazz Festival, Laney College in Oakland, California. Their most recent appearance was at the Blue Note in New York for their performance opposite what turned out to be the final major performance in New York City of the legendary late vibraphonist Milt Jackson. That was a weeklong performance, and James mentioned how many vocalists stopped by and performed with the group. "We are known as very vocalist-friendly!" he commented with a chuckle.
James, who has always kept one foot in the educational arena, is currently director of Jazz at William Patterson University in Wayne, New Jersey, a position he accepted in the fall of 1999 upon the retirement of former director, bassist Rufus Reid. "Rufus left the program in good shape," James comments. "It is small and tightly run for motivated students. Its current size makes it possible for maximum individual attention." James says the program is one that was fou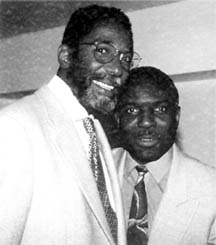 nded in the late sixties or early seventies and continues to be highly selective, turning away more students than are admitted.
James (pictured right with bassist Ron Carter, photo by Alan Nahigian) is looking forward to ICU's debut performance at Yoshi's in Oakland, California, on April 10, 2000, and to reconnecting with fans from his old Art Blakey days as well as friends and even curiosity-seekers. James promises a memorable performance for the one-night-only show and says, "ICU plans to move them, groove them and soothe them!"
James Williams is indeed quite a human being, and that becomes immediately clear after spending just a few minutes with him. The more you learn of his work and the various contexts in which he explores his music, the easier it is to understand the esteem which gains him easy access to the many illustrious and highly talented artists with whom he continues to work. Avail yourself of any opportunity you may have to see and hear this wonderful and important artist. Personally, this writer believes James should be awarded a doctorate degree in time management, to say the least.
by Doug Edwards
---
Back to

Contents Page
Jazz Now Interactive

Copyright Jazz Now, March 2000 issue, all rights reserved
jazzinfo@jazznow.com