Searching for Jazz in Las Vegas
by Marcie Blue Brown
Over the Christmas holidays I found myself in the Flamingo Hilton Hotel on the Las Vegas strip, surrounded by an infinite display of slot machines that lit up in bright colors and exuded all kinds of digital musical noises as they spit out quarters at excited thrill-seeking gamblers. I was to be a wanderer in this neon fantasyland for an entire week, during which time I was hoping to get some exercise, relax in the Jacuzzi, see some old friends, possibly win some money, and find a good Jazz group or two.
Finding Jazz in Las Vegas, however, proved to be no easy task. I had lived and played there for six months in 1997, so I had a vague idea of the music scene. At that time I befriended the "Jazz" deejay Freddie O., whose favorite "Jazz" tune to play was "What I Did for Love," and he played it constantly. ("It's Freddie O., on the ra-di-ooo...," he would coo.) And although I landed some nice gigs there, most notably with the Las Vegas Symphony and a month with Lionel Richie at the Mirage, I came away with some negative memories. A two-faced contractor named Marvin who was always seeking favors from the women musicians he hired and a diva cellist from hell named Miriam who got her kicks from making other musicians feel inferior was enough to propel me west, to California, where I am now happy to make my home.
As I moved down the strip on Christmas Eve, past endless flashing iridescence, I noticed how much it has changed in the last few years. Lavish and grandiose casinos have been built that run for blocks. The Bellagio has a giant lake out front that dances in an amazing water show every half hour. The Venice casino features the Grand Canal inside, where you can shop, and the Paris casino actually has the Eiffel Tower out front, which somehow extends right through the roof and into the lobby. Giant walkways now extend over Las Vegas Boulevard to connect the various hotels. With these kinds of additions, I have to say that the strip is looking really great.
But the music? Would I be able to find live music with any integrity around here? Las Vegas is a city in the middle of nowhere that focuses on money, glitz, and glamour. Each casino tries to entice, to impress, to be flashier than the next. Can good music survive in such a soulless environment, when the essence of good music is soul?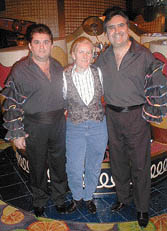 I stopped into the Mirage and listened for awhile to three men in Ricky Ricardo shirts playing crossover versions of Latin, Jazz, rock, and funk tunes. The name of the band was Brazilia 2,000 (pictured with Marcie Blue Brown; photo courtesy of www.in-alameda.com). There was some really fun interplay going on between the two guitarists, and the conga player provided a steady foundation and added some color. One of the guitarists had very fast fingers; the other was always joking, making a funny face when he hit an odd note and smiling. He obviously loved his work. But then he would play a really beautiful phrase to show his depth as a musician. The group sounded well oiled; they had obviously played together often.
"The Jazz scene here goes in waves," said guitarist Rick Chavez, the jokester, who is originally from Los Angeles. His big brown eyes sparkled. "This gig was seven nights a week for a long time. Then they cut it to five. Now it's down to two. It's a slow time of year."
He went back to the tiny round stage in the middle of the Samba Grill and began a new tune. A group of partiers danced by in a Latin step, smiling. They were off to lose some money happily, while drinking giant blue, scary-looking exotic drinks. I was thinking that Rick's group was like the blue collar workers of the music world. They played, at times, five and a half hours a night for seven nights a week. They quit their day jobs when a gig like this came along. As I left the restaurant I looked up at Chavez who was playing "Bomboleo," and staring at me with an strange look on his face. And then I saw that he had stuck a nickel on his forehead and was holding it there by tensing up the muscles. I laughed aloud and waved goodbye.
I wandered back out into the phosphorescent evening. At the Monte Carlo, I heard "Jungle Boogie," a "groovy seventies disco band." At Caesar's Palace was Ghalib Ghallab, a popular pianist whose quintet seemed to play everything in C-major or C-minor. Each casino had a lounge band, and most were playing cover tunes in soupy arrangements. Someone in "Paris" suggested that I check out the Jazz bar.
"Where is it?" I asked.
"You go down past the Eiffel Tower" he pointed. After walking what seemed like forever, I found that the Jazz bar was just closing up. A waitress came out with big hair and brightly painted lips, and I asked her how the house band was.
"Oh, it's great!" she said with a strong Midwestern accent, as she cracked a wad of gum. "You know, nothing overbearing. It's nice music." (Smooth Jazz, I thought, amused by her description.)
The night was getting on. With my last bit of energy I decided to try the New York, New York casino. After all, even if there's no Jazz in Paris, there has to be something happening in New York, right? I passed the Coney Island Roller Coaster where I heard life-threatening screams flying through the air, and moved towards the Statue of Liberty. My legs were growing tired as I entered the lobby, where yet another lounge band was playing "Volare." All the guys wore black suits and had thinning hair. They were trying to get their intoxicated audience to clap along. I walked down Hudson Street in the Village and moved up a random escalator to get back to the strip.
And then I heard, ever faintly, a single piano articulating some tasteful and creative version of "Sunny." I followed the soulful sounds into a small piano bar named "Hamilton's." Pictures of George Hamilton, sun-tanned and smiling, adorned the front walls. Behind a shiny grand piano sat James Dixon, musician extraordinaire, able to leap endless octaves at a single bound, with fingers faster than a speeding bullet.
"James!" I said, "How are you?"
He looked up from a very complex samba version of "Corcovado," startled.
"Oh, hey!" he said, pleasantly surprised to see me.
James is a fellow Detroiter with whom I used to play now and then when I was living in Vegas. I always loved to run into him and listen to him perform. I would sit on the bench beside him as he ran through tune after tune, all the time talking and smiling and laughing. He could tell tall stories while covering an inexhaustible repertoire with extended harmonies and ridiculously long fingers.
"James," I said, "How do you do it? You continue to be creative, original, and true to your art, even in Las Vegas! Everyone else is playing 'Volare.'"
"I just play what I want," he smiled. "It seems to work out okay."
"James," I asked, "Is there any other Jazz around here to be heard?"
"Sure there is," he said. "There are a few groups. I have a trio" I asked if he could play "My One and Only Love" for me. And after mumbling rather shyly that he didn't know that one, he launched into a beautiful version of the tune, completely unaware within a highly chromatic bridge, that he was on genius mode.
While walking back to my hotel room that evening, I was trying to put the entire Las Vegas music experience into a nutshell. As I moved past a giant flashing coke bottle elevator, an Elvis impersonator smiled at me. I noticed that Elton John and Tina Turner were at Caesars; Carlos Santana was at the Hard Rock Hotel. There was definitely a lot going on in this city. Musicians are working and getting paid. But the focus is on money and entertainment. Very few are interested in real art. I was glad I had a plane ticket back to the Bay Area, and I was looking forward to arriving home.
by Marcie Blue Brown

---
Back to

Contents Page
Jazz Now Interactive

Copyright Jazz Now, March 2000 issue, all rights reserved
jazzinfo@jazznow.com