Khalil Shaheed: Man of Many Parts
by Francesca Nemko
The younger generation of California's San Francisco Bay Area is blessed with the presence of a very talented and dedicated musician in the person of Khalil Shaheed (pictured). In addition to being a first-rate trumpeter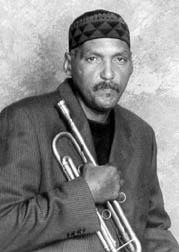 and wielder of various African percussion instruments, Shaheed is the founder of Oaktown Jazz Workshops, and offers his teaching expertise at numerous schools and music camps. He heads the music department at Cole School for Performing Arts in West Oakland, has developed music programs for the Alhambra Academy in Oakland and the East Bay School for the Arts in Berkeley, and has directed the Allen Temple Baptist Church Youth Orchestra.
Working in collaboration with the San Jose Jazz Society, Shaheed leads Jazz bands in two San Jose District Schools and along with Michael Morgan, noted music director of the Oakland East Bay Symphony and presents a series of performance clinics which targets at-risk middle schools. Shaheed is also involved in the Stanford Jazz Workshop's Jazz in the Schools Program.
When I caught up with this multidimensional man recently, I asked what prompted him to direct his energies toward working with young students.
"I reflect back on how it was for me trying to learn this music," he replied, "and it wasn't a safe and friendly environment. As a kid, a lot of times I was hanging out in alleys, sneaking into clubs when I was underage, just to be around the music. As I grew up I always wanted to see if I could give something back. It's very important for us to pass this music on to the next generation."
Khalil Shaheed was born fifty-one years ago in Pittsburgh, Pennsylvania, and moved to Chicago as a small child. He became absorbed by music at an early age, playing various instruments until high school when he took up trumpet seriously. Although neither of his parents were musicians, he told me they listened a lot. "The first things I remember hearing were Miles, Nancy Wilson, Cannonball, Coltranethe sounds just permeated our house."
His first professional experience came during his last year of high school. "I had most of my classes done," he pointed out, "so I was able to devote a lot of time to music. All weekends I'd have gigs. I played with this great band led by Red Saunders at the Regal Theater, Chicago's answer to the Apollo. I'd get called to sub when the pro guys couldn't make it."
The initial exposure gave him an opportunity to perform with such rhythm and blues artists as the internationally known Sam and Dave, as well as locally well-known headliners. After completing two years of music composition and performance at Southern Illinois University, Shaheed moved to California, and finished his education at San Francisco State University. There followed six years on the road with the legendary Buddy Miles, with whom he recorded four albums. And to show this man's diversity, he played alongside the ultrahip Woody Shaw and appeared on recordings with John Handy, Bobby Hutcherson, Tootie Heath, Pharoah Sanders, and Jimi Hendrix.
Shaheed is always seeking out new avenues for his enormous creativity, and he's very proud of his Open Mind Ensemble. "It's a totally improvisational group," he explained, "that varies from twelve to eighteen people. We have three African drummers, two trap drummers, a couple of bass players, two pianos, guitar, and myself on trumpet and African percussion. We appear once a year at Yoshi's, and I'm now in the process of compiling a CD from the last two performances."
Another CD project, a follow-up to the 1998 Oaktown Jazz Workshop's first release which presented select members of Shaheed's pool of youngsters, is also in the works.
"The kids are working on some new material," he offered. "I like them to do their own tunes, which encourages them to be more creative."
I wondered how Oaktown came about, and Khalil told me. "I started Oaktown to have a place where kids could go hang out on an informal and friendly level and be instructed by professional musicians who are playing every night, as opposed to theoretical school settings. The unique thing about our workshops is they're always manned by four pros instead of having one teacher and thirty students. That way, they can receive more one-on-one instruction."
Classes are held after regular school hours, with two-hour workshops twice a week. Another part of Shaheed's curriculum is the Jazz in High Schools program, funded by a grant from the City of Oakland and, at present, being given in two local high schools that didn't have any music classes.
Of inestimable value to the young students (pictured below with Shaheed) is the Visiting Artists series. Shaheed explains that "for the last four years we've had just about everybody who's played at Yoshi's give a free workshop for us, which is also open to other kids. We've had Ellis Marsalis, Branford Marsalis, Gene Harris, Arturo Sandoval, Nicholas Payton, and Joe Zawinul, among others. Joe very patiently sat up there and played a B-flat blues for thirty minutes, allowing forty kids to take one chorus apiece. That's something they can write on their resumés: 'I played with Joe Zawinul at Yoshi's.'"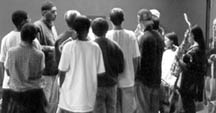 I asked Khalil if he thinks there are going to be opportunities for these youngsters to actually work in the profession; his response was very positive. "Oh, yes, I do. There's a fusion of older and younger musicians working together; for example, Roy Hargrove's band includes pianist Larry Willis, who used to play with everybody back in the sixties, so that intergenerational mixing is going to keep the music alive and perpetuated. My advice to any young musician would be to take care of all the fundamentals while living at homehaving a roof over your head, clothes being paid forand learn all the skills you need so that when you get out into the world, you'll be prepared."
Oaktown Jazz Workshop is now five years old, and Khalil feels that by now, it could go on without him. He's leaning more and more toward playing. Currently involved with four different bands, he finds that he goes through cycles of teaching and performing. "I love teaching and working with kids; I feed off that energy. But at some point I have to talk to people where I can look them straight in the eyestanding up!
Evidence of the progress made by Oaktown Workshop participants is reflected in such graduates as saxophonist Dayna Stephens, who is now attending the Berklee School of Music in Boston and is preparing to cut his first CD. One young trumpeter was recently named the Clifford Brown Soloist of the Year; another student appeared in one of the Grammy Bands.
When I was visiting Oakland at the end of 1999, I had an opportunity to see for myself some of these aspiring musicians in action as part of a delightful concert held at Yoshi's. E. W. Wainwright's Youth Arts Benefit Concert and Dance included not only Shaheed himself on trumpet, but also featured a very impressive fourteen-year-old Ruthie Price on drums and several other Oaktowners. Thanks to such dedicated musicians as Khalil Shaheed and to the organizations whose contributions have made these ventures possible (the City of Oakland, the California Arts Council, and several philanthropic groups) our great American art form is in very good hands indeed.
by Francesca Nemko

---
Back to

Contents Page
Jazz Now Interactive

Copyright Jazz Now, March 2000 issue, all rights reserved
jazzinfo@jazznow.com
Immaculate - Auto Body & Custom Paint, "Where we do your body better."