Salzburg Autumn Jazz Festival
by Lawrence Brazier

We went to see the Jacques Loussier Trio in the Baroque splendor of the Mozarteum. An apt setting, of course. Jacques and his men ran through the Bach stuff that we know and love. This was followed by Vivaldi and then Erik Satie, making the stoniest hearts purr. The trio was brilliant, of course. J. L. is unstoppable when he gets going, and everyone attending was there because they knew what to expect. Loussier turned the "Bolero" into the showstopper it was always meant to be.
Melissa Walker swings with the best. Make no mistake, this lady can build tension and provide that glorious release that makes our music so wonderful. She rocks and rolls (forget the connotation). She hits a groove. She interacts with a rhythm section as few others are able. She is hip to the notes, she floats over and through a number. Touching here and there at precise moments on, behind, in front of the beat. This young lady should be the next superstar. She sings standards and real Jazzrunning through Horace Silver material and the Coltrane pieces"Invitation" and "Portrait of Equinox." She has a full, rounded voice, and her trio, comprising Makoto Ozone on piano, Kiyoshi Kitagawa on bass, and Clarence Penn on drums, supported her wonderfully, Ozone pushing ever so slightly toward freedom, delighting everyone. We hope Melissa makes a lot of money without having to go soft on us. What else? Oh, yeah, this is one lady we would love to have on our arm when we walked into a room.
Our next program treat was We Threewith an astonishing saxophonist, Herewig Gradischnig, who did blow everyone away. Gradischnig also plays in the Vienna Art Orchestra. This was a matinee gig for the VAO which started at 11:30 a.m. Mathias Rüegg and the band were magnificent. You really need to catch these guys. They did the Ellington bookas was right and properly in line with the theme of the festivaland this was complemented by grainy still shots of Ellington and his men (and his women) drifting over a screen at the back of the auditorium. The men in the audience felt lucky when a blonde lady, Anna Lauvergnac, sauntered onto the stage wearing a black cat suit to give us splendid renditions of "Lucky So and So" and "Daydream."
Ellington pics were then replaced by shots of Strauss (really) as the band went into a series of the great man's workssort of waltz without schmaltz. For those among our readers who don't believe it could be done, they have yet to experience Rüegg's incredible sensitivity and wholly creative approach to music of any sort. The VAO are right now in China, and you can bet the fans there will love Strauss done the modern way.
The evening gig was a grand affair at the Grosses Festspielhaus with Sherrie Maricle and her No Man's Band (get it?) "Diva." No doubt about it, the ladies are far out. Ms. Maricle back-seat drove on drums, and they roared. There was this trumpet player, whose name I don't know, but she really gave some solos to have you nodding. There was a lady on tenor, and one name (because she is Austrian) that I do remember, Karoline Strassmayer. Sherrie reckoned she was the best thing next to Mozartand she is right. Karoline would frighten timid men with her wildly swinging solos. She plays alto with a fierce attack. Freud would have loved her.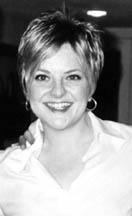 The second set had Diane Schuur onstage romping with Sherrie and the ladies. Ms Schuur has astonishing range, astonishing pitch, and an astonishing way of communicating with an audience, with a knowing wink for the guys and "The Man I Love" for the girls. She ended with a perfectly rendered "Over the Rainbow." Ms. Schuur is and will remain one of the great ladies of Jazz singing. Amen!
We rushed to see Claire Martin (pictured) at the beer cellar. We were staggered by the sheer effort she put into her music. Claire Martin is music from the tip of her nose to the floor below. She merges with a song; she writhes with the melody writhing within her. She projects aggressively, and we love it. She sings at you. Claire Martin must once have been an empty shell that somebody decided to fill up with musical sound. Any rock singer would pale beside her. Any belter would stop to learn. She is in command. No, her voice is in command of her. She is sensational. She is British, and her band are a bunch of blokes who sort of know what they are doing but don't care to show it. If Claire doesn't slow down she is likely to one day burn out.
The opener for Sunday night at the Festspielhaus featured one of those piano players who seem to get at you through sheer brilliance. Adam Makowicz very sensibly left Poland many years ago and wound up playing in duet with bassist Jimmy Woode for us and the rest of the world. They did Ellington, of course. One sensitively played number after the next. Theirs was a sensitive interplay, and one had the feeling that the audience was irrelevant. Bravo!
Louie Bellson followed with the Duke Ellington Reunion Band. The trombonists seemed to be having the most fun; funny to see these veterans fooling around like teenagers. The band was sloppy, laid back, and utterly brilliant. In comparison, the Vienna Art Orchestra guys dressed like hippies but were sort of serious, although they occasionally hugged each other. Bellson's men wore the uniform black, but were much jollier, and one suspected that a hip flask was being passed around. More Ellington tunes done by a bunch of mostly old-timers. A great band. Fun. Swung. But not sung. Tightly knit enough. They done did their thing. Bellson did a tricky solo, running through all the fiddly things available to drummers (I once saw Joe Morello toss a stick into the air and have it come down on a drumhead right on the beatand Joe's vision was by no means 20/20). Anyway, Louie did everything but take the traps for a walk down to the pub.
Sunday night. 11:00 p.m. in the beer cellar, again. A good mate and leader of one of the best bands around, Heinz von Hermann (who plays anything requiring a reed). Heinz had Ulli Langthaler on bass, Erwin Schmidt on piano, Andy Haderer on trumpet and fluegelhorn, and Bruno Castelluci on drums. A tight quintet. They play a lot of bop, standards, swing. They seek to be inventive on the worn-out tunes. We dig 'em. This is a band of professionals, all working their hearts out, and all having played with the world's great and better-known musicians. Like many others, they deserve more exposure. These guys swing.
Throughout the four daysas a sort of fringe eventone was able to relax among chums at a city hotel where the trumpeter from Seattle, Lee Harper (now resident for some years in Salzburg), was accompanied by a hip Erwin Schmidt on a battered piano. They played standards for a few bar-sitters in a nicely swinging fashion. Lee was joined on the Saturday and Sunday evenings by Slovenia's Renato Chicco performing marvelously on the same war-torn instrument.
The festival was loaded with acts and talent. Looking through the list we probably missed more than we saw. You would need a lot of bread to catch every performance. Still, the lady wife and I had a great listening experience over the long weekend.
Highly recommended to the dedicated.
by Lawrence Brazier

---
Back to

Contents Page
Jazz Now Interactive

Copyright Jazz Now, March 2000 issue, all rights reserved
jazzinfo@jazznow.com