Monterey Bay Blues Festival
At fifteen years old, the Monterey Bay Blues Festival remains faithful to traditional blues but has imaginatively interspersed a variety of related musical influences. Friday, July 23rd, opening night showcased the dynamic duo of Ashford & Simpson, Motown legends. The opening act, Deborah Coleman, is on the cutting edge balancing blues and rock in her guitar and vocal style. Coleman's command of her instrument and emotional vocal delivery was well-appreciated on this occasion. Her performance of the slow blues tune, "The Dream," was highlighted with an explosive guitar solo. Coleman is deservedly becoming a star on the blues circuit.
Jazz-blues was well represented by the next act--Hank Crawford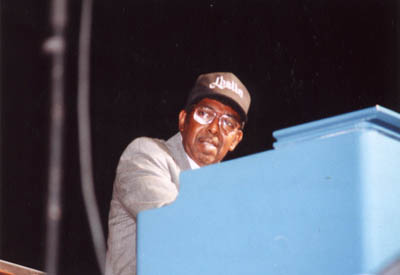 and Jimmy McGriff (Photos by Ricky Richardson). Crawford is undoubtedly one of the most bluesy saxophone players to grace the world! McGriff is equally steeped in the blues on the Hammond organ and presented a powerful exhibit of his soulful groovy style. The show also featured guitarist Wayne Boyd with his wonderful George Benson style vocals. This Jazz-inspired blues performance captivated the blues congregation. The extravaganza presented by Ashford & Simpson was met with wild enthusiasm by the audience. This fiery duo brought out all the stops--Nickolas Ashford outfitted in a sexy slinky top and sequin pants and Valerie Simpson sporting a short, tight sequin dress. This was a love fest retrospective of their soul-fed hit tunes. The crowd loved it!

Sista Monica appeared on the main stage on Saturday afternoon sporting a new blond short hair style and attitude! Monica is a gifted composer and put on a blistering show with her testifying gospel-infused vocal style. Monica's repertoire included straight down-home blues, tunes from her new CD, "People Love the Blues," and the rousing tune, "The Sista Don't Play." Sista Monica can be sweet but she is mostly sassy and this day, she displayed the whole range of emotions in a rollicking performance. Little Jimmy King is a festival favorite and his showy performance included the crowd-walk and explosive guitar work along with his fiery vocals. The Neville Brothers show filled the stage with the best of New Orleans funk and a dancer with umbrella prancing to the music. Outstanding was Charles Neville on saxophone--bluesy and soulful--and Aaron Neville with his sensual vocal style, a knock-out on "Amazing Grace."

The Saturday evening show started out with Lucky Peterson, who is equally skilled on the organ and guitar along with his gravely vocal style. This day, he was definitely in good form, crowd-walking and wowing the audience with his sizzling guitar licks. Barbara Morrison lent a Jazz flavor to her versatile performance, sultry and scatting with her powerful vocals. The Johnny Otis Show got everyone in a dancing and singing-along mood with Otis' brand of rhythm and blues and star-studded revue, featuring the sensational vocalist, Jackie Payne with his blues style and the wild guitarist and vocalist, Gail "Little Bit" Muldrow. This was just the ticket for a Saturday night show. Legend Little Milton, closed out the evening with his solid soul-blues show.

Sunday showcased women in blues. Candye Kane opened up the afternoon show with her raunchy bad-woman vocal style and suggestive stage antics. Trudy Lynn, dubbed as Houston's First Lady of Soul, gave us lady-like brass with her rich range of vocal dynamics and melodic bluesy vocals. On the tune, "Loose Lips," Lynn gave a warning and presented an imaginative arrangement on "Shake Rattle N'Roll." Dorothy Moore, in her fifth appearance at the Monterey festival, filled in for the ailing Ruth Brown.. Moore's soulful vocal style is knowing and her rendition of "Funny How Time Slips Away" was aching and wise. Of course, what would a performance of Moore's be without "Misty Blue," her big hit and she did not disappoint. Shemekia Copeland burned up the stage in the next act--this twenty-one year old is just sensational! Copeland may be young in years but she exhibits great wit and maturity on stage with her style of down and dirty blues. Copeland turned up the heat on the tune, "Turn Up the Heat," from her CD of the same title, got soulful on the slow tempo tune, "Ghetto Child," then got the audience dancing with sawdust flying on "Let The Good Times Roll." This was absolutely a riveting performance.

There were so many fantastic performances on the Main Stage that I missed a great deal of the music on the outer two stages, but managed to catch the wonderful duo, Cephas & Wiggins, with their Piedmont country-blues style. Cephas on guitar and vocals and Wiggins on harmonica and vocals were inspiring with their soulful traditional blues.
Also managed to catch the wonderful Pat Wilder, guitarist and vocalist, who appeared on the Garden Stage along with Billy Dunn on keyboards in an excellent show of down-home blues. Wilder is definitely a talented musician and it's good to see her getting recognized.
The atmosphere at this festival is so fun-loving and the Directors have done a commendable job of keeping the blues tradition alive. Furthermore, the venues make the artists accessible to the fans unlike too many other festivals. It's always reunion time, seeing longtime friends, sampling the delicious food, and even great shopping. I love this festival--it is blues at its best.


by Dorothy L. Hill
---

Back to Contents Page
Jazz Now Interactive

Copyright Jazz Now, August 2000 issue, all rights reserved
jazznow@sbcglobal.net