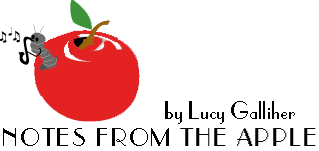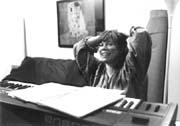 August, 2000 was a great month to hear Jazz on a shoestring in New York City. Free events included 50 concerts presented by Jazzmobile from June - August. At Jazzmobile's free summer concerts, some of the headliners were Frank Foster, Frank Wess, Jon Faddis and Cedar Walton. At the end of August I went to the Charlie Parker Festival, where the sets included Miles Griffith, Sphere with Kenny Barron, and Jon Faddis featured with James Moody.
Jazzmobile Interview with David Bailey
Jazzmobile was founded by Dr. Billy Taylor and Daphne Arnstein via the Harlem Cultural Council back in 1964. Daphne got the idea at the NYC Worlds Fair, seeing the New Orleans-style tailgate wagons playing around the fairgrounds. David Bailey took over as Executive Director of Jazzmobile in 1972, and is also a drummer and airplane pilot. I had a chance to interview Bailey, who informed me of the organization's mission statement: "The Preservation, Propagation and Presentation of Jazz - `America's Classical Music,' and to provide arts education and meaningful job training programs of the highest quality for youth and adults." They solicit and receive grants to keep their programs going and have received numerous awards and special citations.
Not only do they have the free summer Jazz concerts, but Jazzmobile also has a staff of 26 instructors teaching in their Saturday Jazz Workshop program. Bailey believes that "using the skills and the approach that Jazz musicians must have in playing, you must first learn the fundamentals before you have the ability or opportunity to be free to improvise. You just don't come in willy-nilly and be a Jazz player." People hear Jazz all the time on the radio and on commercials on TV, but they don't realize it. Bailey said, "People are attuned to what they hear and what they have been pre-conditioned to accept. Anything that requires other than just banal listening, they just don't want to deal with. They want to hear repetition, to hear what they've heard before, and in Jazz music that's not going to happen."
He went on to say regarding Jazz improvisation which is spontaneous composing, "as opposed to practicing, running scales, which a lot of musicians do under the guise of being Jazz players, but that's not improvisation in the Jazz tradition." David Bailey started playing drums at a young age, as the youngest son of a musical family. "You have to feel this music. I find that very few young players really know how to play a warm ballad, because in order to do that you must have felt deep interpersonal passion. Listen to the elders, you can hear that they have been in love." I asked David if there will be a few people that will actually become great in this field? "There are some bright young people out here, as long as they can keep within the parameters (that people like Louis, Duke, Bird & Dizzy envisioned) and not go off on all these tangents - atonal playing, arhythmic playing, etc. Duke's Music was beyond category - he wrote music for Jazz, the church, classical, and his music was very broad, but he was fundamentally a Jazz player."
Billy Taylor's dream was to take Jazz to the people in their communities, and Jazzmobile was the first organization to do so. To sum it up, Bailey said, "Jazzmobile has been a never-compromising protector of the trunk of the tree of Jazz, which was established by the creative genius of people like Louis Armstrong." They own a building in Harlem, and take over a public school on Saturdays for the workshops and classes.
---
The Charlie Parker Festival
Every year this festival is held at Tompkins Square Park (across the street from where Bird used to live on what was then called the Lower East Side; it's now the East Village). At Tompkins Square on August 27, there was a huge crowd, and Phil Schaap (from WKCR - 89.9 FM) was in fine form as MC.
Sphere, one of the headlining acts at the concert, had Kenny Barron on piano, Gary Bartz on tenor, Buster Williams on bass and Ben Riley on drums. I really listened to Monk's "Well, You Needn't," which was played as an uptempo swing. It started with a drum solo kicking it into a dissonant head, followed by a smokin' solo by Gary Bartz. Barron phrased perfectly on the piano. He exercised his great sense of harmony and rhythm on his solo, and Riley used his sixth sense to put accents in all the right places. James Moody and Jon Faddis' rhythm section included Renee Rosnes on piano, Todd Coolman on bass, Adam Nussbaum on drums and Stefon Harris sitting in on vibes. Moody, wearing a purple shirt and slacks, received the Milt Jackson Award with a touching speech. They opened up with "Anthropology," with both Moody and Faddis in fine form, followed by a vibes feature on "Bag's Groove" by Stefon Harris. Moody took it to the limit on "Lover Man," switching to the alto for an uncanny resemblance to the sound of the great Bird.
---
Interview with Miles Griffith
Miles Griffith is a Jazz vocalist extraordinaire. I interviewed him backstage while Sphere was playing. What is his musical concept? "It's a mixture of Carribean, Jazz, World music, avant-garde, everything from bebop to hip-hop." He was raised in the Jazz tradition, but also the Calypso, Carribean, and Gospel traditions. All I'm doing is mixing it up and just getting out my sound and formulating my own concept with it."
I asked one of his musicians, Akim Funk Buddha, about throat singing and he said, "it's where you hit two keys simultaneously with your throat, you're using another part of your throat that you normally don't talk with, you're hitting a very low and high frequency at the same time, the harmonics are being struck." Miles does this too, and his viewpoint was, "It's not really so non-traditional from the standpoint of African and Caribbean music, it's heard all the time, it's what we call World music now, and it's all about listening and just doing it. It's easy once you figure it out."

Miles was born and raised in Brooklyn, NY and writes a lot of his own music. He currently sings with pianist James Williams (doing Jazz and gospel) and trumpeter Jack Walrath as well as leading his own group. I asked him what it was like working with Jack Walrath and he said, "I wear three or four hats in Jack's group. I'm considered a sideman, frontman, I sing the blues with him, I write lyrics to a lot of his tunes, I scat a lot. It all just comes." Miles Griffith has a CD called Spiritual Freedom that was released in 1999, and is working on a second CD as a leader.
by Lucy Galliher


---


Back to

Content Page
Jazz Now Interactive

Copyright Jazz Now, September 2000 issue, all rights reserved
jazznow@sbcglobal.net