The American Shetland Sheepdog Association's 65th National Specialty
Shelties Take the Windy City by Storm
(See photos following article)
by Kim Schive
I had just crossed the Indiana border when I saw a hand I thought I recognized as belonging to breeder-judge Judy Brown Kelsey. I'd last seen the hand -- still tightly gripping a pin brush -- protruding from the top of a ringside trash bag during Best of Breed competition at a previous National Specialty. When was it... four years ago? Five? It had been awhile, but this hand sure looked familiar. Closed between the rear doors of the van I was about to pass, it now clutched a once-white show lead from which dangled a small Sheltie.
Okay, so it was a stuffed Sheltie. And, truth be told, it wasn't a real hand either, just a realistic rubber replica. No matter. I took it as an omen: National week had started, and we were going to have some fun!
The 1997 American Shetland Sheepdog Association's National Specialty, ASSA's 65th annual show, was held the week of May 18-24 at Marriott's lovely Lincolnshire Resort in Lincolnshire, Ill., just outside Chicago. As I pulled into the resort's parking lot Sunday evening -- the van-with-the-hand close behind -- the place was jumping. The hotel lobby was packed with recent arrivals showering enthusiastic greetings on old friends, nearby dollies stacked with suitcases and crated dogs. Instantly recognizable by their bemused expressions and lack of Sheltie sweatshirts, finely dressed wedding guests wandered through this throng of dogs and dog people searching for their reception. Most earlier arrivals could be found in one of the two grooming areas -- inside the resort's racquet club, where the conformation ring was located, or in the overflow tent just outside. Both areas bustled with activity as people unloaded equipment, settled into their assigned spaces, and trimmed puppies to be shown in the next day's Futurity. Largely oblivious to darkening skies, ominous clouds, and the distant wail of tornado sirens, denizens of the outdoor grooming area were surprised by a sudden downpour that caused a small river to cascade through the tent, provoking a mad scramble to carry dogs, crates and ex-pens to higher ground.
Although many of us conformation types were just arriving on Sunday evening, herding and obedience competitors had already enjoyed two full days of keen competition and camaraderie. An AKC-sanctioned herding trial (45 entries) was held at the Fox Valley Saddle Club near Elgin, Ill., on Saturday, May 17. Judges Larry Sisson and Linda Rorem and the large number of competitors and volunteers enjoyed a cool but sunny day -- perfect working weather. High in Trial-Sheep was earned by Jusdandy Brite Bernice, PT, owned and trained by Laura Romanik from Belleville, Mich. High in Trial-Ducks went to Aberdeen's It's About Time, CDX, owned and trained by Mary DePouw of Germantown, Tenn. Test classes on sheep saw one qualifying Pre-Trial (PT) run and 10 qualifying Herding-Tested (HT) runs; duck tests saw three qualifying HT runs. The AKC-sanctioned event was followed by AHBA-sanctioned instinct tests (40 entries) judged by Rorem and Jean Clodwick. Six dogs passed on ducks, 16 on sheep.
The Obedience competition, held Sunday, May 18, inside the Lincolnshire's racquet club building, drew 237 entries and was judged by Emma Brodzeller, Fred Buroff, Sue Mayborne, Roland Speck, and Elmer Willems. High in Trial, on run-off, went to the Open B winner, OTCH Val-Laur Jo-Lyn Firethorn, UDX, TDX, and his proud breeder-owner-handler, Sandy Ganz.
Sylvia Calderwood, a breeder and professional handler from Eugene, Ore., judged almost 100 puppies in Monday's Futurity competition. A stir went through the crowd when, after individually examining all the dogs in her initial class, she ordered one of the puppies back on the table and measured him before placing him first. She repeated this procedure for the first-place winners in every class to follow. It took the suspense out of wondering who was going to go up in each class and drew some laughs when Calderwood measured a petite, 14-and-a-half-inch bitch with the 16-inch wicket; but, says the judge, she was trying to make a point: "I'd like to see all judges measure any dog they are thinking of putting up. As a breeder, I've placed so many dogs who crept up to 16 and a quarter inches. And then I go to shows and see dogs in the ring -- and winning -- who are even bigger!"
At the end of the day, no one was happier than "hometown girl" Dorothy Christiansen, breeder of the Best in Futurity puppy, Lynnlea's By Firelight (owned by Grace Kocoras and Sharon Uzarewicz, from 9-12 month bitches), and the runner-up, Lynnlea's The Firebird (breeder-owned, from 12-18 month bitches). Christiansen, despite her 17-year ASSA membership, was showing in her first Futurity. "As a school teacher, I can never take a full week off," she explains. "Hence, I always miss the Futurity." But this year, with the show being local for her, Christiansen was able to do "some finagling" to get an extra day. Not a bad debut, Dorothy!
While Futurity classes were being judged inside the racquet club, ASSA's first-ever AKC-sanctioned agility trial (171 entries) got underway outside after a brief delay to let the ground dry out from the torrential rains of the previous night. Fastest clean runs were turned in by Marchwind Royl Side Show (38.89 sec., Novice B, 16" division), Miamor's Colite Honey Of A Time, CDX (59.48 sec., Open, 16" division) and Shawna's Grand Prix Relay, AX (52:63 sec., Excellent, 12" division).
People went their separate ways on Tuesday. Some left the Lincolnshire for sightseeing outings (and I understand you can see a lot from the deck of a riverboat gambling cruise). Others attended ASSA-sponsored educational symposia or spent the day spiffing up grooming areas and dogs for the always-popular visiting hours, scheduled for that evening.
Regular conformation classes began bright and early Wednesday morning as Linda More (bitches and intersex) adjudicated her first class of 29 high-spirited and more-or-less lead-broken 6-9 month, sable and white bitches -- the first of more than 225 class bitches she would judge by Friday afternoon. Judge Al Bianchi (dogs) began his assignment Wednesday afternoon and alternated judging morning and afternoon classes with More for each of the next two days.
Both Bianchi and More measured a number of dogs. Most measured in, much to the relief of their owners and handlers, but a few measured out, especially in the early classes. (Dogs shown in later classes were more likely to be a self-selected group as handlers opted to scratch the "iffy-sixteen-inchers" from competition.) Ringside observers seemed pleased with such frequent use of the wicket. "I can remember Nationals when not one dog was measured," said one spectator. "At least this time, people won't be speculating that oversize dogs did all the winning."
Winners Dog, topping a field of 150, went to the Open Black, 19-month-old Apple Acres Odyssey Armani, a bi-black handled by Sue Healy, and co-owned by Kim Watt and breeder Locklyn Guzman. Bianchi gave the nod for reserve to the Open Sable winner, Enclave Jade Mist Tapestry, handled by Carol Arteta, bred by Pamela Farga, and owned by Laurie Schaum. Bianchi professed a great deal of satisfaction with the dogs he judged. "The exhibitors did not let me down," he said. "There were many dogs that will easily finish who were out of the placements due to the depth of quality in the classes."
More awarded Winners Bitch to the Open Blue, Shadland Monee, handled by Judy Decker for breeder-owner Joyce Woolridge. Reserve went to eight-month-old Carloway Cotillion, a tri-color from the 6-9 month AOAC class, who was breeder-owner-handled by Susan Christie.
Ringside observers remained glued to their seats for the veterans classes that followed the selection of Winners Dog and Winners Bitch. Topping a class of eight 9- to 12-year-old dogs was 10-year-old CH Benayr Sentimental Journey, a sable dog handled by Bob Olsen and owned by Pat Wright. Winning the 12-year-plus dog class was the blue merle, CH Shadow Hill's Jazz On Prinhill. "Garfield" is owned by Pat and Larry Brunner and was handled by Pat. Winning the 12-plus bitch class, owner-handled by Mona Hartwig, was CH Harvestwind's Personal Story, a lovely 13-year-old sable bitch who'd won a BISS just a few weeks earlier.
Nine- to 12-year-old Veteran Bitches may have been the most anticipated class of the week to that point as it was to include two of the breed's most-admired bitches. CH Teaberry Lane Hobbit Karma, owner-handled by Ron Willacker and still lovely at 10 and a half, came into the competition with an impressive show record, including back-to-back Bests in Show just last fall. One of the breed magazines had recently featured this lovely sable bitch and her litter brother, BIS/BISS CH Teaberry Lane Royl Tycoon, ROM, in a multi-page tribute -- better pre-National publicity than all the ads one could buy.
On the other hand, that put Karma in the position of "the one to beat," a tough position in which to begin (just ask Tiger Woods). And Karma had some formidable competition in 11-and-a-half-year-old CH Cindahope Golden Girl -- "Tess" to her friends -- another beautiful sable who had last been shown at the Virginia Beach National in 1993. Going into that National, Tess had 55 BOBs, including 13 Specialty wins, and an all-breed BIS; she'd received a prestigious Award of Merit at the 1992 National and many thought she had a chance to win it all in '93. But that week, she seemed a bit under the weather. A local vet diagnosed her with a slightly enlarged spleen -- nothing to worry about, he assured breeder-owner Nancy Hildreth. By Saturday's Best of Breed competition, however, Tess was noticeably dragging. Back home in Massachusetts, Tess was rushed to her own vet and diagnosed with a closed pyometra. An emergency spay saved her life but ended her show career... or so everyone thought. But now, with the expert grooming and handling of Tom and Nioma Coen, Tess was back.
As expected, the class quickly came down to Karma and Tess. After completing individual examinations, More sent Karma to the head of the line. But then it was time to take another look at heads, send them down and back, do another once-over of their shoulder assemblies, and then move them again. By now, Tess was at the front of the line, and there she stayed as More sent them around once more to thundering applause and more than a few tears. What a shame that both of these great bitches could not advance to Best of Breed competition!
Following the veteran classes, Bianchi judged Stud Dog and Brood Bitch classes. Top Stud Dog was CH Macdega Asterisk, owned by Tom and Nioma Coen. Brood Bitch honors went to CH Lynnlea's The Firestarter, dam of the Futurity winner, owned by Ray and Dorothy Christiansen.
Spectators anxious to have their choice of seats for Saturday's BOB competition began lining up outside the racquet club building around 4:00 a.m. The day's competition began with Junior Showmanship, however. Judge Louise Palarik judged 20 junior showmanship entries, awarding Best Junior to 16-year-old Open Senior Erin Teplesky of Orchard Park, New York, showing Windview's Get Up And Go.
At 10 a.m., the first specials entered the ring. More judged dogs in four groups of 15 to 20. She initially kept five or six dogs from each group, and then brought all of those dogs back into the ring for two more cuts, eventually winnowing the group down to 10. She went through a similar process with two groups of bitches before bringing all the dog and bitch cuts back into the ring. Eliminating a few more dogs at that point -- clearly not an easy task -- More then reduced the number of dogs in the ring to the number of Awards of Merit she could give (up to 10 percent of the specials) plus BOB, BOS, WD and WB. Now, with a ring full of deserving champions, it was time to get down to the nitty-gritty details. In the end, it seemed to come down to just five: CH Toven Wintertide and CH Homewood Hurricane, two stunning blue merle males sired by CH Macdega Asterisk, the winner of the Stud Dog class; CH Suncrest Senora, a beautifully sound tri-color bitch; CH Lakehill Wayanet Miata, an elegant sable bitch -- and Tess, CH Cindahope Golden Girl, handled by Nioma Coen. It had been a long day for the almost-12-year-old bitch, a long day in a hot ring. Handlers and younger dogs were wilting around her, but those who were there will tell you that the old girl never looked better. It may have been four years later than planned, but this was to be her day to go all the way. There were few dry eyes in the house as Tess got the nod for Best of Breed.
"I was pleased that she was going to get an Award of Merit. I didn't allow myself the thought that she might have a chance to win," said Tess's breeder-owner, Nancy Hildreth, who has been breeding Shelties for 40 years, but has never before won the National. "When the judge pointed to Tess, I thought my heart would stop, and it may have... just for a moment. Then, all I could think was, 'We did it!' All those years of hard work and so many frustrations. The best reward one can ever receive is Best in Show at the National Specialty under a top breeder-judge who truly understands our breed."
Best Opp went to CH Toven Wintertide, bred by Toni Mapes and Lorraine Bohmiller and owned by Toni. "Timmy" was handled by Shelley McHugh-Boumans, who had met the dog for the first time just the previous afternoon.
Awards of Merit went to six dogs, CH Westwind Heartbreaker, CH Peacewynde Chianti, CH Jetsong the Captivator, CH Shadow Hill's Air Force One, CH Homewood Hurricane, and CH Shadow Hill's Jazz on Prinhill (the 12-year-old veteran); and five bitches, CH Suncrest Senora, CH Sandalwood's Tropical Punch, CH Glencorry's Ringside Gossip, CH Lakehill Wayanet Miata, and CH Brownlee Carosel. Best of Winners was the Winners Bitch, Shadland Monee.
"When I do judges' education seminars," explained More, "I tell people that a Sheltie cannot be a good one without a good head -- but it cannot be a very good Sheltie without good structure as well. If you have correct breed structure, you will have beautiful, elegant body lines. In the end, the Best of Breed bitch and Best Opposite Sex dog were two of the best-moving dogs in the entry, as well as possessing great breed type in all other respects."
And, in the end, that's what every National is all about. For two lucky breeder-judges, it's a once- or twice-in-a-lifetime chance to put their hands on most of the very best dogs of that generation. For the rest of us, it's the opportunity to see more than a few "very good Shelties" -- those dogs that seem to have it all, those dogs that inspire all of us to set our standards ever higher.
See you next year in Tucson!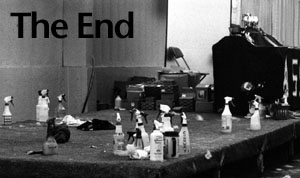 ASSA '97 photos

Click on thumbnail to see larger photos

| | |
| --- | --- |
| | Judge Al Bianchi (dogs) examines Sonata Gemini Burning Love, handled by Sulie Greendale-Paveza, the eventual winner of the Open Blue class. |
| | Winners Dog goes to bi-black Apple Acres Odyssey Armani, handled by Sue Healy. |
| | As the steward prepares to read off armband numbers for Open Blue Bitches, the "ready ring" is the scene of much frenetic last minute grooming. |
| | To the relieved smile of the handler, More measures a bitch in-size. |
| | Winners Bitch goes to blue merle Shadland Monee, handled by Judy Decker. |
| | Sue Christie, breeder-owner-handler of Reserve Winners Bitch Carloway Cotillion, accepts the congratulations of competitors. |
| | CH Cindahope Golden Girl, 11 and a half years young, won the 9-12 year old Veteran Bitch class with handler Tom Coen. |
| | CH Teaberry Lane Hobbit Karma, owner-handled by Ron Willacker and still lovely at 10 and a half, placed second in a hard-fought 9-12 year old Veteran Bitch class. |
| | Judy Brown Kelsey (left) abandoned her rubber hand at ringside to serve as More's steward for Saturday's Best of Breed competition. |
| | More examines CH Shield Crest Hurricane, the first special in the ring. |
| | With a little help from our friends: Handler Tom Coen, showing CH Peacewynde Chianti, accepts some ringside grooming assistance. |
| | Clean-up crew: With Dad busy in the ring and Mom busy watching, two-year-old Brianna, daughter of Geoff and Peggy Brown, entertains herself by working to rid the carpet of Sheltie hair. |
| | A bitch gets some final touching up before her turn in the specials ring. |
| | Having accepted the Best of Breed rosette for CH Cindahope Golden Girl from Judge Linda More, handler Nioma Coen heads for ringside. |
| | Best Opposite Sex went to CH Toven Wintertide ("Timmy"). Handler Shelley McHugh-Boumans accepts a congratulatory hug from Tom Coen, breeder-owner of Timmy's sire, CH Macdega Asterisk. |
| | Dick Hildreth carries the Best of Breed trophy for wife Nancy, Tess's owner and breeder. When's the tea party, Dick? |
This article originally appeared in DOG NEWS, July 4, 199y (Vol. 13; issue 27)
---
Send us e-mail by clicking on the stack of letters below:

---
Return to Foxglove title page by clicking on our kennel sign below: