A Colorful Litter
It doesn't matter whether you've been breeding five years or 50 -- every breeder has vivid memories of his or her first litter. Sheltie breeder Pat Wright (Aylmere), who started out in Collies, is no exception. But Pat's memories of her first litter, born 30 years ago, may be even more "colorful" than most:
"With four kids and a new house, it took awhile to save enough money to buy a Collie pup," Pat explains, "but I finally came home with a wonderful five-week-old sable bitch we named Heather. Looking back, I realize she was not a very good Collie, but I didn't know it at the time. When Heather got older, I wanted to breed her, and with the help of my vet, I found her the perfect sable 'husband.'
"Nine weeks after being bred to this male, Heather had 12 puppies: six sables, two tris, two blue merles, and two predominantly white pups with sable heads.
"I wasn't surprised," says Pat. "It was my first litter; what did I know? I thought all Collie litters looked like mine. When the puppies were old enough to sell, I took out a newspaper ad that said, 'Collie puppies, all colors.'
"Shortly after the ad appeared in the local newspaper, I received a call from a Collie breeder who lived nearby. After I described the puppies, she asked, 'How many litters are we talking about?'
"'Just one,' I replied.
"There was a long silence, and then she said that perhaps she should just come see the litter for herself..."
This woman brought another breeder friend with her to see Pat's litter. During the visit, they identified Heather and two of her puppies as sable merles. Their explanation of the color variation in the litter was the start of Pat's education as a breeder. These two women became Pat's friends, introducing her to the world of dog shows, where she first saw large numbers of Shelties. Soon Pat discovered she was more interested in Shelties than their larger "cousins."
Since that colorful first litter in 1967, Pat has gone on to breed more than 15 Sheltie champions, including Ch. Macdega One Day At A Time (1985 ASSA Best of Breed), Ch. Aylmere Dixieland Jazz (1986 ASSA Award of Merit), and Ch. Aylmere I'm No Angel (1994 ASSA Best in Futurity and Reserve Winners Bitch).
To send e-mail to Pat, click here.
---
Heather's Litter
Sire: Tri-factored, white-factored sable
Dam: Tri-factored, white-factored sable merle
Possible puppy colors:
Non-white-factored pure-for-sable
Non-white-factored, tri-factored sable
Non-white-factored, pure-for-sable merle
Non-white-factored, tri-factored sable merle
Non-white-factored tri-color
Non-white-factored blue merle
White-factored pure-for-sable
White-factored, tri-factored sable
White-factored, pure-for-sable merle
White-factored, tri-factored sable merle
White-factored tri-color
White-factored blue merle
Pure-for-sable color-headed white
Tri-factored, sable color-headed white
Pure-for-sable-merle color-headed white
Tri-factored, sable-merle color-headed white,
Tri color-headed white
Blue merle color-headed white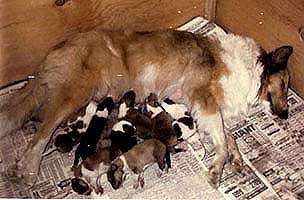 ABOVE & BELOW: Heather and her puppies (5 days old). From Heather's appearance, a novice breeder would have been hard-pressed to identify her as tri-factored or sable-merle. And although her color-headed-white offspring proved she was white-factored, she lacked the white stifles typical of many white-factored Collies and Shelties.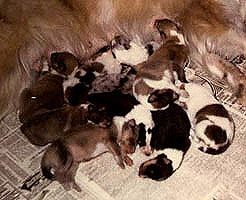 ---
BELOW: The puppies at three weeks. Note the two predominantly white puppies (one in center of photo, one at top left). The two blues are partially visible at the bottom of the photo, and the two tris are partially visible near the top. Look at the three sable puppies grouped together on the left. The puppy in the center of that group has visible merling in the sable fur on its back and tail.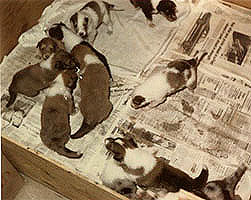 ---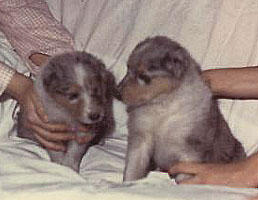 ABOVE: The two blues at four weeks.
BELOW: Three of the sables at four weeks. The puppy on the far left is one of the sable merles.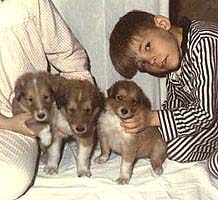 ---
Update
Although most early reviews of this page were very favorable, there were a few complaints:
Hi Kim:

This is Patti, Pat's daughter. How did my brother make it on the World Wide Web and I didn't? I remember when those pictures were taken and I remember the puppies. As soon as I saw the web page, it brought back memories. Now, I would really like to be on the World Wide Web!!!!!!!!!

--Patti

The sable-headed whites with Patti, in a nightgown made by Mom -- March 1967.

Dear Patti,

If you had only stacked those white puppies better... Still, you were at least as cute as Michael, who had the foresight to stick his head into camera range, so here you go! I certainly don't want to contribute to that fierce sibling rivalry -- especially now that you are big enough to be a real threat to your brother!

--Kim

---

Hi Kim:

This is from Pat's other daughter, Donna. Where's MY picture? (just kidding) I guess my mom didn't take any picures of me with the dogs.

--Donna

Dear Donna,
Be careful what you ask for, even if you're just kidding!
--Kim
Donna, seven years old... and oh-so-cute!
---

Go to Foxglove Shelties Homepage
The three-part series on color genetics that included the story of Pat's colorful litter appeared in the Sheltie Pacesetter (starting with Jan./Feb. 1997). The series was part of Kim Schive's regular column on genetics, "It's In The Genes."
To find out more about the Pacesetter, click on the magazine at left.
To comment on any of Kim's previous columns, or to submit a question or suggested topic for a future column, click here.