Mickey Rooney:
Hollywood, Religion and
His Latest Show
by Kira Albin, interview conducted in 1995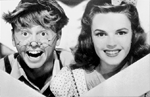 "Hollywood has unfortunately become a memory. It's nothing but a sign on the side of a hill," says Mickey Rooney from his home in Westlake, California.


But what glorious memories they were. And Rooney was one of the stars who gave the young Hollywood its shine. Short in stature (5' 3") but never short on confidence, Rooney states, "I think I'm the only one that's really survived. And I'm the one that's keeping it going."

Yule Tide


Born to vaudeville performers, Rooney was nudged into show business by his mother after his parents divorced. In 1926, Rooney starred in 78 short film comedies in the role of the cocky, self-assured tough little kid, Mickey McGuire. He was only six years old. From then on, Rooney, born Joe Yule, Jr., was known as Mickey McGuire. Several years later Rooney was hired by Universal to appear in The Information Kid on the stipulation he don a new image. A publicity man be-gan making up surnames: Maloney... Downey...Looney. Mickey's mother suggested Rooney. After checking with his boss, the publicity man returned to say it was a done deal. Rooney recalls the event in his autobiography, Life is Too Short (Villard Books, 1991): "He never bothered to ask me whether I liked it. This is the kind of world I was born in, one in which I had only one reason for existence: pleasing others."


Please them he did. In the 1930s Rooney became famous for his role in the Andy Hardy series, he received a special Academy Award for the film Boys Town with Spencer Tracy, and he made Babes in Arms, his first major musical with Judy Garland, earning an Academy Award nomination as best actor. Box-office receipts for 1938-1940 made him the number one star in the world. Since that time, Rooney's career has spanned decades and includes such movie classics as The Human Comedy, National Velvet, Midsummer Night's Dream, The Bridges at Toko-Ri, The Black Stallion, and a television Emmy for Bill. He has worked with some of the best-known actors of the day: Jackie Cooper, Freddie Bartholomew, Buck Jones, Wallace Beery, Judy Garland ("Judy was the greatest entertainer in the world, but unfortunately, she never found the happiness she so rightly deserved."), and Jimmy Cagney ("He went on strike at Warner Bros., until they gave him $10 million flat. Jack Warner let Cagney stew for a year...until a New York board meeting. They were appalled to find out why Cagney hadn't made a picture for more than a year. A board member told Warner, 'You're costing us hundreds of millions. Pay the s-- of a b---- the ten million.").
Not Short on Secrets


If your image of Rooney comprises only acting, some footage is missing from the picture. Rooney also paints, flies, plays golf, and writes. His most recent book, The Search for Sonny Skies (Carol Publishing Group, 1994), is touted as a mystery, but some claim it is remarkably biographical. "You have to form your own opinion about it," says Rooney, keeping the answer a mystery.


If Rooney had secrets to keep, most were let out of the bag upon publication of Life is Too Short. Rooney is brash and graphic about his sexual exploits. And there are many-before, during, and in between his marriages. One of the more humorous incidents Rooney recounts in his book is that Milton Berle had him initiated at a brothel. "[It was] a one-flight walk-up off Santa Monica Boulevard called T&M Studios. (I don't remember what the initials stood for, but Berle and I used the code to kid around. 'When we gonna be called to T&M,' I'd say to Berle, 'for another performance?')."


A more innocent recollection Rooney has is now a famous story. On lunch break while filming the Mickey McGuire comedies, five-year-old Rooney walked by an open office at Warner Bros. studio, poked his head in, and introduced himself. "'Who are you?' I asked the guy working there. 'My name is Walt Disney,' he said. 'Come over and sit on my lap.' So I went over and sat on his lap, and there was a mouse he had drawn. 'My gosh, that's a good-looking mouse, Mr. Disney.' 'It sure is, Mickey,' he said, and he stopped and looked into space for a minute. 'Mickey, Mickey,' he said. 'Tell me something, how would you like me to name this mouse after you?' And I said, 'I sure would like that, but right now I got to go and get a tuna sandwich.' And I jumped down." "It's a true story," adds Rooney.
Triumph and Tribulation


He is often animated, but at times Rooney does get serious. Take, for instance, the subject of Hollywood today. "There's a lot of age discrimination, and it's completely wrong," Rooney states. "There's no age discrimination in the great golf business! They have senior tours." Continues Rooney, "There are hundreds of people out of work who could be working. I say to Bruce Willis, 'Bravo,' I say to Arnold Schwarznegger, 'Bravo.' But what's wrong with making pictures with Gregory Peck and Charlton Heston? What's wrong with making pictures with Mickey Rooney?"


Despite his lamenting, Rooney is not wanting for jobs. His successful run of the 1979 burlesque musical hit, Sugar Babies (three years on Broadway, four and a half years on tour), recently led to a revival with an all new cast. Following on the heels of Sugar Babies Rooney appeared in Gifts From the Attic, a children's musical in Minneapolis; and then flew to New Zealand and Germany for a shooting of Heidi. Currently, he is appearing in Crazy for You at the Royal Alexandra Theatre in Toronto from September 27-December 31 (Box Office 416-872-1212). Added together, you come up with an exhausting schedule. Unless you're Mickey Rooney. He thrives on such a grueling work schedule. "I'm 74 but I feel like I'm 35," says Rooney. "And it isn't work. You know what it is?" asks Rooney, the answer already bouncing off his lips. "It's fun, absolute fun. I don't know many people who are fortunate enough to be in a business like that."


That business has also dished out a large serving of turmoil: an addiction to barbiturates; eight wives, one of whom was murdered; the death of Judy Garland, one of his closest friends; and numerous financial hard times. At his lowest point, Rooney had an experience that reads as imaginatively as a movie script but which, he avows, changed his life. At a Lake Tahoe casino coffee shop over breakfast, Rooney was greeted by a busboy with "blond curls, a white-rose complexion, and shining teeth." When the man called his name, Rooney started to stand, thinking he had a telephone call. But the busboy leaned toward him and whispered in his ear, "Mr. Rooney, Jesus Christ loves you very much." Then he left. Minutes later, Rooney looked for the busboy, but nobody knew of one who met Rooney's description and he was nowhere to be found.
Standing Ovation


Today, Rooney is an unabashed Christian. "I've given my life to God, and I try and do the right thing, but inevitably, and unfortunately, I do the wrong thing." Says the comedian, "I suffer from being human." The man of many marriages has now found two everlasting relationships: God and his eighth wife, singer and songwriter Jan Chamberlin. This year Rooney and Chamberlain celebrate their twenty-first wedding anniversary. She's smart and she sings-"the greatest in the world," boasts Rooney. "She has a lot of charities that she gives to for animals. One's called ARF (Animal's Rights Foundation). Arf, arf, arf," Rooney barks with glee, sending himself into laughter. He is also an animal lover, and the two currently share a home with six birds and three dogs, the latter named Theda Bara, Gloria Swanson, and Angel. A dog they used to have was called Judy Garland. "The fact is," Rooney chuckles, "our pets allow us to live in the house."


Next to God, his wife, and animals, what Rooney loves most is an audience. "I'm very, very proud to have been given the opportunity to perform...and I hope I'll be allowed a few more years-many years-to continue my work. It is tremendous fun. Not everybody's going to love Mickey Rooney," he laughs. "That's an impossibility. But I know this: I've done my best and I will continue to do so."