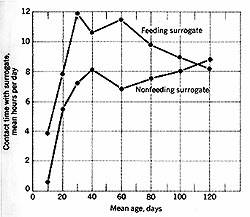 To make matters worse:

"Sex behavior was, for all practical purposes, destroyed; sexual posturing was commonly stereotyped and infantile. Frequently when an isolate [surrogate-raised] female was approached by a normal male, she would sit unmoved, squatting upon the floor -- a posture in which only her heart was in the right place. Contrariwise, an isolate male might approach an in-estrus female, but he might clasp the head instead of the hind legs, and then engage in pelvic thrusts. Other isolate males grasped the female's body laterally, whereby all sexual efforts left them working at cross purposes with reality."

(sounds like one of my high school dates)

Predictably:

"The behavior of these monkeys as mothers -- the 'motherless mothers' as Harlow called them -- proved to be very inadequate ... These mothers tended to be either indifferent or abusive toward their babies. The indifferent mothers did not nurse, comfort, or protect their young, but they did not harm them. The abusive mothers violently bit or otherwise injured their infants, to the point that many of them died."