DuPage Science Fiction and Fantasy Society
July 2021
A "Real" Mid-Summer Party!
This party brought to you, as always, by Confuse-A-Cat, Ltd.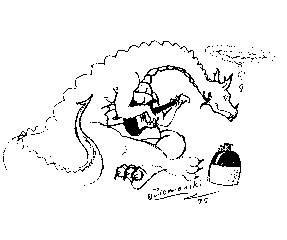 HOSTOIDS:
Nick & Jan DiMasi

 

WHERE:
22W576 Burr Oak Drive, Glen Ellyn

 

PHONE:
630-790-3435

 

DATE:
Saturday, July 17

 

TIME:
8:00 PM until ??:?? AM
(Remember: Bring snacks or desserts to pass and, as always, BYOB!)
That's "Mid-Summer" rather than "Midsummer," as the latter refers to a holiday/festival in some countries, perhaps most notably Sweden (but also Denmark, Norway, Estonia, Latvia and Lithuania, among others). We're not thinking about those faraway lands right now. Since last month's first "real" (non-virtual) DuPage SF&F Society party of this year was at least a modest success, we are continuing with another in-person party this month. We hope that more of you are able to join us. We strongly prefer that everyone who comes to this party is fully vaccinated; however, even if you are not, you can still join us if you are at low risk for COVID-19, and we will ask you to wear a mask. Masks are optional for fully-vaccinated guests.
The date of our party is also (among others) National Peach Ice Cream Day, Wrong Way Corrigan Day, World Emoji Day, and Toss Away the "Could Haves" and "Should Haves" Day, according to the National Day Calendar website. Whether you feel like celebrating any of the above, something else, or just want to hang out with fellow "phannish" folks, we hope to see you at our party!
---
Remember, please keep an eye on our Web site for future announcements: http://dupage-sf.club. We are sending a monthly email notice to those folks for whom we have current email addresses. If you're interested, send your up-to-date email address to Nick (see the contacts page).

Maps and Directions