DuPage Science Fiction and Fantasy Society
May 2021
Maybe the Last Monthly Virtual Party?
This party brought to you, as always, by Confuse-A-Cat, Ltd.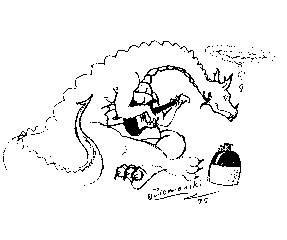 HOSTOIDS:
Nick & Jan DiMasi (Virtual)

 

WHERE:
On Discord, Server: DuPage SF&F Society

 

TO ATTEND:
Use the General Voice Channel on server (Nick will email invite link to join)

 

DATE:
Saturday, May 15

 

TIME:
8:00 PM until ??:??
This month's virtual party may be the last monthly virtual one, because we may be resuming in-person parties next month. (I say "monthly" because we can always have a virtual party in any month when no one volunteers to host an in-person party; in the past, if we had no "hostoid" we would just have no party, or perhaps an outing to Cernan Earth and Space Center, which is still closed for now.) During March's virtual party, Helen and Doug volunteered to host the first in-person party, when we resume those. I believe we agreed that it would be best to wait to resume in-person parties until those who would be planning to attend have been fully vaccinated against COVID-19. We think that could be as soon as next month, but we're not sure yet. I would like to hear from you: If you have been fully vaccinated, or you believe you will be soon, and are interested in coming to an in-person party next month (or July, etc.), please let me know, including which month you're thinking of (my email address is on the Contacts page of this website, see the link below). Or, if you aren't fully vaccinated and don't think you will be soon, or in any case would rather our parties stay virtual for a few more months, I'd also like to hear from you. For now, again this month we will have a virtual (video chat) party. As in the last few months we will be using Discord, for the reason that I've stated before (free unlimited time). I hope that those of you who have joined us for previous virtual parties now feel more comfortable with using Discord.
We will be using the same Discord server as in previous months, which is named "DuPage SF&F Society." When I send email with the party notice, I will send an invite link for you to use to join our server - which you only need to do once. This will be the same invite link that I have sent in previous months. (If you are not on my party email list, just send me email and ask to be included - again, see the Contacts page link below.) If you joined our server in a previous month using the Discord app, or the in-browser app, the server will be in your server list, so you are all set. If you haven't already joined our server, read on: You can join using either a web browser (click on the link in the email) or the Discord app, which is available for Windows, Mac, Linux, iOS (iPhone/iPad), and Android. I normally recommend using the app, which will give you access to more features; however, some folks have had better results using a web browser. The Discord app is free to download and is available here. When you start using Discord for the first time, it will lead you to create a Discord account (there isn't much info that you need to supply; I never even entered my phone number).
If you haven't joined already, here is how to join our server in the app using the invite link (i.e. not by clicking on the link in the email): In the Discord app, click on Add a Server (on a computer at least, it's the green '+' on the upper left). A box will pop up labeled "Create a Server" - don't create one, instead look near the bottom where it says "Have an invite already?" Click the Join a Server button. A new box will pop up; copy and paste or type the invite link in the gray text entry area, then click the Join Server button. You will only need to do this once in the app; after that, an icon for the server will appear on the upper left (just click that to access the server). However you use Discord, here is a handy Beginner's Guide. See especially these sections: How to Voice Chat and How to Video Chat. We hope to see (or at least hear) you at the virtual party!
---
Remember, please keep an eye on our Web site for future announcements: http://dupage-sf.club. We are sending a monthly email notice to those folks for whom we have current email addresses. If you're interested, send your up-to-date email address to Nick (see the contacts page).