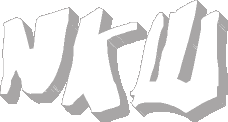 Coming To A Web Site Near You:
A Movie Taglines Quiz
If you can express big ideas in small spaces, then writing movie taglines is the job for you. Taglines appear at the bottom of movie posters and in movie trailers. Taglines can sell the premise of a film, they can tease you with excitement, sex, violence, and scares, or they can just be funny. Collected below are the the famous and infamous, the funniest, and most groan-inducing taglines Hollywood ever wrote.
To view the answers, click and drag to highlight the line below the tagline...
A comedy about fear of commitment, hating your job, falling in love and other pop favorites.
answer:HIGH FIDELITY
A Masterpiece Of Modern Horror
answer:THE SHINING
A nervous romance.
answer:ANNIE HALL
A tale of murder, lust, greed, revenge, and seafood.
answer:A FISH CALLED WANDA
All his life, Ray Kinsella was searching for his dreams. Then one day, his dreams came looking for him.
answer:FIELD OF DREAMS
Can two friends sleep together and still love each other in the morning?
answer:WHEN HARRY MET SALLY
Coming To Save The World This Summer.
answer:GHOSTBUSTERS
Don't Go in the Water
answer:JAWS
Ever wanted to be someone else? Now you can.
answer:BEING JOHN MALKOVICH
Everyone has one special thing.
answer:BOOGIE NIGHTS
Family Isn't A Word... It's A Sentence.
answer:THE ROYAL TENEMBAUMS
Fear can hold you prisoner. Hope can set you free.
answer:THE SHAWSHANK REDEMPTION
Five Criminals. One Line Up. No Coincidence.
answer:THE USUAL SUSPECTS
Five Total Strangers Team Up For The Perfect Crime.
They Don't Know Each Other's Name. But They've Got Each Other's Number
answer:RESERVOIR DOGS
He is afraid. He is alone. He is three million light years from home.
answer:E.T. The Extra-Terrestrial
He Saw The World In A Way No One Could Have Imagined.
answer:A BEAUTIFUL MIND
His whole life was a million-to-one shot!
answer:ROCKY
How the future began.
answer:THE RIGHT STUFF
In space no one can hear you scream.
answer:ALIEN
In Vietnam The Wind Doesn't Blow It Sucks
answer:FULL METAL JACKET
It's the hottest day of the summer. You can do nothing, you can do something, or you can...
answer:DO THE RIGHT THING
Just because they serve you doesn't mean they Like you.
answer:CLERKS
Leisure Rules
answer:FERRIS BUELLERS DAY OFF
Love Kills
answer:SID AND NANCY
Man is The Warmest Place to Hide.
answer:THE THING
Mischief. Mayhem. Soap.
answer:FIGHT CLUB
Never give a saga an even break!
answer:BLAZING SADDLES
Never let her out of your sight. Never let your guard down. Never fall in love.
answer:THE BODYGUARD
No One Gets Away Clean
answer:TRAFFIC
Not every gift is a blessing.
answer:THE SIXTH SENSE
On The Air. Unaware.
answer:THE TRUMAN SHOW
Paul Sheldon used to write for a living.
Now, he's writing to stay alive.
answer:MISERY
Tea At Four. Dinner At Eight. Murder At Midnight.
answer:GOSFORD PARK
The Day We Fight Back
answer:INDEPENDENCE DAY
The first casualty of war is innocence.
answer:PLATOON
The greatest fairy tale never told.
answer:SHREK
The Man... The Music... The Madness... The Murder... The Motion Picture...
answer:AMADEUS
The most devastating detective story of the century!
answer:ALL THE PRESIDENT'S MEN
The Story That Won't Go Away
answer:JFK
The Ultimate Trip.
answer:2001: A SPACE ODYSSEY
They have a plan, but not a clue.
answer:O' BROTHER WHERE ART THOU
They stole his mind, now he wants it back.
answer:TOTAL RECALL
They're young... they're in love... and they kill people.
answer:BONNIE AND CLYDE
This time it's war
answer:ALIENS
We are not alone
answer:CLOSE ENCOUNTERS OF THE THIRD KIND
We could tell you what it's about. But then, of course, we'd have to kill you.
answer:SNEAKERS
You Won't Believe Your Eye.
answer:MONSTERS INC
In The Game Of Seduction, There Is Only One Rule: Never Fall In Love
answer:CRUEL INTENTIONS
This Summer, Evil Meets It's Moose.
answer:THE ADVENTURES OF ROCKY AND BULLWINKLE
If you see only one movie this summer, see Star Wars. But if you see two movies this summer, see...
answer:Austin Powers: The Spy Who Shagged Me
Be afraid. Be very afraid.
answer:THE FLY
Be Unafraid. Be Very Unafraid.
answer:LITTLE NICKY
Be Afraid. Be Kind of Afraid.
answer:SCOOBY-DOO
It's 4 A.M., do you know where your car is?
answer:REPO MAN
HOME PAGE | EPHEMERA | FRIENDS & FAMILY | PORTFOLIO | CONTACT